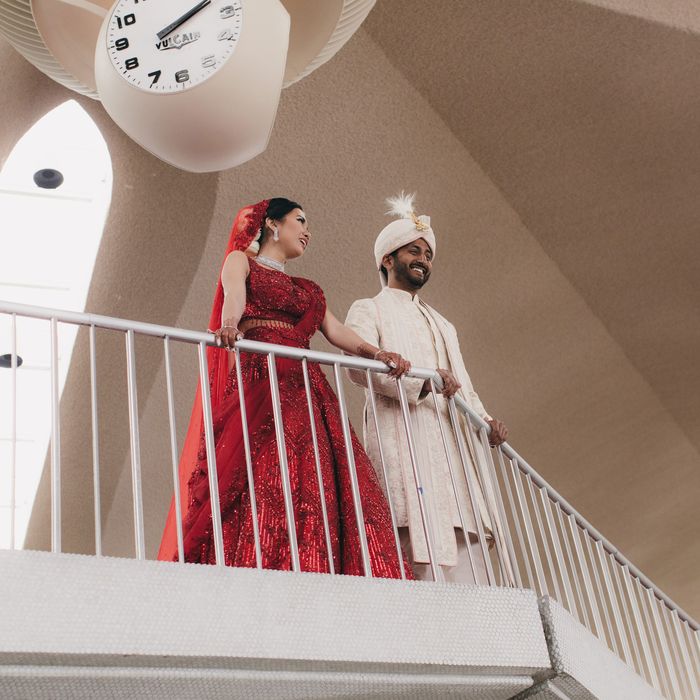 Monique and Sanjai first spotted the TWA Hotel before its construction was complete, and loved the idea of the curvy, cool backdrop for their colorful aesthetic.
Photo: Marcus Maddox
When we ask newlyweds to think back on what they wanted most for their big day — and we've interviewed hundreds of them over the years — the most common response is "For it not to feel like a wedding!" Despite our new (pandemic) normal, that answer hasn't changed. If anything, these days, gathering with old friends and eating mini grilled cheeses in formalwear to celebrate love feels so special, even downright miraculous. And the betrothed are less attached than ever to the old wedding handbook — and the need to please their great aunt. So in a flurry of pampas grass and perfectly mismatched-to-match bridesmaid dresses, how do you pull off a non-cookie-cutter affair? For the answers, we decided to interrogate the cool couples whose weddings we would actually want to steal — right down to the tiger-shaped cake toppers.
Here we spoke with New York couple Monique Melendez, a content marketing strategist, and Sanjai Jalaj, an ophthalmologist. Years after they spotted the construction of the TWA Hotel through an airplane window at JFK, they held their wedding there over Memorial Day weekend 2022, combining Indian traditions and Filipino cuisine against a Jet Age backdrop.
Sanjai: We met in a bar in the East Village. One of my buddies from med school, gregarious guy that he is, walked right up to Monique and her friends and introduced all of us.
Monique: If he ever sees this: Hi, Omar! If you hadn't yelled in my face that night, I don't think Sanjai and I would be together! It was August 2016. Usually good things don't happen on St. Marks, but this is the greatest thing that has ever happened there.
Sanjai: I handed her my phone to get her number, and I could see her put in a New York area code, then the next three digits, then she hesitated. I just called her out right then, like, "You're giving me a fake number, aren't you?" And she put in the real last digit. I proposed on her birthday, in October 2021.
Monique: Before I even got an engagement ring, we started a lot of the planning. Carriage before the horse, but that's just how we are. Once we stopped thinking about it as a wedding and started thinking about it as a party where we celebrate our love with 300 people that we adore, that gave us more freedom. What would we want to do at a party that all these people are going to be at?
Sanjai: We wanted fun, quirky, a little bit weird.
Monique: I wanted a space that was plain and white that we could add a lot of décor to, a blank canvas. In 2018 or 2019, we had flown into JFK one night and landed right across from the TWA Hotel when it was still being built. We commented, "Oh, that's going to be a gorgeous hotel."
Sanjai: It was kind of perfect. You get the convenience of a hotel wedding where everyone's on-site and everything's taken care of for you, but it's this cool environment. Monique was like, "This is awesome. It would be like getting married in A Space Odyssey."
Monique: It already had a lot going for it in terms of its space age, retro-futuristic design. We sent our florist, Ivie Joy, images of disco balls and tropical flowers — pinks and purples and lush greens to evoke the feeling that you're in a very well-designed Miami club.
Sanjai: We had a welcome party on Friday night in the hotel lounge, which is almost like their museum section with old-school flight-attendant dresses on display. On the wedding day, an Indian groom traditionally comes in on a horse. Monique didn't want to harm animals, and so we had arranged for me to ride into the parking lot on a Royal Enfield motorcycle, a classic Indian brand. But the weather forecast was for rain, so we had to scramble. We did a parade through the lobby, with all of the hotel guests as onlookers.
Monique: My mom and I were very unfamiliar with all of the traditions and I kept asking Sanjai, "What do I do? What do I do?" And he said, "The priest will tell you what to do. Just listen to him." That is essentially what we did for the ceremony. Sanjai still says that my mother's Sanskrit actually sounded very good, for someone who learned it on the spot.
Sanjai: It was a traditional Hindu ceremony with the priest, and normally they're really long and most people are bored. It's a part of the culture, honestly, to not pay attention and just be on your phone. So we wanted to share vows, something that isn't done at a lot of Indian weddings. I'm glad we did. It hit me hard!
Monique: I don't attach myself to religion very strongly, but seeing his family and how they reacted to the ceremony moved me. I felt so honored to even partake in it. For the ceremony, I had found a lehenga online by Seema Gujral. I loved it because it looked very modern, but the last thing I wanted to do was buy a wedding dress online. I tried on multiple dresses that didn't really fit my aesthetic, and my friend texted me when she walked by a shop here in the city called Ave India Design Collective. I went, walked down the stairs, and right there was the dress that I saw online, my dream dress. This is it! I could just throw in the towel. For the mandap, I had seen an article about DJ Tiësto getting married in the desert on a mirrored altar, and I fell in love with the idea of a mirrored structure bouncing back images of the guests and us.
Sanjai: Then we built in a little two-hour break time to let people decompress. If you were staying at the hotel, you could go back to your room, hang out. My brother told me later there was a group of people at the bar pounding shots after the ceremony.
Monique: In the hours leading up to the ceremony, I'd had multiple panic attacks. I'm an extrovert, but I hate public speaking. The thought of being in front of 300 people, even though they adore us and wish us well? So I mostly spent the time in between the ceremony and the cocktail hour feeling relieved, and redoing my hair and makeup [Beauty by Sumaiyataz].
Sanjai: The cocktail hour is my favorite moment of any wedding, when everyone gets a drink and starts relaxing. So we wanted to make sure it was really top notch. There was a ton of seafood, sushi. There were lobsters running around.
Monique: One of Sanjai's cousins weaseled some crab legs back to the room for me, and I was happily chopping on sushi and crab leg as I was getting ready. I changed into a strapless mini dress by Retrofête that I knew I'd be able to dance in. I wanted to go cute, flirty, fun. Well, I don't know if I should say "flirty." I'm a married woman! Flirty for my husband only.
Sanjai: Given the religious part of it, we wanted to have our own catering. That was one of my must-haves: Vinny from a restaurant called Tandoor, in Queens. My family has known him from before I was born. He did my uncle's wedding in 1998, my brother's wedding, and smaller events for my family. We also wanted to make sure to have some Filipino representation.
Monique: The spread for the reception was even more elaborate. We had a whole roasted Filipino pig along with pancit and lumpia. I had scrambled to find a Filipino caterer because I had planned a lot of the wedding, but that is one thing that just slipped my mind. With a month left, I found Jose Paulo Cortes and his team from Jamaica, Queens, and they pulled it off beautifully. That pig was gorgeous. I did not get to eat a bite of her, and I'm very upset that I didn't.
Sanjai: For our entrance, we were thinking about theme songs. I really loved this theme song from a '90s anime show called Neon Genesis Evangelion. Monique showed me a rendition on YouTube by this gospel choir singing in Japan, and it was incredible. She said, "I would bet money this choir is actually from New York."
Monique: Lo and behold, they are. I said, "Hey, y'all ever done a wedding before?" They were very happy to do the song, "A Cruel Angel's Thesis," and then we added on the Lauryn Hill version of "Can't Take My Eyes Off of You" for our first dance.
Sanjai: Then we had a DJ [Joe Lopez with Beat Train Productions]. The first part of the night was mostly Indian songs, and then we transitioned to more current pop. We had a blast. Again, that was one of our main goals — make it fun, not stuffy.
Monique: The dance floor went crazy for "How You Like That" by Blackpink. I love K-pop. Vinny and his team prepared a dessert buffet, and in addition to that, I hired Bar Pa Tea to do bubble tea soft serve. Bubble tea is my favorite beverage, but a lot of shops only offered premade teas they would drop off, and it gets stale. I reached out to Bar Pa Tea and learned that they also had soft serve, which I think is an easier sell, especially with older family members.
Sanjai: One of the cool things about the hotel is that the airplane in the back is actually a bar, so we had the after-party there.
Monique: We were probably the most excited about that. It was hilarious. There was arm wrestling, there was Champagne flying. It was a great space for people who didn't sit with each other at the reception to grab a drink and catch up. So much uncontrolled fun.
Sanjai: It got wild on that airplane. I didn't want to lose our security deposit. Hopefully we got that back?
Monique: Sunday was the brunch, where everyone just showed up with sunglasses covering their eyes.
Sanjai: To give a sports analogy, we left everything on the field.