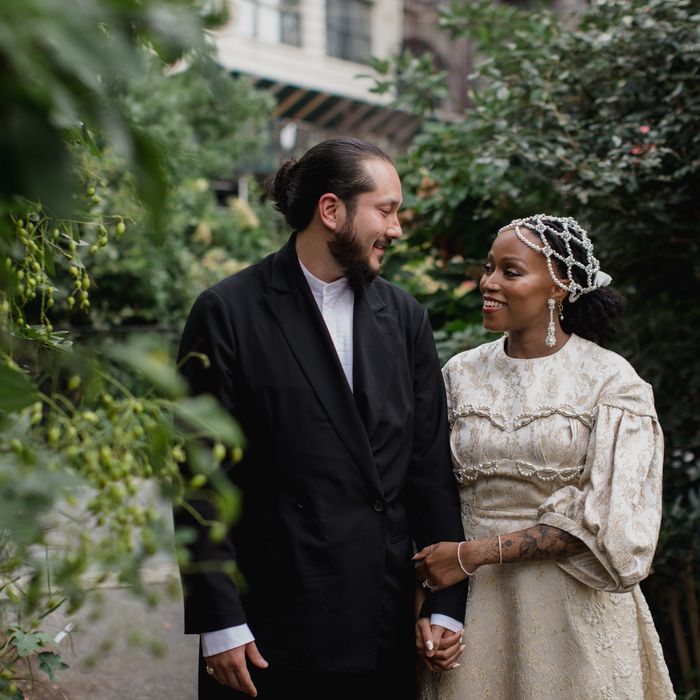 The couple met at a mutual friend's birthday party.
Photo: Quyn Duong
When we ask newlyweds to think back on what they wanted most for their big day — and we've interviewed hundreds of them over the years — the most common response is "For it not to feel like a wedding!" Despite our new (pandemic) normal, that answer hasn't changed. If anything, these days, gathering with old friends and eating mini grilled cheeses in formalwear to celebrate love feels more special than ever, even downright miraculous. And the betrothed have never been less attached to the old wedding handbook — and the need to please their great-aunt. So in a flurry of pampas grass and perfectly mismatched-to-match bridesmaid dresses, how do you pull off a non-cookie-cutter affair? For the answers, we decided to interrogate the cool couples whose weddings we would actually want to steal — right down to the tiger-shaped cake toppers.
Here, we spoke with New York couple Priscilla Quaye, a brand director with an Instagram (@curlcilla) dedicated to her natural hair journey, and Jeremy Hanover, a graphic designer and creative director. In 2018, they got engaged. In 2019, they made plans. With those plans foiled by the pandemic, they wed in a Brooklyn park in October 2020 with a few family members in attendance. On their anniversary, they celebrated again, this time at a restaurant on the waterfront with around 85 guests.
Priscilla: In 2019, we set our date for October 3, 2020. Then, of course, everything happened. By early June 2020 we realized we'd have to move this thing, but we wanted to keep our date and make something great come out of that year, so we got married in Fort Greene Park with our immediate family.
Jeremy: My parents were actually on Zoom, set up on a tripod. The venue we'd booked, Celestine, was super-accommodating. They worked with us to move the wedding to the same day, a year later.
Priscilla: A one-year anniversary party. We got lucky compared to other people. There were no additional costs or anything weird with money being tied up. We are both pretty relaxed people, and we never wanted a hoopla where everything is a big deal. We just thought of it as the one time when you can get all your people in one place.
Jeremy: We met at a house party in 2014. Priscilla's roommate Freddie's roommate from college was my roommate from Craigslist, and she had her birthday party at my apartment.
Priscilla: We were having fun in the beginning. I was just looking for a buddy, to be honest. It happened really naturally.
Jeremy: We were a good fit.
Priscilla: He proposed one weekend morning in 2018. He told me he'd planned a bunch of our favorite things — brunch, walking through the park — and to get up and get ready for the day.
Jeremy: I'd hidden the ring on this tray that she keeps all of her jewelry on. I was trying to be as natural as possible, but I definitely felt the tension!
Priscilla: It was really low-key and very us. We didn't do deep venue searching. We'd seen a few places when we had brunch at Celestine and looked around like, "I wonder if they do weddings." We reached out, and they'd just started.
Jeremy: It was a good size and really beautiful. Also, the food was great.
Priscilla: Another reason I really loved the space is that we didn't have to do much. We are big plant people, and they have so much greenery there. We wanted them to keep the plants, and the only thing our florist added was a few table settings. The florists were Rugie and Effie of Reflorish, two Black women; I met one of them through a friend of a friend years ago. In general, I wanted to make sure we worked with all people of color for the wedding.
Jeremy: One thing that we definitely connected on early was fashion. I was really into sneakers, but probably wasn't as knowledgeable as her.
Priscilla: Both of us are very into clothes, and so I was excited just to dress up. We gave our friends that notice: to come correct with your outfit!
Jeremy: There's this Brooklyn designer S.K. Manor Hill, and I'm a fan of that brand. I wore a black, double-breasted suit of theirs, but it wasn't super-structured. The shirt was a French brand, Bourrienne Paris, and it was ruffled almost like a tuxedo shirt but with a band collar. And I wore Margiela loafers with the Tabi toe along the bottom.
Priscilla: When I started searching for dresses in 2018, I was really drawn to Danielle Frankel. I found this really beautiful dress of hers, a slip dress with a lace overlay, and an off-the-shoulder thing with lace sleeves. But by the time that we were actually going to have the wedding, it weirdly didn't feel right anymore.
Jeremy: The original dress was really beautiful. But I agreed, it really wasn't as reflective of her personal style.
Priscilla: For everyday wear, Simone Rocha has always been one of my favorite designers. I wore a dress of hers for our Fort Greene wedding, so I thought it would be cool to do a continuation. I really loved that it wasn't traditional white; Black women just look great in goldish, off-white colors. Then I loved the shape as well, and that it wasn't taking anything too seriously. The little pearls that outlined the bra were fun. And I have always been an accessories person, so I think the wow factor was really in the headpiece as well, and how it tied into the earrings. Earrings, headpiece, and dress were Simone Rocha, and with the shoe I wanted to keep it simple. They were the Row.
Jeremy: I got ready at home.
Priscilla: Even though we live in Brooklyn, we still wanted to do something fun, so we got a room at the 1 Hotel in Dumbo so that we'd be closer to Celestine. I got ready there with my makeup artist, Delina Medhin. It wasn't that typical, frenzied getting-ready moment. Everything was really relaxed.
Jeremy: Freddie, my wife's old roommate, married us. She was really great, and kept things light, short and sweet.
Priscilla: She didn't technically introduce us, but she's the reason why we know each other.
Jeremy: We walked out to "Prototype," by Outkast, which is one of our favorite songs.
Priscilla: My nieces and nephews were a part of the wedding — my nieces were the flower girls, and instead of having my nephew do the typical ring thing, he lit a candle for my mother at the front. She passed when I was 8, so we wanted to do something that would honor her.
Jeremy: They really were the stars. They live in Virginia, and that was their first time in New York and they were so excited. They're not shy kids. They were in the mix, talking to everybody.
Priscilla: They stole the show. The celebrities of the wedding. I was honestly just so excited for them to meet all my friends.
Jeremy: We reread our vows that we wrote for the first wedding.
Priscilla: We thought it would be really special for us to reread them, thinking about the year that had passed, and so our guests were able to feel like they experienced the original time with us. After that, it was cocktail hour …
Jeremy: … In the outdoor area. The cocktails were a bourbon with brown sugar and smoked orange bitters, and a tequila and lavender. We definitely had a good amount of those.
Priscilla: They were very specific about letting us choose our wines. We had one orange, a red, a white, a sparkling. Dinner was a buffet, Mediterranean style. There was hummus, muhammara, flatbread, and salads, then steak, fish, or mushroom pasta. The fries were a hit, and the fish was great. I have a lot of allergies and I'm dairy free, and they were really great about accommodating that to make sure I could still eat a lot of things.
Jeremy: The branzino was really good. Both of our dads made a speech. There were definitely a lot of tears.
Priscilla: Everyone knows how soft spoken and quiet my dad is, and so I think people who have known him for a long time were really touched to see him get up in front of people. And for people who didn't know him, it was hearing the history of not having my mom. For our first dance, we didn't do one with each other; I danced with my dad and Jeremy with his mom, to Sam Cooke's "Nothing Can Change this Love" …
Jeremy: … At the same time. The DJ was actually a friend of ours, Janelle Ballantyne. My friends own a furniture store, and Janelle had DJ-ed one of their anniversary parties. Priscilla was really feeling the set that night and just went up to her.
Priscilla: I was like, "Hey, we're getting married in two years. Do you want to be our DJ?" She actually lives in Montreal, but we became really close friends. We both love clothes, and some of the same designers, so we connected on that level as well. We told Janelle we didn't want anything stuffy, not the typical wedding music where you're trying to please all the different age groups in the room. We wanted it to be like a party, so it was '90s and 2000s R&B songs.
Jeremy: The cake design, by Emily Lael Aumiller of Lael Cakes, was based off the design of Priscilla's dress — the pearls, and some of the same motifs. Priscilla has her allergies and I can't eat dairy, so it was vegan, no soy, no nuts. And we don't like it supersweet. But Emily was so accommodating.
Priscilla: I spent a lot of time looking up bakers who were great with allergies. We had a lot of fun with Emily. There were two layer flavors: One was lemon lavender, and the other was Earl Grey with berries. So, so good. Celestine also put out a few desserts — chocolate chunk cookies, panna cotta, chocolate cremeux.
Jeremy: There was no after-party. We're definitely old, and I think we'd had enough.
Priscilla: Too old, too tired. But people really did stay to the end and danced their hearts out, which I appreciated.
Jeremy: Honestly, the whole thing was just, like, a hang.
Priscilla: The highlight was stopping a few times, looking around and seeing all of my favorite people in that room, and seeing how easily they were all able to mix. It reminded me how many great people I have in my life.