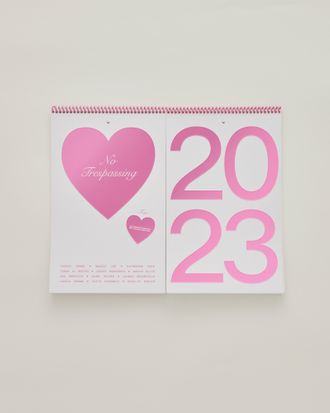 At this point in January, you've probably bought, and completely forgotten about, several planners, desk calendars, and productivity journals … so what's one more for a good cause? Today, the only calendar we will ever need was published: a 2023 one featuring artwork from 12 women and femme artists, including Fumiko Imano, Maggie Lee, Catherine Opie, Farah Al Qasimi, Louise Bourgeois, Janiva Ellis, Ana Mendieta, Jenny Holzer, Lauren Greenfield, LaKela Brown, Faith Ringgold, and Marilyn Minter, as well as a foreword from model Paloma Elsesser.
The calendar, aptly titled "No Trespassing," is a collaboration between executive producer Ariella Starkman and creative director Jen Brill and available exclusively on HommeGirls. The goal: to throw some public support at abortion rights in New York. After Roe v. Wade was overturned last summer, Starkman found herself protesting alongside thousands of people, and later, as reproductive rights were brazenly stripped from states across the country, she and Brill jumped into even more action. The two set out to create a calendar that would celebrate women in the creative space that would focus on womanhood, autonomy, and freedom.
"We wanted to reach out to some really legendary artists and with the goal of raising as much money as possible for Planned Parenthood of Greater New York," says Starkman. Past a cover dotted with pink hearts, images of each artist's take on femininity and its complexities serve as headers for each month: October gets a treatment of golden door knockers and the imprints they've left behind by Brown; December, an obscured face and pair of pouting lips by Minter; and August's art is one of a yellow condom wrapper that reads "In a dream you saw a way to survive and you were full of joy" by Holzer.
The calendar is available for $45 exclusively through HommeGirls and at Iconic Magazine in New York City. One hundred percent of the proceeds will be donated to Planned Parenthood of Greater New York. And by the way, only 500 calendars were printed.
"There's a real sense of urgency behind it," Starkman says. "Planned Parenthood of Greater New York is one of those institutions, as a lifelong New Yorker, that's touched every single person I know. To think that its funding is constantly on the chopping block." Brill adds, "It just doesn't make much sense, right? And it made all the sense to get onboard with this project and just do the most we can."