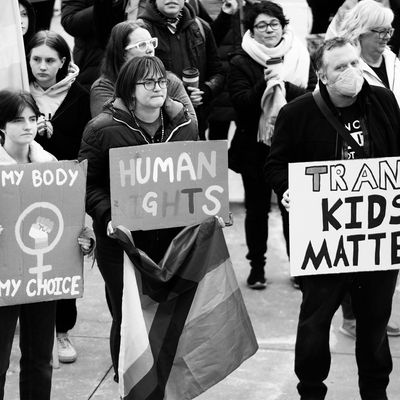 Photo: Rick Bowmer/AP/Shutterstock
On Saturday, Utah governor Spencer Cox signed a bill banning hormone-replacement therapy and gender-affirming surgery for transgender youth, making Utah the first state to ban such care this year. Alabama, Arkansas, Arizona, and Tennessee have previously enacted laws restricting trans youth's access to gender-transition care, according to the New York Times.
Utah's legislation specifically bans "hormonal transgender treatment to new patients who were not diagnosed with gender dysphoria" before the bill went into effect, and "sex characteristic surgical procedures on a minor for the purpose of effectuating a sex change," per CBS.
The bill comes amid a wave of anti-trans bills across the country. Already this year, Republican lawmakers have proposed more than 150 bills limiting the rights of trans people in at least 25 states, with many of those focusing on blocking transgender youth from receiving surgical or hormonal treatment for gender dysphoria. In Oklahoma and South Carolina, lawmakers have suggested criminalizing all gender-affirming health care for transgender people under the age of 26.
In March 2022, Cox vetoed a bill that would have kept transgender students from participating in girls' sports, citing "fundamental flaws" in the legislation. At the time, he said that he was concerned about the mental-health impacts such a bill could have on transgender youths in the state. The Utah legislature later overrode Cox's veto.
In a statement on Saturday, Cox appeared to have reversed his position, claiming that it was necessary to ban the treatments until "more and better research can help determine the long-term consequences," despite the fact that leading medical groups, including the American Medical Association, the American Psychiatric Association, and the American Academy of Pediatrics, have rejected claims that gender-affirming care is harmful to transgender children or adults.
Meanwhile, the ACLU of Utah said that the new law violates due process and equal protection rights guaranteed by the Constitution. "This bill effectively bans access to life-saving medical care for transgender youth in Utah," said Brittney Nystrom, the executive director of the ACLU of Utah, in a statement. "It undermines the health and well-being of adolescents, limits the options of doctors, patients, and parents, and violates the constitutional rights of these families."