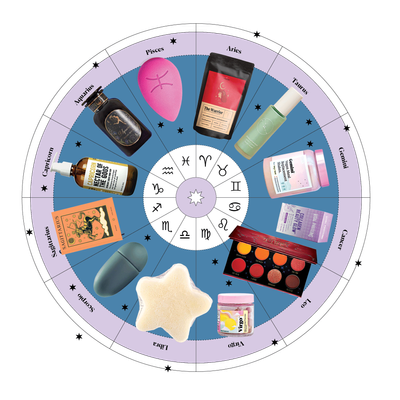 Photo: Courtesy of the Vendors
I distinctly remember the first time I read my horoscope, in CosmoGirl. I was an angsty 13-year-old mesmerized by how, based on the stars, someone could tell me anything about my life. Reading it was a ritual. After church, I'd go to the grocery store with my nana and nab the latest issue of the magazine to see what the sky had in store for me. My appreciation for astrology only grew. I begged Muss, my great-grandmother, to buy me a T-shirt from Walmart that explained the beauty of being a Libra — and I wore that shirt out.
My love for the celestial never dissipated, but it has now been marred. I'm being pursued by astrology-branded beauty and wellness products.
When star-sign-labeled merch first appeared on the market, it was a fun extension of a long-held joy. Jewelry-makers created beautiful pieces — necklaces, bracelets, and more — allowing the wearer to align with their sign while telling the world they're a Cancer (yikes!) or a Capricorn.
Today, the multibillion-dollar beauty and wellness industry can't stop hawking us useless extras. Companies are incorporating astrology into the wellness playbook they use to create and market items that prey on customers' desire for "optimal" health. We've seen an entire line of horoscope-themed vibrator sets and collagen products recommended according to sun sign.
Some wares out there don't feel icky. Pop astrologer Chani Nicholas sells candles made with essential oils and herbs that relate to the star signs. These aren't generic wax candles with LEO slapped on the front; they're thoughtful creations from makers who engage with people's emotional lives.
There's no self-enlightenment in collagen powders — even if, like me, you indulge in them. Wellness brands riding the astrology wave to push absurd unregulated products? How traditional and corny.
.

Aries
Zodiac Girl Coffee Company makes a confident roast for an Aries.
.

Taurus
If you're a Taurus, Once in a Pink Moon makes an earth-element creamy clay cleanser just for you.
.

Gemini
It's Gemini-branded birthday-cake-flavor Vegan Meal Replacement powder.
.

Cancer
Cancers, Vital Proteins offers a Lavender Lemon Collagen Beauty Glow supplement.
.

Leo
Leos should know that Melt Cosmetics has an eye-shadow palette for fire signs.
.

Virgo
Then there are these Virgo-branded Skin-Clearing Super Vitamins.
.

Libra
Spongellé's air-sign bodywash buffer is ideal for Libras.
.

Scorpio
For Scorpios, Bijoux Indiscrets makes a sensual pack that includes a ten-speed silicone vibrator.
.

Sagittarius
This notebook will help a Sagittarius record their innermost thoughts.
.

Capricorn
Capricorns may require this Whiskey River Soap Co. hand wash.
.

Aquarius
The Visionary Goddess Tea is made with vanilla for Aquarians.
.

Pisces
This zodiac makeup sponge from Beautyblender is for Pisces only.
More From The Spring Fashion Issue
See All