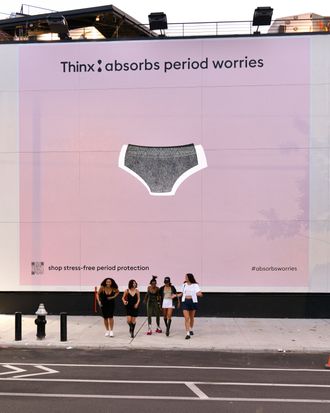 Photo: Eugene Gologursky/Getty Images for Thinx
New York–based brand Thinx — best known for its cheeky subway ads for period-absorbing underwear — is no stranger to controversy, from sexual-harassment claims against its former CEO to reports of toxic workplace culture. But the brand's problems apparently extend to its products, too. Last year, Thinx received preliminary approval on a deal to settle a class-action lawsuit against the company after a string of claims and independent research alleged that its signature underwear, which had long advertised itself as "organic, sustainable, and non-toxic," actually contained per- and polyfluoroalkyl substances, or PFAS, harmful chemicals linked to fertility issues, environmental pollution, and certain cancers. This week, an official settlement website went live, inviting customers who purchased the brand's underwear between November 12, 2016, and November 28, 2022, to submit claims for compensation. For its part, Thinx denies the allegations against their product, insisting the company did nothing "improper or unlawful" and that PFAS "are not intentionally added to Thinx Period Underwear at any stage of production."
Here's what we know about the settlement and how we got here.
First thing's first: what are forever chemicals?
Glad you asked. Per Vox, PFAS are man-made chemicals used in a myriad of consumer products — everything from clothing to cookware — to repel oil and water and make certain goods nonstick or stain resistant. Despite their wide usage, the CDC reports that PFAS are a public-health concern that may lead to an increased risk of kidney or testicular cancer, high blood pressure, pre-eclampsia in pregnant women, and small decreases in birth weights. PFAS are commonly referred to as "forever chemicals" because they don't break down in the environment, frequently contaminating water sources and bioaccumulating in wildlife. The EPA is engaged in an ongoing crackdown against PFAS usage, with some states banning the use of the chemicals in consumer products as they await federal regulation. (The Hill reports that New York will ban forever chemicals in clothing by the end of 2023.)
What were they doing in period underwear?
I'm wondering the same thing. Back in 2020, a journalist for Sierra magazine investigated the potential risks of period underwear, sending two brands, including Thinx, to an independent scientist at the University of Notre Dame. The scientist determined that Thinx's mainline underwear contained 3,624 parts per million of PFAS and that the brand's BTWN briefs contained 2,053 parts per million in the crotch. At the time, Thinx disputed the findings, telling the Cut in a statement that their own third-party tests indicated the chemicals weren't detected in the product and that they would "work swiftly to remove" PFAS should they be found in their underwear.
While it's unclear how much PFAS can be absorbed through underwear, studies from the Environmental Working Group suggest PFAS exposure through skin can be as harmful as oral ingestion with the vaginal area particularly vulnerable to chemical absorption. One California-based lawsuit against the company alleged that some customers developed irregular menstrual cycles, urinary tract and yeast infections, and unexplained infertility as a result of wearing Thinx underwear.
In the last few years, the brand has been served with multiple lawsuits alleging the presence of forever chemicals and nanoparticles.
Class Action reports that since 2020, Thinx has been served with at least three lawsuits alleging that the company had misrepresented its underwear as safe and sustainable despite the fact that third-party testers found PFAS in the products. Testers also reportedly found that the underwear contained Agion, an antimicrobial odor reducing agent made from silver and copper nanoparticles, even as Thinx claimed its products were "free from these non-migratory nanoparticles."
Thinx settled a proposed class-action lawsuit for $5 million, and pledged to make sure no PFAS are 'intentionally added' to their products.
In June of 2022, Thinx agreed to pay up to $5 million to settle a proposed class-action lawsuit alleging their products contained forever chemicals and nanoparticles. The deal received preliminary approval last November, and covers buyers who purchased Thinx underwear in the following varieties: cotton brief, cotton bikini, cotton thong, sport, hip hugger, high waist, boy short, French cut, cheeky, and thong. Consumers can submit their claims here before April 12, 2023, to receive either cash reimbursement for up to three purchases or a single-use discount voucher.
According to the settlement website, Thinx "denies all of the allegations made in the lawsuit" and maintains that PFAS has "never been a part of its product design." As part of the settlement, Class Action reports that Thinx has pledged to review its manufacturing processes and ensure that PFAS are not "intentionally added" at any stage of production and to have its raw material suppliers sign an agreement attesting the same. The brand also agreed to add disclosures for antimicrobial treatments. In a statement to the Cut, a spokesperson for Thinx confirmed that a settlement had been reached but reiterated that the company denies "all of the allegations made in the lawsuit," maintaining that it "prohibits our suppliers from using PFAS." They added: "The settlement is not an admission of guilt or wrongdoing of any kind by Thinx."

This post has been updated.