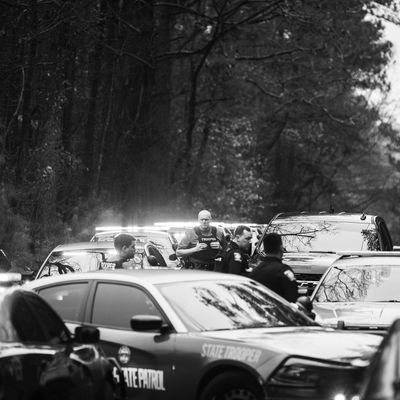 Photo: DUSTIN CHAMBERS/The New York Times/Redux
Tensions are high in Atlanta after law enforcement shot and killed a protester in the South River Forest on Wednesday. The victim, who has been identified as 26-year-old Manuel Teran, died during a confrontation with a Georgia state trooper while demonstrating against the planned development of a police-training center on forested land, the New York Times reports. Officials told the Times the trooper was also wounded in the confrontation. What exactly happened remains unclear.
Per the Times, the Atlanta Police Department's proposed plans for the $90 million training facility involve building on 85 acres of forested land and include an area for police to learn vehicle skills and a mock village for trainees to practice tactics. Critics of the proposal — including Defend the Atlanta Forest, the activist group to which Teran belonged — have cited environmental concerns and argued that "Cop City" is a dangerous investment in militarizing law enforcement. Over the past several months, activists have protested the construction by moving into the forest, often leading to violent confrontations with the authorities.
According to law enforcement and activists at the scene, Wednesday's shootings took place as police officers attempted to clear protesters out of the woods, detaining at least four individuals. But accounts of the incident are contentious: Authorities claim Teran fired at a trooper first and "without warning," prompting officers to fire back; meanwhile, activists with Defend the Atlanta Forest, or DAF, maintain that no activists fired at officers. A police investigation is underway. Below, everything we know.
Protests have been ongoing since city officials approved plans for the training center in 2021.
Per the Times, city officials approved the Atlanta training center in 2021. The facility was billed as a place to better prepare the force, entice officers to join the department, and lift morale after several incidents of police brutality, including the shooting of 27-year-old Rayshard Brooks, a Black man, at an Atlanta fast-food drive-through. The facility's proposed site is a former prison farm that contains hundreds of acres of recently reforested land. Critics raised concerns that the facility would disturb the green space and the surrounding community: "People don't want gunfire and bomb detonations to be the soundtrack of their neighborhood," an organizer told the Times at a vigil for Teran on Wednesday.
Rolling Stone reports that DAF has been protesting the construction since November 2021, setting up camp in what they call the Weelaunee Forest, creating common infrastructure and hosting public events like music festivals, student group tours, and teach-ins on Indigenous history. DAF activists have also argued against the expansion of a police state, pushing to defund the police and "refund" local communities.
DAF activists routinely clashed with law enforcement.


Wednesday's shooting wasn't the first time DAF activists and law enforcement have come to blows. Police have been trying to evict the protesters from the forest for months, sometimes working in conjunction with construction workers. In May, Atlanta police arrested at least eight people, accusing demonstrators of throwing rocks and a Molotov cocktail at them. Efforts to remove activists intensified in December after six protesters were arrested and charged with domestic terrorism. Similar action was taken on the day Teran was killed when seven protesters were taken into custody on charges of domestic terrorism as well as criminal trespass. The Georgia Bureau of Investigation reported that 25 campsites were destroyed during the raid, which also uncovered "mortar style fireworks, multiple edged weapons, pellet rifles, gas masks, and a blow torch." The director of the GBI has accused the activists of arson and of setting traps in the woods, telling reporters, "Law enforcement and portions of our community have experienced growing criminal behavior and terroristic acts." Many activists deny using violence in their protest. "We are peaceful protesters … We don't do that kind of thing," one demonstrator told Fox 5 Atlanta. "We have reason to believe the officer shot today was hit by 'friendly fire' and not by the protester who was killed," DAF wrote on Twitter.
Activists are reeling following Teran's death.


Activists have disputed law enforcement's claim that protesters shot first Wednesday, and local community organizers are calling for an independent investigation. "We are skeptical of the police narrative," Kamau Franklin, founder of Community Movement Builders, told Truthout. Meanwhile, as police presence in the forest increased, activists held a vigil in honor of Teran, also known as Tortuguita, who joined the protests in 2022 and came from Tallahassee, where friends remember them working on low-income housing projects. "This murder is a clear demonstration of how police violence and environmental destruction go hand in hand," one activist told Rolling Stone, adding that bulldozers and construction equipment were moved into the forest after the shooting to displace other demonstrators. The activist continued, "It feels too overwhelming and too soon to properly express our grief, but we know that we must keep fighting to, at the very least, ensure that this senseless murder's victim, Tortuguita, can rest in peace knowing that the forest will remain intact and beloved." A friend of Teran, Levitate the Pentagon, told the outlet they were a "proud and fierce anarchist" whose primary commitment in life was "the struggle for total liberation."
The city and police department are investigating the incident. Meanwhile, Georgia's governor, Brian Kemp, has said he will maintain the aggressive measures to stop protesters, saying in a recent statement, "The only response we will give to intimidation and violence is swift and exact justice." Following the shooting, Kemp expressed condolences for the injured trooper, who was shot in the lower abdomen and whose condition has stabilized following surgery, but did not acknowledge Teran's murder. "As our thoughts remain with him and his family, our resolve also remains steadfast and strong to see criminals brought to justice," he said. DAF will hold another vigil for Teran on Friday evening at 6 p.m. in the Weelaunee People's Park.