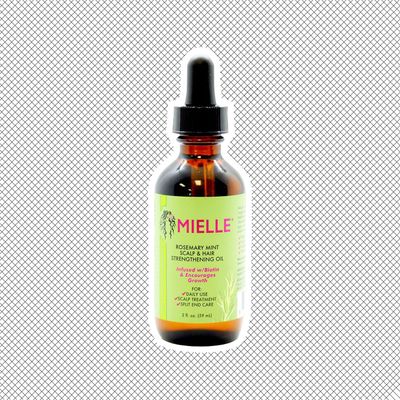 Photo-Illustration: The Cut; Photo: Retailer
Another year, another TikTok beauty drama. This time it's over hair oil, specifically Mielle Organics Rosemary Mint hair oil. About a week ago, TikTok influencer Alix Earle, known for her chaotic get-ready-with-me makeup tutorials, shared her top 2022 Amazon purchases. On her list was Mielle Organics Rosemary Mint hair oil. "I've only been using this for a little over a month, and I've already seen tremendous hair growth," she said. Almost immediately, Black women started commenting under the video: "If y'all sell our Mielle hair oil I will riot" and "leave the Mielle hair oil alone." As a beauty writer who tries hundreds of products a year, I've been familiar with Mielle Organics for the past five years and have been using it for about seven months: I can say that it really works. So why the drama?
What Is Mielle's Rosemary Hair Oil?
Created by Monique Rodriguez, Mielle Rosemary oil is a blend of oils including soybean, castor, and rosemary as well as ingredients like biotin and more, intended to stimulate hair growth and thickness. The oil is just one product in Rodriguez's line Mielle Organics, which she founded in 2014 while she was transitioning from having heat-damaged hair to restoring her natural curls and realized there was a gap in the market: a product that stimulated growth for women with textured hair. Like all Mielle Organics products, the description on the website outlines that they are products for Black hair: "Use it on protective styles, including braids and weaves."
Why are people upset?
Let's start by saying this hair oil isn't new. The $10 oil went viral on TikTok last year after several Black women showed their rapid hair growth, and it started flying off shelves. Thanks to Earle, white women are now trying the oil for themselves. A number of Black women have responded by pointing out that the number of products made specifically for Black women is much more limited compared to what is available to white women, so why use that product if it is not made for you? "The natural hair product section is so small, y'all have hundreds of products catered to your hair and we have 10 that actually work," one woman wrote. Black TikTok creators have jokingly been posting negative reviews to deter white women from buying. Some white women are sharing that it isn't working for them because it's weighing their hair down. (Hint: It's probably because it is made for women with a more coarse texture or curls that can retain a blend of oils.)
Professor of linguistics at Carnegie Mellon University Uju Anya wrote on Twitter that Black women have legitimate reasons in this case for gatekeeping, pointing to the fact that there is precedent of brands like Shea Moisture changing their formulation and raising their prices to accommodate white women. But Mielle has stated on Instagram that it will "remain forever committed to developing quality, efficacious products that address the need states for our customers' hair types" and has no intention to change its formulation to accommodate a new demographic.
Other Black creators like @prettycrtical said that as long as Black-owned businesses don't forget about their demographic, it might not be bad for a company to be selling out and expanding: "Their end goal is to move product" and supporting a Black-owned business is important for consumers as a whole.
Rodriguez commented dispelling rumors that the formula is going to change: "As a woman of color, founder and creator of Mielle, I promise that we have no plans to change the formula of the Rosemary Mint Scalp and Hair Strengthening Oil. We pride ourselves on being a brand that solves problems for the needs of our consumers." She also said that the product is in stock on her site.
This post has been updated.