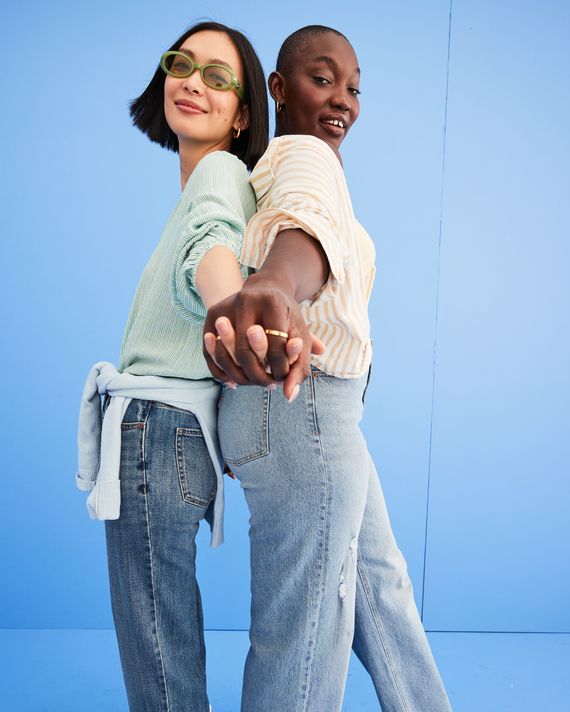 We're not saying skinny jeans are "out." But after years of reigning supreme, it's time for other styles to enjoy the spotlight. With so many denim options in 2023, you're only missing out by not incorporating a few fresh pairs into your wardrobe. Gone are the days when "skinny" was a default fit and high-rise was your only option.
Whether you're fully committing to the anti-skinny jean movement or are just denim-curious and looking to branch out, today's styles have a look and a feel for everyone. These spring-ready fits are sleek, dynamic, and effortlessly elevated. From flare to bootleg to baggy, even die-hard skinny-jeans fans will want in.
Loose
Over the past year, baggy jeans have taken over our Instagram feeds in a big way. If you haven't given them a shot yet, they're definitely a style that deserves a second look. Try offsetting their slouchy silhouette with tailored blazers, fitted tees, and sky-high stilettos.
Perks: they're comfortable, easy to wear and style, and make any outfit look cool.
Straight
Consider straight jeans the Goldilocks of denim. While some pendulums may swing too tight or too baggy, this style is always just right. Its no-fuss, simple, and flattering shape make it an everyday classic no wardrobe can go without.
Perks: they're extremely versatile and look just as stylish with heels as they do with loafers or sneakers. Straight jeans will always be relevant.
Cargo
Straight out of the '90s, carpenter denim is back on trend. Today's iteration however, is slightly more tailored with an essence of sophistication. If you're craving practicality, these utilitarian jeans fit the bill tenfold. Treat them like trousers and style them with everything from corset tops to cropped sports jackets.
Perks: not only do they offer ample pocket space, but they also add an irresistible dimension of comfort to any outfit.
Wide
Wide-leg jeans are defined by their full, roomy length and their cinched, typically high-rise waist. Designed to hug you in all the right places while offering a laid-back look and feel, this denim trend is arguably the most sought after by the fashion set today. Wear it with a structured blazer, cropped tee, oversized sweater, or relaxed button-down.
Perks: a great pair of wide-leg jeans have a lengthening effect on the wearer, which makes them ultra flattering. A high-rise fit will give you an extra long-leg look.
Flare
While flared jeans were once associated with a more bohemian aesthetic, today they're a polished and mainstream denim option. Especially when worn with sleek, minimal tops, bell-bottoms instantly take on a more modern feel.
Perks: a flared leg looks great on every body shape as they help balance out the wearer's hips, drawing eyes down and away from midsections.
Tailored
Dressier than typical jeans but not quite as conventional as trousers, tailored denim is our answer to hybrid dressing. They're the perfect solution for work-to-play, day-to-night, or when you're after a look that's equal parts sharp and carefree.
Perks: the beauty of trouser jeans is that they're highly adaptable. They'll elevate any casual outfit while providing a relaxed flair to more formal or traditional pieces.
Bootcut
Bootcut jeans are a tried-and-true classic that are easily the most wearable trend on this list. Slim through the thigh and slightly flared from knee to hem, this universal style is the perfect gateway jean when looking to expand your denim palette.
Perks: these jeans look great with nearly everything so you can essentially do no wrong when styling them. They're also a timeless fit that transcends trends, meaning you can confidently wear them for years to come.
Skirt
Make no mistake, this is not the same trend you rocked in the early aughts. Today's denim skirts are of the midi to maxi variety and feature sartorial detailing such as slits, pleats, and embellishments.
Perks: throwing a denim skirt into your style rotation is a fun way to mix things up without deviating too far out of your denim comfort zone.
Barrel
Barrel — also known as balloon — jeans are easily identified by their signature loose-fitting legs and tapered shape that bows out from the knee to the ankle at varying degrees. Reminiscent of a "mom" jean, this style is for those looking to stand out in a trend-forward way. The key is to wear them with more structured pieces that define your waist.
Perks: wearing barrel jeans will give you major style cred thanks to their interesting and unexpected shape.
This advertising content was produced in collaboration between Vox Creative and our sponsor, without involvement from Vox Media editorial staff.