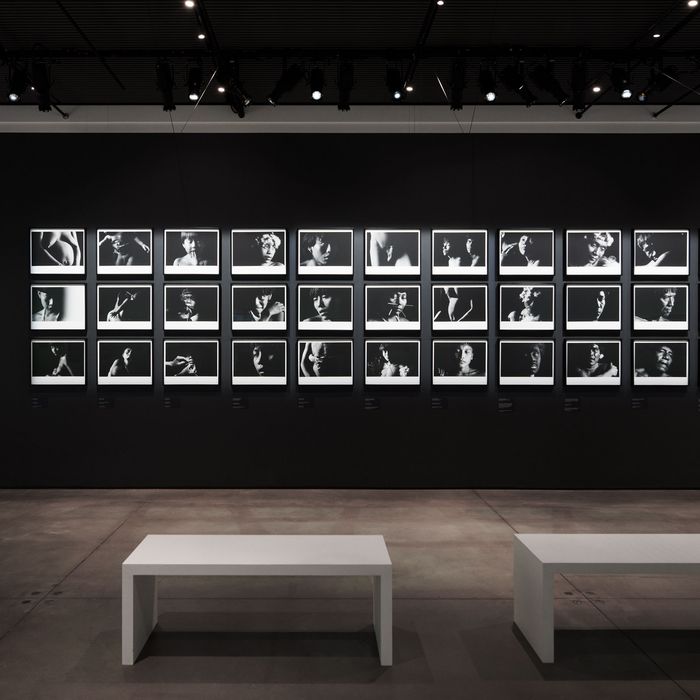 Photo: Image by Adam Reich, courtesy of the Fondation Cartier pour l'art contemporain
If there is one exhibit that you go to this week, make it "The Yanomami Struggle" at the Shed in New York City. The exhibition — 200 photographs, 80 drawings, and contemporary film work — shows life through the lens of Brazil's Indigenous people, the Yanomami. It's the first time the exhibit will be shown in North America.
The exhibition is a sobering, unfiltered look at Yanomami life, which is under threat of eradication because of overfarming by illegal gold miners who have destroyed their land, leading to the spread of disease and contributing to famine. In this exhibit, art shows the fullness and the complexities of the Yanomami's way of life, while they face the threat of systemic violence every day. The exhibit is also used as documentation by elder Yanomami people, who hope to preserve their traditions and culture for younger members so that they can carry on the legacy. (It is co-curated with the guidance of Yanomami leader and shaman Davi Kopenawa, who also serves as the spokesperson for the Yanomami people of the Brazilian territory. It features the work of artist and activist Claudia Andujar, who for the past 50 years has been documenting the people through photography.)
Through the hundreds of pieces created by Yanomami artists, the audience is forced to reckon with the struggle but, beyond that, witness a society fully integrated with nature, one that could fully thrive if it weren't for non-Indigenous interference. Most of the photos are in black-and-white, and video portions featured on double-sided flat screens depict the Yanomami people in practical situations like hunting and gathering. The drawings show the relevance of the Yanomami forest and depict how the land has suffered damage from the non-Indigenous world in the conquest of minerals, precious stones, and oil. But they are also explorations of tenets of life unfamiliar to the western world, such as the "yano," or large communal houses in the forests inhabited by dozens of families that serve as the heart of the community.
"When you learn something, you carry the responsibility of that learning," says curator Thyago Nogueira, head of contemporary photography at Instituto Moreira Salles, São Paulo, Brazil. "You will carry a seed of responsibility that will help you take action and work in favor of not only the Yanomami, but all the other people that are discriminated, marginalized, and vulnerable in this world because of the way we decided to live our lives."
"The Yanomami Struggle" is on view at the Shed through April 16, 2023, presented by Fondation Cartier.