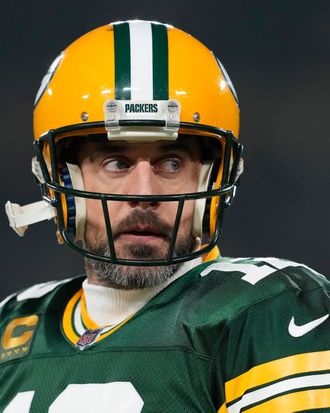 Photo: Patrick McDermott/Getty Images
There are many things in life that surprise me. Aaron Rodgers going on a "darkness retreat" is not one of them. In the wake of Tom Brady's re-retirement, the quarterback seems to be feeling the pressure to make a decision on his future in the NFL. It's a major life change, one that deserves careful consideration.
During an appearance on Pat McAfee's Sirius XM show this week, the Green Bay Packers player revealed that he was "still in the era of contemplation" about his future. And what better way to continue his Contemplation Era than with a four-day retreat for complete darkness, silence, and isolation "to contemplate all things my future." 
So, what is a "darkness retreat" exactly? Well, according to Rodgers, he'll be staying in "a little house" in complete darkness and silence. "Just myself, isolation," he said, per Yahoo Sports. The athlete added that, while you can leave anytime you want, the goal is to remain inside the dark little house all alone, though he'll receive food from the retreat through a "two-way slot." He explained, "It's just sitting in isolation, meditation, being with your thoughts. It stimulates DMT, so there can be some hallucinations in there, but it's just kinda sitting in silence, which most of us rarely do." (DMT is a naturally occurring hallucinogen, but, according to the website for Sky Cave Retreats, darkness retreats have not been scientifically proven to produce natural DMT.) So it's basically a COVID quarantine without electronics or sunlight?
Speaking with McAfee, Rodgers said that he'd been planning this darkness retreat for "months and months," adding, "I'm not scared, I've been looking forward to this as much as anything I've done." He later tweeted, "We are all on our own path, and doing things like this helps me find a greater sense of peace and love for life."
Wherever he's going, I hope for his sake that it brings him peace — and that they don't have a COVID-vaccine requirement.