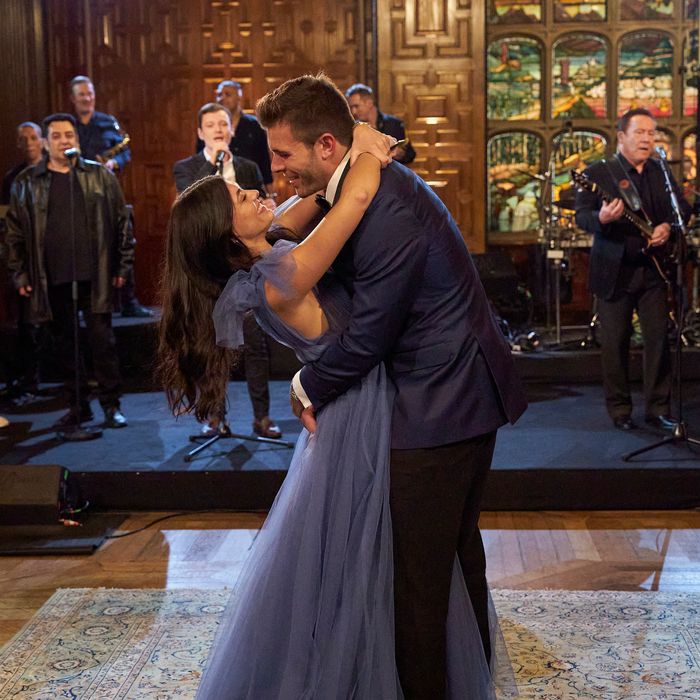 We're officially halfway through this season of The Bachelor, and our titular star, Zach Shallcross, is narrowing down his options for a potential wife. The 26-year-old "tech executive" has been pretty decisive so far, ousting early favorite Christina in week three (possibly because she has a toddler at home) and speaking up whenever the women displease him (which is not frequent, but still). He's also made out with pretty much everyone — a fact that became increasingly awkward during last week's episode as he started feeling "under the weather" and eventually tested positive for COVID. Oops!
After his diagnosis, Zach was forced to conduct the franchise's first Virtual Rose Ceremony, giving Zoom air kisses to his favorites and awkward waves to the ladies leaving this gorgeous romantic experience. Our tech exec now has nine women left — who will win his final rose? Let's discuss.
The Mid-Season Villain
One contestant we can dispense with right away is Greer, a 24-year-old medical sales rep who simply loves tea. English breakfast tea, that is. Producers gave Greer the mid-season villain edit this past episode — a sure sign she's on the way out — as she cried about not getting a one-on-one date during a trip to London. Greer told Zach the very first time she met him that she loves tea, so she thought it was literally crazy that he did not ask her on a one-on-one date in London, where tea is like, a huge thing. (Her Instagram handle, for the record, is @cheerio_greerio, and no, she's not British; she's from Houston.)
After Greer cried about this vicious snub, she unwittingly insulted Zach during the Virtual Cocktail Party Before the Virtual Rose Ceremony by comparing his unfortunate case of COVID to the time she got COVID at the end of a financial quarter, which was really stressful because, of course, she works in sales. Zach did not appreciate the comparison. I'll be surprised if our tea-crazy gal lasts another week.
Wait, Who Are They Again?
By this point in the season, if a contestant is not getting a lot of screen time, she's probably not headed to the final rose ceremony. Unfortunately, Aly, Ariel, and Jess have all had the least amount of screen time of the remaining women. They are all gorgeous e-commerce coordinators and marketing executives but have not distinguished themselves from the other contestants in any memorable way. Their best bet would be to start a random fight next week in the hopes of getting cast on Bachelor in Paradise.
Hometown-Date Material
Conversely, the following women have had the most screen time so far this season. Kaity, Brooklyn, Kat, and Charity have all had one-on-one dates with Zach (okay, Charity was supposed to have a one-on-one last week, but Zach got COVID) and have managed to get some of their personalities onscreen. What are their individual chances of going all the way?
Kaity, a 27-year-old nurse, is already fully in love with Zach. When she found out he had COVID and would not be in attendance at their group date last week, she made him a care package and brought it to his hotel-room door in London. They talked through the door and then "hugged" each other by thrusting their bodies against either side of it. (At least, that's what Kaity did; we couldn't see if Zach was playing along.) If this gal doesn't make it to hometown dates, she is going to be the one sobbing in the limo on the way home.
Brooklyn, a 25-year-old "rodeo racer" from Oklahoma, is a clear front-runner. She had a one-on-one date with Zach two weeks ago, where she told him about her devastating experience with domestic violence in a past relationship. Zach seems to genuinely care for her, but he hasn't been shown making out with her quite as much as some of the other women. That said, I would be surprised if she doesn't make it to hometown dates — how could producers resist a shot of her lassoing Zach in the middle of a rodeo? It simply must happen.
Charity, a 26-year-old child-and-family therapist, was, as previously mentioned, supposed to have a one-on-one date with Zach last week before he tested positive for COVID. We haven't learned too much about her personal history yet, but my guess is that Zach will make it up to her next week with a one-on-one date, and we'll get a big, produced package about how amazing she is. According to @bachelordata, an Instagram account that catalogues various stats about The Bachelor, Charity has kissed Zach in every single episode of the season so far, which to me suggests she could be going to the Fantasy Suites.
Kat, a 26-year-old nurse who is not Kaity the 27-year-old nurse, is another front-runner. She got a one-on-one date with Zach in the Bahamas two weeks ago, where she talked about wanting love and a solid family in her future. That clearly appealed to Zach, who can't stop mentioning that his parents have been married for 30 years. Kat is beautiful, nonconfrontational, and has made out with Zach a fair amount. Maybe she'll be the next Bachelorette?
Winners Circle
After last week, there is one contestant who stands apart from the rest, and that is Gabi, a 25-year-old account executive from Vermont. She looks like a mix of Charli D'Amelio and Kendall Jenner, and Zach seems to be obsessed with her. She got a one-on-one date last week — before Zach tested positive for COVID — and it was a big one. In almost every season, producers conceive of a Pretty Woman–style date where the lead gets to spoil one lucky lady with fancy gowns and shoes and jewelry, and that is exactly what Gabi got. At a couture shop in London, Gabi tried on baby-blue, Cinderella-esque gowns as Zach looked on in awe. They also danced to a special performance by … UB40??? All the other women — especially Greer — were jealous, a clear sign that they see Gabi as the one to beat. And according to @bachelordata, in the last four seasons of the show, the contestant who got the Pretty Woman date also ended up getting the final rose.
There is still time, of course, for Brooklyn or Charity or one of the Kaity nurses to pull it out in the end, but at this moment, my money is on Gabi to win it all. Hopefully she likes Zach.