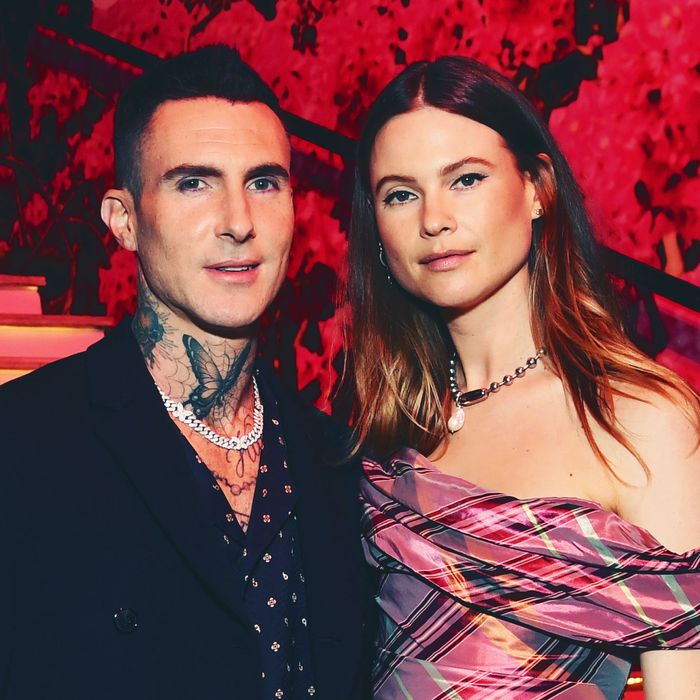 Photo: Jon Kopaloff/Getty Images for Calirosa
You'll probably be relieved to know that Maroon 5 front man Adam Levine will not be appearing on a podcast this week to talk about his rumored infidelity and/or whether he really named his baby after a woman he was having an affair with. Apparently, even his wife found the suggestion that Levine might be a Call Her Daddy guest funny.
I don't know if you remember, but in September, several women accused Levine of sending them some seriously cringey sexts. One woman, Sumner Stroh, also claimed she and Levine had a yearlong affair and that Levine wanted to name his baby after her. At the time, Levine denied the affair but acknowledged that he had "crossed the line" and "taken proactive steps to remedy this with my family." Since then, he and his wife, Behati Prinsloo, have welcomed their third baby (name still unknown), and neither of them have said more about the rumors publicly. As far as we know, they have no plans to — despite what a recent clip from Call Her Daddy's Instagram may have suggested.
Earlier this week, the podcast posted a promotional clip on Instagram that opened with host Alex Cooper telling an unseen guest that she was "a huge Maroon 5 fan" and asking, "How many times did you cheat with women that you met on Instagram?" This was followed by a haunting snippet of "She Will Be Loved," heavily suggesting that she had sat down with Levine for a tell-all about his romantic exploits.
The podcast revealed in a later video that, actually, comedian and Pitch Perfect star Adam Devine had joined Cooper for Wednesday's episode. Apparently, a lot of people have made the mistake of mixing these two up — back in September, Devine clarified in an Instagram post that he and his wife, Chloe Bridges, were "going strong" and that Adam Levine is a "different guy and a worse singer." I guess someone decided to bring the bit back for a little publicity?
As it happens, the Call Her Daddy promo did lead someone from the Levine party to weigh in. Levine's wife Prinsloo added a succinct but telling "LOL" to the pre-reveal clip Call Her Daddy posted on Instagram.
What to make of these three little letters? Is it a typo? A baby-name announcement? Or maybe just an overconfident assertion that everything is fine and ha ha, can you imagine if Levine was crazy enough to go on a podcast and talk about his terrible flirting?! Whatever Prinsloo means, it's probably for the best that we won't be hearing from Levine anytime soon. The man does not exactly have a way with words.