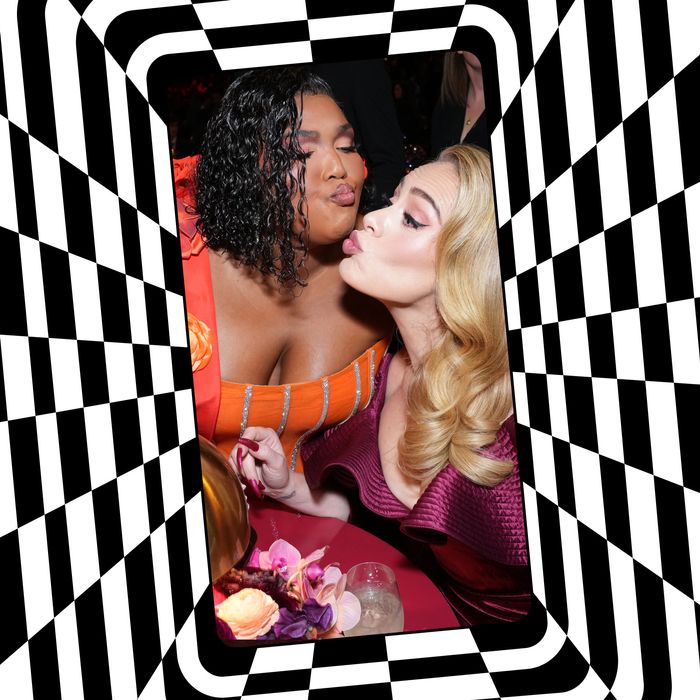 Photo-Illustration: by The Cut; Photo: Getty Images
I Can't Shut Up About: Deep dives into my online obsession of the week.
If I could have dinner with any group of celebrities, I wouldn't. What are Machine Gun Kelly and I going to talk about over a charcuterie board? How I just now realized that "Grammy" comes from "gramophone"? You want me to sit at a table with Chris Martin and inevitably call him Coldplay to his face? No, thank you. I would rather be the puppet master deciding which famous people sit where, arranging a room full of little celebrity playdates with cameras trained on the tables whose conversations I would most like to overhear. On Sunday, we all got a taste of that dream when Lizzo and Adele were seated together at the 2023 Grammys.
No one had a better Grammys than Lizzo and Adele. Lizzo herself said so when she accepted the award for Record of the Year. "Me and Adele [are] having a good time just rooting for our friends," she said as the camera panned to Adele laughing in British. They danced! They giggled! They drank from bedazzled flasks and hugged before winning the most prestigious awards on national television! Stars — they're just like us!!
In an ideal world, Adele and Lizzo would have been mic-ed up the entire time. Like during a football game when you can hear the players say to themselves, "He-he I almost tripped!" Whose outfits did they secretly judge? Which performers did they both have a crush and why was it Bad Bunny? Fortunately, Lizzo, a celebrity of the people, gave us a peek behind the scenes on her social media. She posted selfies with Adele while Beyoncé was onstage making Grammy history and videos of the moment Harry Styles won Album of the Year, the latter debunking the bizarre rumor that Adele stormed off. (She didn't. She stood, sang along to "Music for a Sushi Restaurant," and, when Lizzo turned the camera on her, asked, "Why you filmin' me for?!")
Adele and Lizzo's friendship isn't brand new. During one of her Vegas residency shows late last year, Adele said she thinks "very highly" of Lizzo, talking about how much she enjoyed the singer's documentary Love, Lizzo. "And I hate music documentaries," Adele added. "I ain't got time for no one." During Adele's 2021 "One Night Only" special, Lizzo and Oprah were among the many celebrity guests, standing and singing along to "Hello." (Well, Lizzo sang along. Oprah tried her best.)
When Lizzo hosted Saturday Night Live, Adele texted her to wish her good luck. ("I hope you kill it this weekend, babes.") "I look up to her a lot," Lizzo recently said of Adele. "She knows who she is and she honors that with every album … She's the rarest gem of all time. We need her. I am grateful for her." Lizzo has previously told People about how she and Adele first became friends: "I met her at a birthday party or a Grammy party — I can't remember where because I was drunk at both." Seat these two front-and-center of every awards show! Confirming their palpable chemistry, she added, "We have very similar personalities … We're both supreme divas. We know our worth — and we're also both Tauruses!" Lizzo has also described Adele as "literally me in a different font." A Lizzo and Adele buddy-comedy when??
While we may have to wait for the two to work on any official projects together, Lizzo has said she'd love to accompany Adele on the flute on a future song. In the meantime, we can enjoy this decade-old video of Lizzo covering "Someone Like You." Or Lizzo doing an impression of Adele singing "About Damn Time." Or Lizzo shaking her ass to "Easy on Me." Or two Lizzos shaking ass to a mash-up of "Rolling in the Deep" and "Good As Hell."