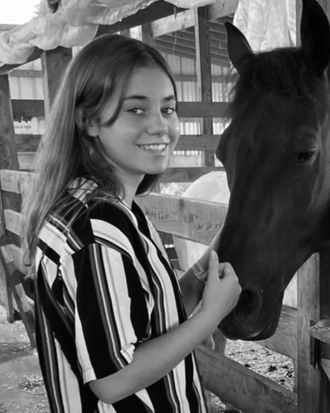 On February 3, 14-year-old Adriana Kuch died by suicide just days after she was attacked by four students in a hallway at Central Regional High School in Berkeley Township, New Jersey. Now, the four students believed to have attacked Adriana have been suspended and are facing various charges, according to NBC.
While the names of the minors have not been released, Ocean County prosecutor Bradley D. Billhimer said that one student was charged with aggravated assault, another with harassment, and two others with conspiracy to commit aggravated assault, per NPR.
Adriana took her own life after a video of the students attacking and taunting her was posted to TikTok. Her death has led to protests and broader conversations about bullying in the Central Regional School District. Roman Valez, a sophomore at the school, told NBC New York that Adriana killed herself because "nobody at the school was able to help or care or step in."
Adriana's father, Michael Kuch, has said on social media and in interviews with various media organizations that Adriana took her life because of bullying. She didn't want to be "that girl who gets beat up on video and made fun of," he told the New York Times, adding that the school and the district had not done enough to stop it. "They're absolutely refusing to protect our children," Kuch told NBC New York.
In an email reportedly sent to the Daily Mail, Central Regional School District superintendent Triantafillos Parlapanides shifted blame to Adriana and her family, saying she had done drugs and made "poor choices." Kuch told the Daily Mail that he and his wife previously sought help from the school because Adriana had been smoking marijuana with a vape pen, but that the school district was deflecting from its own errors.
"My daughter was attacked in your school and you did nothing. And now you want to blame this on everyone else except yourself because you failed and you suck at your job," Kuch told the New York Post in response to Parlapanides's comments. "You should probably resign."
Parlapanides resigned on Saturday, according to the Times.