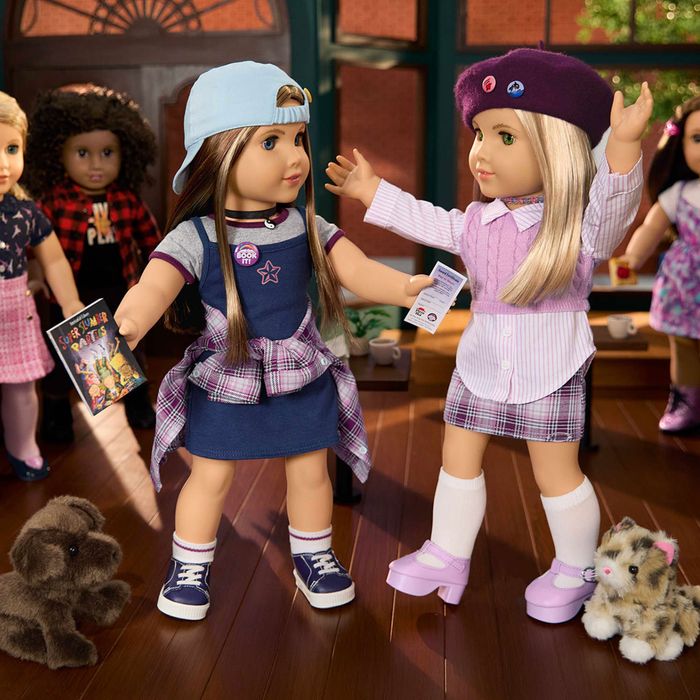 Photo: American Girl/ Mattel
As an adult, I generally avoid dolls as much as I can — for normal reasons. But 2023 is teaching me that dolls can do so many things beyond just creeping everyone out: They can serve as inspiration for major motion pictures, for example, and apparently provide delightfully accurate snapshots of the year 1999. Thanks to the newest American Girl dolls, we finally have some thorough documentation of this major turn-of-the-century moment.
For the uninitiated, American Girl is a line of dolls set in a wide range of historical eras, and many of them come with books to flesh out their backstories. On Wednesday, the company launched two new dolls, twins Nicki and Isabel Hoffman, whose stories take place in 1999. Alarmingly recent, I know, but instead of being personally offended by the fact that American Girl has deemed my childhood years "historical," I am choosing to celebrate its respectful homage to late-'90s preteen culture. I strongly suggest you do the same, if only to enjoy this doll-size replica of Pizza Hut's cups.
The company has applied its usual rigorous approach to Nicki and Isabel, who come with mini accessories like a Tamagotchi, a pom-pom pen, a black satin choker necklace with a yin-and-yang charm, and a portable CD player with headphones and two homemade mixes. Nicki, a skater girl with pitch-perfect Freaky Friday highlights, runs a "girl power" zine and is afraid of the Y2K bug. Meanwhile, Isabel's multiple sweater-vests and knee-high white socks are more Clueless-inspired.
Their room décor is a Claire's fever dream: purple leopard-spotted bedding, an inflatable chair, a fuzzy pink back pillow, and plenty of alien-themed paraphernalia. Obviously, both twins come with journals written scrapbook-style into marbled composition notebooks. American Girl even delved into its own archives for source material, creating doll versions of a 1999 issue of American Girl Magazine and its discontinued Grin Pins.
As for the Pizza Hut cups, the food chain obviously exists well into the 21st century, but American Girl has apparently decided that its "Book It!" reading program is very '90s and therefore popular among Nicki, Isabel, and their friends. Sure, why not?
Anyway, if TikTok is listening, this is the Y2K vibe we should be reviving — please put the low-rise jeans away.