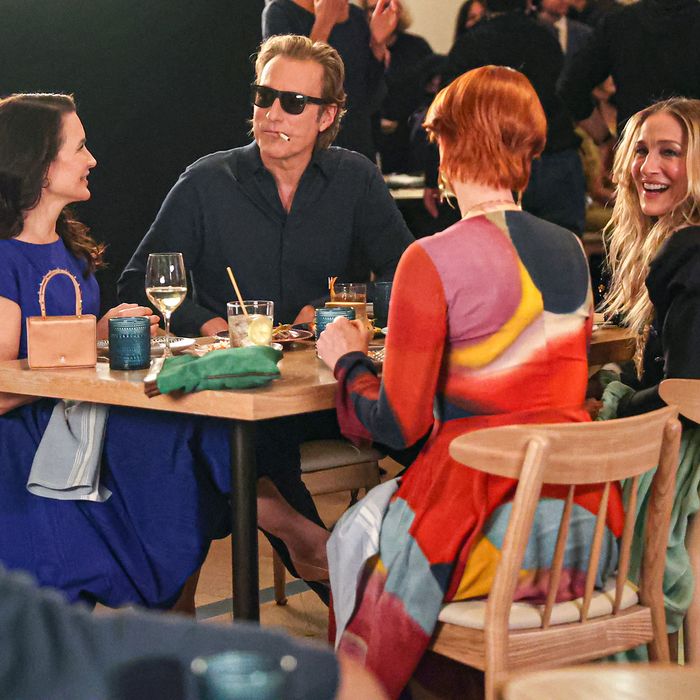 Photo: Jose Perez/Bauer-Griffin/GC Images
If I've learned anything from And Just Like That …, it's never to trust John Corbett. In 2021, the actor who famously played Carrie's boyfriend Aidan on the original Sex and the City told "Page Six" that he would be reprising his role in season one of the reboot. Spoiler alert: He did not. Which is why I'm more than a little skeptical about the recent photos of him on the set of And Just Like That … season two.
It's not that I don't think Corbett is actually going to be on the show. The actor has been spotted on set multiple times over the course of the past month, and the series' official Instagram confirmed his return with a very dramatic photo of him and Sarah Jessica Parker holding hands while walking in the middle of a New York City street (as one does). But there's something about recent snaps of him on set that just don't feel quite right. Last week, photos emerged of Corbett and Parker filming a scene at a home-goods store, which seemed pretty normal, all things considered. It's the photos from this week that have given me pause.
I have so many questions I don't even know where to begin. Why is Aidan sitting next to Charlotte at a group dinner? Why is he wearing sunglasses indoors and at night? New York City restaurants have dim enough lighting as it is! The cigarette is also a red flag. NYC has strict rules against smoking indoors, but more than that, Aidan was notoriously anti-smoking. He told Carrie on their first date that he couldn't date a smoker. If anything, anti-smoking sentiment has grown since Sex and the City was on the air, so what's really going on here?
It's possible that And Just Like That … is trying to throw fans off by filming some dummy scenes. This tactic to avoid spoilers has been used before, and Cynthia Nixon and Kristin Davis even hinted that this could have been a strategy during the filming of And Just Like That … season one during a joint appearance on The Late Show With Stephen Colbert. "Yes, definitely!" Davis said when asked if they shot fake scenes to fool the audience. "It might be true," Nixon admitted, adding, "We don't want them to read the CliffsNotes beforehand."
Whether or not Aidan smoking while at dinner with Charlotte, Miranda, and Carrie is one such misdirection, we can't know for sure. But let the record show I'm not convinced everything is as it seems, either.