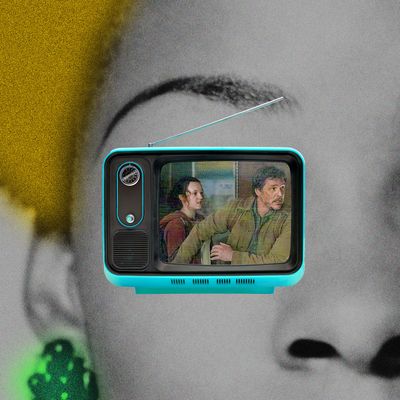 Photo-Illustration: by The Cut; Photo: Liane Hentscher/HBO
We get it: There's an overwhelming amount of television right now. The streaming landscape is an impractical maze, and the good stuff easily gets lost in the shuffle. But most of us can still find that one show that cuts through the noise. We call this Appointment Viewing, or the time you carve out in your busy schedule to watch the show you'll want to unpack with your friends when it's still on your mind the next day. Tune in each month to read what writer Michel Ghanem, a.k.a. tvscholar, deems worthy of a group-chat deep dive.
What is this zombie show everyone is talking about?
The Last of Us is a buzzy HBO adaptation of the award-winning 2013 video game of the same name. We follow Pedro Pascal (from The Mandalorian and Narcos) as Joel Miller, a grieving father scraping by 20 years after the outbreak of a human-infecting mutated cordyceps fungus. Joel is entrusted with guiding feisty teen girl Ellie Williams (played by Bella Ramsey of Game of Thrones fame), who grew up in this grim new world, westward in hopes of creating a cure after finding out she might be immune to turning into a mushroom-controlled zombie.
You might be more used to seeing an ensemble cast in this genre, but The Last of Us feels concentrated and precise in its exploration of this surrogate father-daughter dynamic, and the traveling format makes for an engaging watch as the glossy production design and CGI transform the screen to depict post-society landscapes. The series also features appearances from a talented supporting cast: Gabriel Luna, Anna Torv, Melanie Lynskey, and Merle Dandridge, who reprises her role from the game. Critics are calling the third episode, a standalone gay love story between characters played by Murray Bartlett and Nick Offerman, one of the best episodes of television in recent memory.
Where can I watch it?
The Last of Us airs every Sunday night at 9 p.m. EST on HBO and HBO Max, the primetime slot previously held by The White Lotus and House of the Dragon, if you hadn't noticed from all your friends carving out their Sunday evenings for appointment viewing. For The Last of Us, HBO once again put its faith in Craig Mazin after his television debut with Chernobyl, the radiation-tinted historical miniseries that won a boatload of Emmys back in 2018. Mazin's previous filmmaking work includes mostly a few Hangover and Scary Movie films — clearly he comes into his own in more apocalyptic settings. The Last of Us was co-created with the video game's writer, Neil Druckmann, who lends his pen to the series. Also to note, Carolyn Strauss serves as executive producer — she has a long history of producing with HBO, and seems to have the finger on the pulse of big TV hits (she helped greenlight The Sopranos and Sex and the City). With a passionate built-in video-game audience and its week-to-week surprises, The Last of Us is almost guaranteed to break through.
Okay, but why would I want to watch a show about a zombie apocalypse? I don't care about zombies! Or apocalypses!
I know what you're thinking: You've already dragged yourself through a decade of zombies on The Walking Dead (or dropped off when Glenn died), cried your way through Station Eleven, and watched too much atrocious violence on The Handmaid's Tale. I understand if you might feel a bit burned out on world-ending content (as if the last few years of our real-life pandemic weren't apocalyptic enough). Thankfully, this is not a half-baked zombie series — the writing and heart-wrenching plot line have already been crucial to how the story-based video game became such a phenomenon, and there's a noticeable attention to detail here as it's translated to television.
Also to note, the last decade has seen something of a mushroom renaissance. I can't go a day without receiving recommendations that I microdose psilocybin, seeing an ad for adaptogenic mushroom coffee, or witnessing friends develop a foraging hobby. On The Last of Us, mushrooms come alive in a creative and disturbingly realistic way. These zombies are not the slow-moving, groaning walkers you might be used to from The Walking Dead. Infected by a super-evolved fungus, they are connected to a mycelial network, their roots not only growing in human bodies but into the city itself. Touch a growing root at an abandoned museum and you might awaken dormant parasites a block over who now know where to find you. These mushroom-enhanced monsters are far scarier and more dynamic to watch than previous creatures in the zombie genre, and The Last of Us makes good use of them, their gruesome sight providing well-earned jump scares as our protagonists navigate through long-abandoned pockets of the world.
In light of Game of Thrones spin-offs in development being reportedly shelved and general belt-tightening at HBO Max as it cancels under-performing shows, a lot seems to be riding on the success of this project with such long, expensive-looking episodes (the premiere clocks in at 82 minutes). Based on my elevated heart rate, wet eyes, and need to call a friend to debrief after each episode as if I've been bitten by a mushroom zombie myself, it seems to have all been worth it.