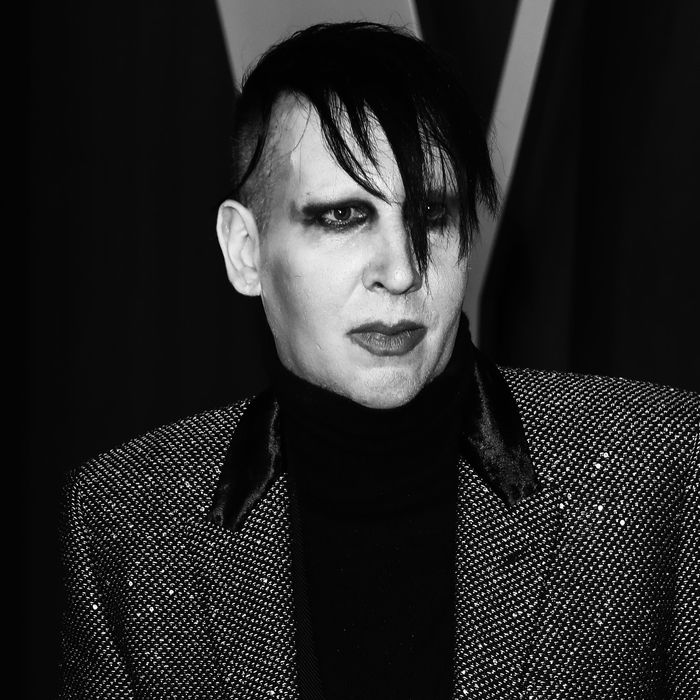 Photo: Toni Anne Barson/WireImage
Since 2021, more than a dozen women have come forward to accuse musician Marilyn Manson, real name Brian Warner, of psychological abuse and sexual assault. Now one of them, model Ashley Morgan Smithline, has recanted her story and claims that some of Manson's other alleged victims convinced her that she had repressed memories of his abuse, leading Smithline to make false accusations.
She first came forward with allegations of sexual assault against Manson in February 2021 alongside other accusers including the actors Evan Rachel Wood and Esmé Bianco. They all shared similarly gruesome stories of physical and psychological abuse, torture, branding, whipping, and drugging. In June 2021, Smithline filed the fourth of five lawsuits against Manson that stemmed from those allegations, seeking damages for sexual assault, sexual battery, and human trafficking.
Since then, one of those lawsuits, brought by Manson's former assistant Ashley Walters, was dismissed over the statute of limitations, and Bianco settled with the singer earlier this year. In January, Smithline's case was dismissed after her lawyer, Jay Ellwanger, withdrew from the case and she failed to replace her legal representation.
Smithline has not filed a new legal claim, but she has provided signed testimony in a motion filed as part of Manson's defamation lawsuit against Wood and the activist Illma Gore, whom he alleges had conspired to mount a campaign of lies about his consensual relationships. Ahead of a hearing for the lawsuit, Manson's legal team filed a statement signed by Smithline in which she accuses Wood and Gore of manipulating her into falsely believing Manson had abused her.
"Evan never pressured or manipulated Ashley," a spokesperson for Wood said in a statement to the Cut. "It was Ashley who first contacted Evan about the abuse she had suffered. It's unfortunate that the harassment and threats Ashley received after filing her federal lawsuit appear to have pressured her to change her testimony."
Smithline claims she was "manipulated" into making false allegations of abuse.
Smithline appeared in Wood's 2022 documentary Phoenix Rising, which details the actor's accusations against Manson. Smithline also appeared on the cover of People in May 2021, telling the in-depth story of how she "survived a monster." In the new legal filing, however, she says she had a "brief consensual sexual relationship" with Manson in November 2010 during a trip to Thailand. "Ten years later," the filing obtained by the Cut reads, "I succumbed to pressure from Evan Rachel Wood and her associates to make accusations of rape and assault against Mr. Warner that were not true."
The written testimony goes on to say that "either Ashley Walters or Illma Gore" contacted Smithline in 2020 and invited her to meet with other women who'd had "relationships or experiences" with Manson. Smithline recollects participating in a group call and meeting with the other women in person in October of that year (footage of the latter appears in Phoenix Rising). Throughout the following months, she says, Wood shared other alleged victims' stories along with hers and told Smithline she might have repressed her own memories of similar abuse. "Eventually," Smithline's filing reads, "I started to believe that what I was repeatedly told happened to Ms. Wood and Ms. Bianco also happened to me."
Contrary to her previous statements, Smithline says there was "no branding or cutting experienced during the brief relationship and certainly no 'Marilyn Manson' initials carved on my body." Following her conversations with Wood and other alleged victims, Smithline claims, Ellwanger, her former lawyer who also represented Bianco, filed a complaint on her behalf without running it by her. That complaint "contained untrue statements about Mr. Warner, including that there was violence and nonconsensual sexual activity in our brief relationship," the filing alleges. Smithline also claims she was pressured into doing two interviews during that period and alleges that she was "manipulated by Ms. Wood, Ms. Gore, Ms. Bianco, and Mr. Ellwanger to spread publicly false accusations of abuse against Mr. Warner."
Wood says Smithline first contacted her about being held captive by Manson.
On Monday, Wood filed a declaration saying Smithline had first reached out to her in a comment on her March 2019 Instagram post in which she wrote about being a survivor of abuse; the post did not name Manson. Smithline claimed Manson had held her "captive in the ballet studio," and she recounted details about Wood's abuse accusations that hadn't been made public. "I cringed hearing him brag about replaying that scene from rules of attraction to you … i thought no one would ever talk about this," Smithline wrote, according to the filing.
The declaration goes on to say that Smithline was harassed by Manson's fans after coming forward and that the singer's lawyer had sent her a private message asking if they could speak "one-on-one directly, no lawyers" and just "talk like people." According to the filing, in a June 2022 voice message to a friend, Smithline said, "He thinks I'm the weak link and he might want to settle with me to turn on the other girls and say that it was all, like, a ruse."
Smithline's former lawyer previously expressed concern about her mental health.
This isn't the first strange turn in Smithline's case. According to court filings in a separate lawsuit, Ellwanger stopped representing Smithline last fall after receiving a text from her that read, "I am looking to discharge you. please let me know when it's done and what needs to happen." In a text exchange, Ellwanger expressed concern that Smithline's phone had been hacked. "I'm not sure who is writing these text messages but it doesn't sound like you," he said, and "I am honestly very concerned about you — this is all very different behavior than I have ever seen from you and I've known you for over a year."
A week earlier, Ellwanger had emailed Manson's lawyer Howard King explaining that Smithline could not appear in court owing to psychiatric issues. "She is unable to participate in litigation due to the current state of her mental health, which I am ethically required to keep confidential," he wrote as part of a legal filing. King responded by doubting the claims that Smithline was in Los Angeles for "emergency psychiatric treatment," and the model herself appeared to push back on this narrative in texts submitted to the court.
Smithline did not respond to the Cut's request for comment. Asked about her reversal, Ellwanger told the Cut in an email that "the specific allegations regarding my representation of Ms. Smithline are categorically and verifiably false."
Smithline's declaration serves to bolster Manson's argument that he is the victim of an attack against his reputation. "As we have always said, the coordinated campaign of Me Too lies against Brian Warner is going to go down as one of the greatest hoaxes of all time," King said in a statement to the Cut. Meanwhile, criminal charges remain on the table for the singer. The Los Angeles County Sheriff's Department conducted a 19-month investigation into the allegations against Manson, and those findings are now before the Los Angeles County district attorney's office.