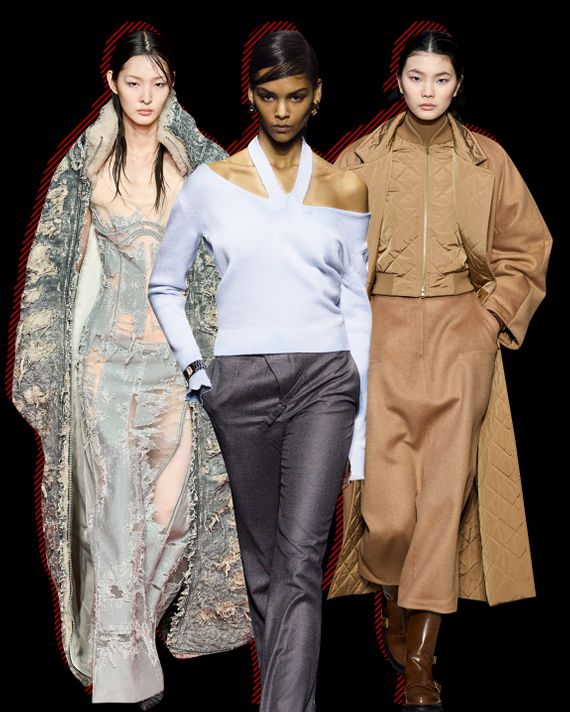 Photo-Illustration: by The Cut; Photos: Courtesy of Diesel, Fendi, Max Mara
When you live in London and work in Paris and Rome, as Kim Jones does — he's the men's creative director at Dior and the chief designer at Fendi — your brain tends to be on fire with cultural references. You can't escape noticing the civilized way that many Italians live — the delicious food, the unhurried pace, the low-key elegance. At the same time, you're steeped in the history of punk and English eccentrics.
On Wednesday, as the Milan fall shows got underway, Jones combined all those elements. Tailored trousers and jackets took their substance from menswear. They were done in lightweight wool, and the pants were cut on the bias, which gave them a more flattering look on a woman. A light-beige overcoat was actually crisp rain fabric; the lining was a warmer shade of sequins, a nod to his recent couture collection. The sky-blue knitwear that opened the show, followed by blue cotton shirts — shown with gray trousers and a topcoat in Prince of Wales check — points to the influence of the jewelry designer Delfina Delettrez Fendi, who mixes blue with brown and also shops in Rome's clerical stores. She has been known to modify for herself the humble frocks of nuns. Jones adapted another kind of uniform — the pleated skirt. He layered a half-skirt over pants. But was he influenced by Comme des Garcons–style punk or his chic Roman muse?
That mixture of classical forms and improvised details, based on looking at how women dress, accounts for the collection's strong appeal. Jones offered a lot of polished styles, like the suits, elegant coats, and black or dark-brown leather separates, but he managed to avoid making things look heavy or fussy. Sweaters spilled off the shoulders, suspended by a loop at the neck. A long ribbed-knit dress, closed on the bias with snaps and in abstract blocks of taupe, pale pink, and ivory, was one of several knits based on a mid-'90s style by Karl Lagerfeld. "But they were different then," Jones pointed out. "Quite heavy things. So these are very light." He also redid lace from the January couture show — attaching it to the fronts of cotton shirts or making relaxed-looking slip dresses.
The collection also had some striking accessories — notably, over-the-knee boots that were split open at the knees like armor, and a cube-shaped bag that folded magnetically shut at the top and that reminded me of a fancy cake box being toted home from the bakery by the loop of a string. Jones has been at Fendi just over two years. Some of his collections have suffered from artifice. While artifice obviously has a place in fashion, it may not be his natural expressive mode. Which is probably why this collection, without artifice, felt like a show of conviction.
Max Mara wittily called its show "Camelocracy." The company has a thing for camel's hair, and the opening looks — a plush, hooded maxi coat, a long wrap skirt folded over once at the waist and belted, a short brocade skirt extended at the sides like panniers — were all in that shade, apart from wide leather corset belts or a sheer black turtleneck.
What do corsets, panniers, and hooded cloaks have in common? Apparently, the 18th century. I only gleaned this connection from press notes, and the mention of its main muse, the philosopher and writer Émilie du Châtelet, who was also Voltaire's lover. As a meditation on fashion — What's modern? What's masculine and truly feminine? — the 18th century is a great head trip. Suffice to say, Max Mara got what it needed from the period and du Châtelet — some adorable skirts with extreme sides, a war chest of outerwear, chunky knits, and elegant evening clothes in black brocade and velvet.
Glenn Martens, the creative director of Diesel, certainly doesn't let the grass grow under his feet. In the middle of his show arena was a giant pile of packaged condoms; on the speakers, the sounds of fucking.
Okay. Got it. The clothes would have told you the same thing. Martens does amazing things with denim, including long, skinny dresses that seem to disintegrate on the body, leaving it semi-exposed. He properly calls the material devore denim, a technique historically used on velvet to create a burned-out design. Some showpieces looked as if they had been subjected to heat, causing them to pucker in absurd ways. Other outfits featured the lipsticked, and rather disturbing, image of a hysterical rictus. The grotesque never goes out of fashion.