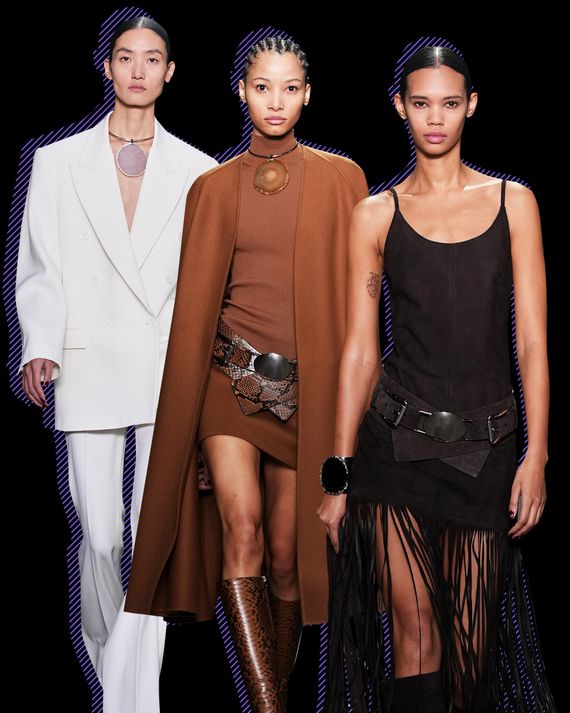 Photo-Illustration: by The Cut; Photos: Courtesy of Michael Kors
It's uncanny how well Michael Kors summed up the New York fall collections, which ended on Wednesday.
Like a number of designers — Joseph Altuzarra, Catherine Holstein of Khaite, Stuart Vevers of Coach — he promoted a long-and-lean silhouette, even if his underpinnings were hot pants and low-heel boots. He took the weight and convention out of his longer skirts by reducing them to panels, something that Lazaro Hernandez and Jack McCollough also did at Proenza Schouler. He had pantsuits, putting his own stamp on the ubiquitous look with slightly oversize jackets and elegantly flared trousers. And he loaded up his runway with body-hugging knits. It's all about the body, if you haven't noticed.
Trends may be irrelevant these days, but there are usually points of agreement, a feeling for the zeitgeist, that even established designers want to touch. A year ago, Kors's fall clothes looked too dressy and self-consciously glam. "We could all use a little froth," he said then. Well, that's what he stripped away this time. His clothes have more sex appeal, more of a New York kind of drive. He repeated the long fringe from spring — for a taupe suede minidress, the long skirt of essentially a bodysuit — but dropped the drapery and wood prints. Again, it was about paring back, getting to a Korsian essence. That's natural confidence over froth.
Gloria Steinem, who wrote for New York Magazine in the '60s and co-founded Ms. in 1972, was in the audience, and her arrival prompted a wave of applause. She is 88. Considering everything that she and other feminists fought for and managed to accomplish, it seems the height of silliness or banality to talk about '70s-era hot pants and shield sunglasses worn in the manner of Steinem, with the stems worn over a model's long, straight hair. On the other hand, the amazing freedom that people increasingly have when it comes to expressing their sexuality or gender identity or personal tastes has a lot to do with the battles and values of Steinem's generation. The fashion industry is always going to take a culture's most original ideas — be it a clothing design or a work of art or a political stance — and turn it into commerce.
Kors's collection also had some terrific statement pieces, like a boss cream-colored shearling coat, that fit with the sexier vibe, and a slew of good-looking, wide leather belts. He included them last season too, so he evidently knows what his customers want — and can't find elsewhere.