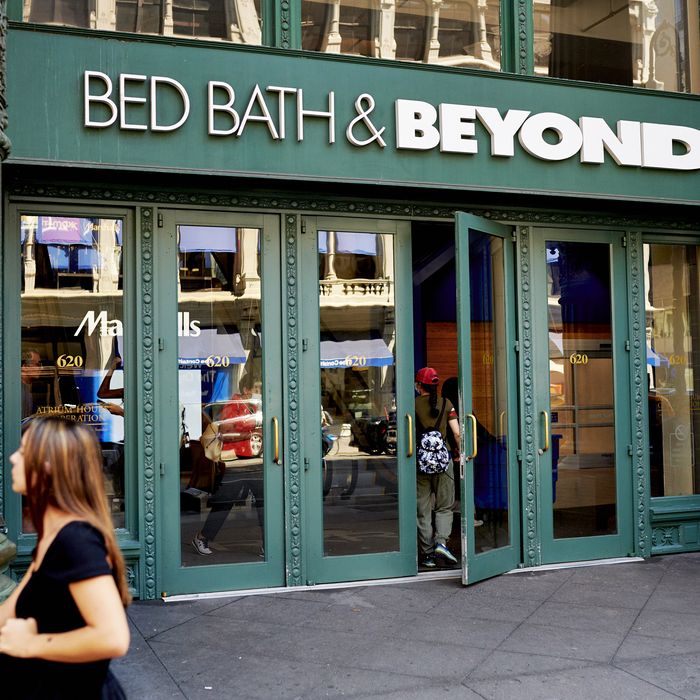 Photo: Gabby Jones/Bloomberg via Getty Images
It's the end of an era for college students and bargain hunters everywhere. Bed Bath & Beyond confirmed on Wednesday that it would be closing 87 stores across the U.S., including all Harmon Health and beauty-store locations, as well as five Buy Buy Baby stores. If you were thinking of stocking up on inexpensive sheets, cutlery, or any other home goods, now is the time.
The news isn't exactly a big surprise. Bed Bath & Beyond has been struggling recently. Last week, as reported by CNN, the company filed paperwork with the SEC stating that it didn't have "sufficient resources" to pay its debts. Still, it's difficult to imagine a world without the home-goods store. Where else can one buy a bed and A Cinderella Story on DVD at the same time?
These 87 store closures are in addition to the 150 stores Bed Bath & Beyond closed last year, and it looks like the chain as a whole could be in danger. Earlier this week, Reuters reported that Bed Bath & Beyond, Inc., was preparing to file for bankruptcy protection soon. The report said that the company was currently in negotiations regarding a loan that would help them through the bankruptcy process, and there are still hopes that a new investor will come and save the day. "As we work with our advisors to consider multiple paths, we are implementing actions to manage our business as efficiently as possible," the company said in a statement, per NBC News.
Store closures will affect locations in 30 states (a full list of stores closing can be found here), from California to Florida. In perhaps the most tragic news, Bed Bath & Beyond's two major Manhattan locations are closing. Where will Princess Mako and college freshmen buy her sheets now? There is, however, a silver lining to this incredible loss: clearance sales. Reuters reported that some stores are preparing closing sales that could start this weekend.