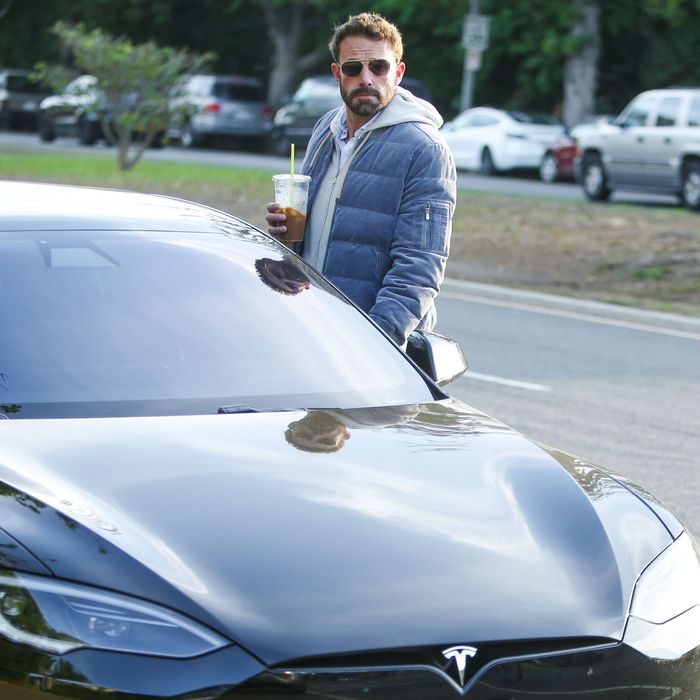 Photo: BG004/Bauer-Griffin/GC Images
I don't know if you've ever tried to parallel park, but it is akin to entering the fifth circle of hell, with the sixth being doing it while people watch. (This magazine's official stance on parallel parking: "People should be allowed the grace to park alone without being perceived.") So it only makes sense that Ben Affleck, who recently resumed his reign as the king of despair, was subjected to being not only watched but also filmed while trying to work his way out of a parking crisis.
On Monday, Affleck found himself in the nightmarish scenario of attempting to wiggle his Mercedes-Benz out of a parking spot in Brentwood. Affleck knows better than anyone that we live in a cruel, cruel world, so of course TMZ managed to secure footage of the entire ordeal.
First, our guy psyches himself up with a preparatory cigarette while his emotional-support Dunkin' cup waits dutifully atop the Benz. In the next clip, he's in the car, beginning the torturous process of inching back and forth while wildly spinning the wheel in whatever direction might make sense. He appears to touch both the car in front of him and the one behind him multiple times, which is sort of unavoidable but does not bode well for his insurance policy. Eventually, he manages to ease his way out, escaping the cameras but not the unending misery that plagues our existence.