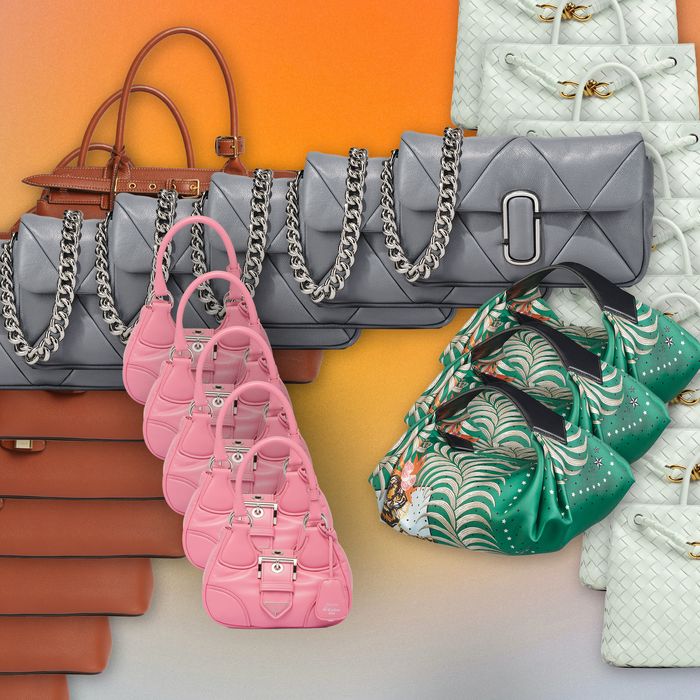 Photo-Illustration: the Cut; Photos courtesy of the vendors
For more of the Cut's favorite fashion, beauty, and home finds, sign up for the weekly Cut Shop Newsletter.
The end of winter means the end of roomy coat pockets, which is why springtime is always its own kind of handbag renaissance. Freshly relevant once again, they become more than just arm candy — a complex wardrobe carbohydrate at the very least. Here's a selection of this season's most compelling bags, from Forever 21 to Hermès.
A little crochet number for all the texture fanatics.
This Issey Miyake pleats bag is inspired by tree trunks and bends and spreads as you fill it, fitting a surprising number of oranges at the farmers' market.
Speaking of farmers' markets, this bag was inspired by a peach.
Guaranteed to look devastatingly cool with all the springtime going-out tops you've been patiently waiting to break out from under your bed.
A bag that will make you look like a grown-up even on days you don't particularly feel like one, especially when paired with suede sandals.
A pouch that seamlessly transitions from clutch to toiletry kit, if
you ask nicely. Available at Hermès stores in June.
The handbag version of serotonin, an instant mood boost for outfits that need a jolt of color and Y2K nostalgia. Available at select Prada boutiques and prada.com.
Tipping the scales for shape fanatics: It looks just as cool in your hand as it does sitting atop a table next to an espresso martini. Available in March.
The type of bag you'll buy now and your grandkids will ask to borrow in four decades. Available February 7.
Kind of wild, but swinging this over your shoulder will instantly transport you to the Marais. Celine, available in March.
More From The Spring Fashion Issue
See All