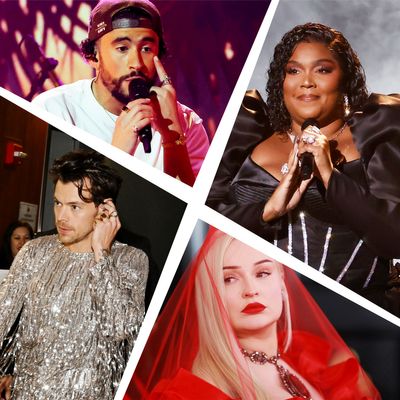 Photo-Illustration: by The Cut; Photos: Getty Images
It's time for the Grammy Awards, where Beyoncé is God, performances are extra, and 75 percent of the awards are handed out off camera. That's the music industry for you.
This year, A-list musicians and noted tongue kissers gathered at the Los Angeles Crypto.com Arena (lol) to enjoy tame jokes from repeat host Trevor Noah and performances from Lizzo, Bad Bunny, Harry Styles, Steve Lacy, Mary J. Blige, Brandi Carlile, Sam Smith, Kim Petras, and Luke Combs. Nominees Adele, Doja Cat, Anitta, and Taylor Swift also attended, but did not perform. And while that's all well and good, let's be honest, everyone had their eyes on Beyoncé — or lack of Beyoncé.
With her Renaissance album, the Recording Academy considered Beyoncé for all the major awards this year, including Record of the Year, Song of the Year, and Album of the Year. Before the show started, everyone was eagerly waiting to see if Queen Bey would finally avenge her 2017 Lemonade Album of the Year loss (at the time, Adele took home the Grammy, and the two are once again up for the same big awards in 2023). Of course, Beyoncé isn't the only artist capable of giving fans memorable Grammy moments; just look at the highs and lows of the night.
High: Viola Davis becoming an EGOT winner
Viola Davis became the 18th person to earn an EGOT — i.e., taking home Emmy, Grammy, Oscar, and Tony Awards — after she won a Grammy for Best Audio Book, Narrative, and Storytelling Record for her memoir, Finding Me. Unfortunately, the historic moment wasn't aired as part of the prime-time ceremony. "I wrote this book to honor the 6-year-old Viola," she said in her speech. "To honor her life, her joy, her trauma, everything. And it has been such a journey — I just EGOT!"
High: Myles Frost's unimpressed reaction to a Harry Styles win
Tony nominee Myles Frost presented a handful of awards at the unaired Grammys Premiere Ceremony, and a video comparing his enthusiastic reactions to Beyoncé and Lizzo wins to his underwhelmed declaration of a Harry Styles victory is an absolute must-watch.
Before the main show, Lizzo won Best Remixed Recording for "About Damn Time (Purple Disco Machine Remix)"; Beyoncé won Best Dance/Electronic Recording for "Break My Soul" and Best Traditional R&B Performance for "Plastic Off the Sofa"; and Harry Styles's Harry's House won Best Engineered Album, Non-Classical.
No idea: Machine Gun Kelly getting vulnerable on the red carpet with Laverne Cox
No one knew how to react to Machine Gun Kelly's melancholic interview on the red carpet with E!'s Laverne Cox. MGK, who famously spoke about his mental health and his struggle with being a public figure during an appearance on The Drew Barrymore Show, admitted to Cox that he was uncomfortable, hinting that he was still processing a Grammy loss during the car ride over. (Ozzy Osbourne was announced as the winner of Best Rock Album during the Premiere Ceremony.) "I didn't take the category home, and I almost feel like I asked for that lesson. I feel like I lacked self-love and was valuing myself on career accomplishments and … the car ride over here was very cathartic for me."
The conversation could have devolved into awkward silence, but Cox ran with it, even attempting to turn his frown upside down by encouraging him to focus on the bright side: He's at the Grammys, doing what he loves.
High: Bad Bunny looking fine in jeans and a white T-shirt
Bad Bunny kicked off the night with a performance that had everybody, including Taylor Swift, out of their seats and dancing. He performed "El Apagón" and "Después De La Playa," turning the entire auditorium into a salsa-and-merengue dance party. Oh, and he also had the audience salivating at how hot he looked in simple washed-out jeans and a white T-shirt. Outfits at the Grammys can be pretty extra, but when you look like Bad Bunny, you really don't need to do much to have all eyes on you.
Low: Where is Beyoncé??
Fans were sad that Beyoncé didn't walk the red carpet, but it wasn't surprising. And her absence was obviously felt during Trevor Noah's opening monologue, when even Lizzo turned directly to the camera and asked, "Where is Beyoncé?" It wasn't until she won her first televised award of the night — Best R&B Song for "Cuff It" — that people really started getting frustrated. As co-writers Nile Rodgers and Terius "The-Dream" Gesteelde-Diamant took the stage to accept the award, to avoid confusion (and, I assume, a riot), Noah assured fans that Queen Bey was coming but was currently stuck in traffic. She eventually made her way to the awards, and got her Grammy personally delivered by Noah.
High: Kim Petras becoming the first trans woman to win the Grammy for Best Pop Duo Performance
Kim Petras and Sam Smith took home the award for Best Pop Duo Performance for "Unholy," but it was Petras's heartfelt speech that had the crowd up on their feet. "Sam graciously wanted me to accept this award because I am the first transgender woman to win this award," she said, sparking cheers and applause from the crowd. Smith, who is nonbinary, urged everyone to stand for Petras and give her a standing ovation. Petras then thanked the trailblazers that came before her, including the Grammy-nominated SOPHIE, who died in 2021; Madonna; and her mother, who, she said, "believed me, that I was a girl, and I wouldn't be here without her and her support."
Makes sense: Ben Affleck craving Dunkin'
Ben Affleck attended the Grammys with his wife, Jennifer Lopez, but he didn't look thrilled to be there. (For the record, there were photos of him smiling at the event, so it seems more likely than ever that the actor suffers from resting exasperated face.) People watching at home agreed: Whether he was happy or sad, he definitely looked like he needed some Dunkin' Donuts.
Low: The Album of the Year fan focus group
The idea of incorporating fans into the Grammy's most buzzy category — Album of the Year — is a good one, but the fan-focus group bit, where fans were invited to make their case for a nominee, went on too long to be really enjoyable. At least the fans were invited to the show, which hopefully means they got to meet their idols. If we had to sit through ten minutes of strangers gushing over Adele, Brandi Carlile, and Beyoncé, at least they got something good out of it!
High: Beyoncé making history
Beyoncé may have missed her first win of the night, but she showed up when it mattered, accepting the award for Best Dance/Electronic Music Album. That win officially made her the most awarded artist in Grammy history, with 32 wins. And the night wasn't even over.
High: GloRilla crushing the hip-hop 50th-anniversary performance
GloRilla performed alongside legends like LL Cool J, Ice T, Public Enemy, Missy Elliott, Queen Latifah, Questlove and the Roots, Nelly, Run-D.M.C., Busta Rhymes, Salt-N-Pepa, and more. Would it have been nice to see her joined by more female performers? Yes. I'll be keeping my eye on the next one.
Good for her: Bonnie Raitt winning Song of the Year
Bonnie Raitt took home the award for Song of the Year, beating out big names like Beyoncé, Adele, and Harry Styles. It was a shocking win — Raitt herself looked stunned, as the room seemed to be rooting for Beyoncé — but it's hard to be mad at an iconic 73-year-old singer-songwriter just doing her thing. I hope she has fun celebrating!
High: Lizzo taking a sip from her tiny flask before winning Record of the Year
Lizzo was spotted taking a drink from what appeared to be a tiny flask as she and her tablemate Adele seemed prepared to celebrate Beyoncé winning Record of the Year. And then … Lizzo won! Lizzo gave a shout-out to Prince, saying that the artist inspired her to make positive music, which resulted in her Record of the Year–winning track, "About Damn Time." She also took some time to honor Beyoncé, recalling the time she skipped school to see Beyoncé perform and calling the singer "the artist of our lives."
Low: The random copaganda
Did Harvey Mason Jr., the director of the Recording Academy, need to tell us that music can bring cops and protesters together? Or give women equal rights? No, we did not.
Uh … what??: Harry Styles winning Album of the Year
Harry Styles winning Album of the Year is, um … fine. But also a head-scratcher. (The grandma fan reading his name as the winner was very cute, I will admit!) The weirdest moments from his win, though, were when he (a) didn't thank or address Beyoncé (as Lizzo did before him) and (b) said, "This doesn't happen very often to people like me." According to BET, only ten Black American artists have won Album of the Year. A Black woman has not won the award since Lauryn Hill in 1999. Respectfully, Harry, this happens to people like you extremely often.
In any case, Beyoncé's Renaissance remains the Album of the Year in our hearts.
This post has been updated.