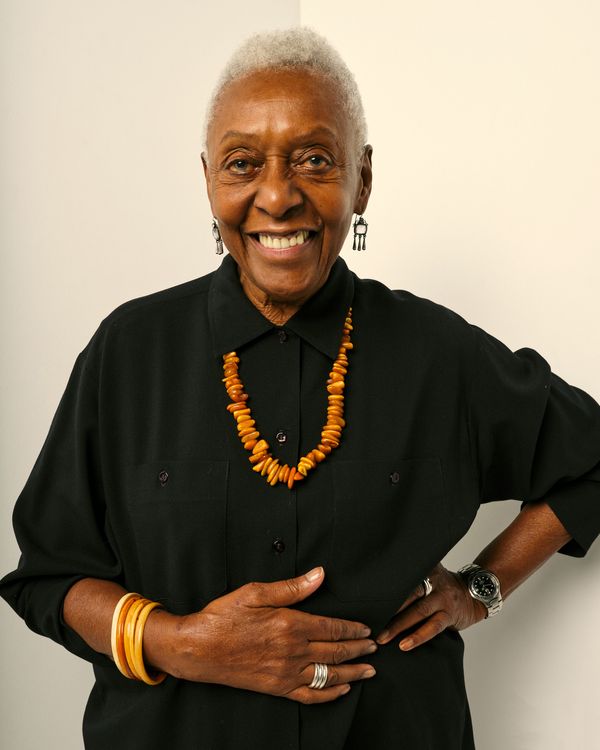 If you want to know who Bethann Hardison is, look at the sticker she has affixed to her iPad. Revealed in close-up shots from her documentary Invisible Beauty, of which she is both subject and co-director, the pink-and-white sticker reads a slogan taken from hip-hop veteran Sophia Chang: "Baddest Bitch in the Room."
"If anyone is the baddest bitch in the room, it's me," Hardison says through hearty laughter as she sits down across from me in Park City, Utah, where she has just premiered Invisible Beauty in front of a Sundance Film Festival audience that included the likes of Jeremy O. Harris, Dakota Johnson, Taylour Paige, and Thuso Mbedu.
The pioneering activist, model, agent, and fashion matriarch-slash-kingmaker is here with her co-director, Frédéric Tcheng, whom she met in 2014 when he was tasked with making a three-minute documentary to play onstage as she received an accolade at the CFDA Awards. She had already started working on a documentary some years prior, and Tcheng, being the director who made films about designers Halston and Christian Dior, was captivated. "She had such a presence that I felt was comparable to Diana Vreeland, who I'd made a documentary about, except that Bethann was alive, so that was even better," Tcheng says. "Five years later, we really got to work."
To say that Hardison's impact on the fashion industry has been monumental would be an understatement, and Invisible Beauty knows this. The documentary covers the early years of Hardison's life in Brooklyn; her foray into the modeling world and impact on New York culture in the 1970s; the Battle of Versailles with designer Stephen Burrows; the evolution of her modeling agency that made stars of models like Tyson Beckford, Naomi Campbell, and Veronica Webb; raising her son Kadeem Hardison to be an actor; the development of the Black Girls Coalition, which she founded in 1988 with Iman; and the searing open letter she penned to the fashion industry, calling designers and brands out for their racism and lack of diversity on the runways and in editorials in the 2000s.
Warm interviews from some of the aforementioned models, industry insiders, and actors who have worked with Hardison and consider her to be a mother figure and mentor add more dimensions to the legacy Hardison has formed in her 80 years on the planet. And to top it all off, she's working on a book, parts of which are revealed in the film as she works through the writing process with her editor. It's a lot of ground to cover, and yet Tcheng and Hardison manage to paint a naturalistic self-portrait of the model and activist as a true maverick who has always had the guts to find strength in her vulnerability and honesty.
Perhaps her co-director puts it best when he tells me, "Bethann is a movement."
The documentary begins (and later ends) with you deciding what to wear and putting sunglasses on before heading out to the Gucci Love Parade fashion show on Hollywood Boulevard. Why did you want to start with that?
Bethann Hardison: People laughed at that moment.
Frédéric Tcheng: They were surprised by that. I never said this to Bethann, but I felt like she was putting on armor. She's the warrior, and she's going to battle. I wanted to start the film with the idea of change. I wanted to give the audience a taste of the story to come through Bethann's own words.
It's a nice bookend. You shared a lot about your childhood in the documentary, including that you were in a gang when you were really young —
BH: From 9 to 12 years old.
When you look back on those younger, earlier years of your life, what are some of the feelings and associations that you have with that period?
BH: I loved growing up. I was very blessed. I especially loved the time before I went to live with my dad, because I had so much freedom. My mother and grandmother were just amazed by this: So what are you doing now? Where are you going now? What did you join? I was an independent latchkey kid. When I went to live with my dad, it was much more structured. But I really liked my childhood. I learned about myself when I'm now thinking about my life as I'm writing. I say that I already was successful by the time I was 12 years old. I did so many things well and successfully without being scared. I didn't have a bad upbringing. I could never complain.
As a teenager, you went to live with your father, and he was a staunch Muslim. It was a huge part of his life and outlook on how a person should be in the world: educated, engaged, active. It seems like there's somewhat of a spiritual journey throughout the documentary. At this point in your life, what significance does spirituality or religion hold for you?
BH: I'm spiritual all the time. I remain Muslim, because once a Muslim, always a Muslim, my dad told me. But I'm not a practicing Muslim, except for every year during Ramadan. I embrace that, because you gotta do something. I lost all of my Arabic, my prayers, I don't remember any of it because I walked away from saying them at the age of 17 before I went to live with my grandmother and mother again. With Ramadan, at least I take the extra step and do something. I've been doing that since the '80s. I took a long break in between. But once I really embraced it, I've never stepped away. Not one year will I ever give it up. I'm already nervous, because it's coming March 21. So fucking soon! I'm the only Muslim in the entire world who I think complains when it's coming.
I always often think that I'm going to find an Imam, someone as brilliant as my father was, and really try to find a community again, you know, try to find a place to go. I don't know if that comes with age, because a lot of times when people become older, they become more conscious of that next life. I don't know if that's the reason why or just because I just think it would be nice if I could just find a way to settle back into something, get rid of all this. Once the film takes us on a journey and we see where that lands, I think I'm gonna change my life.
Is there a memory or moment in the documentary that you would say is a favorite?
BH: What's your favorite thing that you loved?
I loved the Battle of Versailles. To actually see the images and footage of that moment was stunning. And to hear you all speak about how American you were and how the show was unexpectedly embraced by the French.
BH: We killed it. We really did. We were nervous and scared. We were so put down, we went in such the underdog. Many months before, the French press went after us, saying, "Who are those Americans coming to France, they think they can compete with this sportswear stuff that they do?" They were calling Halston "sportswear," Oscar de la Renta "sportswear." They didn't care. They didn't think anything of the American designers. The point of Eleanor Lambert was to give her American client designers the opportunity to be seen across the world. The good news was two things: Yves Saint Laurent only recognized Stephen Burrows as the true American designer. The other thing was that Givenchy was so impressed with the girls of color he made his whole campaign Black, and he took a lot of hits for it. Saint Laurent was always out there, so he always had strange white girls and interesting Black girls, but it added to his freedom to be, because he was already a leader. It did wonderful things in that way.
It was wonderful to be a part of it, but my mind was never just focused on being a model, because I was never just a model. I always had a full-time job and I modeled — that was different. If you're someone who's called to do certain things, you're just going to wind up doing it. I had to get on that stage, I had to help. Because we were so scared! We were the first ones on. We were bare-staged. All we had was the girls and the music. They never did music, that was very new to the French. They never saw girls moving around like this. And here I come, looking like a little boy, this bow in my short little Afro, skinny. Everybody's counting on you, you just walk and slay it. Like Stephen Burrows said, never anything like it again.
How did you decide on the title, Invisible Beauty?
BH: It was something that I had come up with a long time ago, thinking about the industry. It was always that, and so I liked it. We went through a period where it was dormant. It didn't change. Even though the film was gonna be about me, I knew the story line was gonna still work. I've seen book titles and film titles that seem to have nothing to do with the book, but it's just something coming from the soul of the author. It says something spiritual. I think invisible beauty is a spiritual thing. And it just so happened, luckily for my ass, that I say "invisible" in the documentary. And Veronica Webb says "invisible." A couple times, "invisible" is said. I thought, We have to stop being invisible, or You don't know what it's like to be invisible.
FT: I was trying to suggest the title Bethann, but Bethann is never about putting the focus on herself. The title of the film reflects that. It's about the work, other people, how it affects them. It's not about taking, it's more about giving.
I was really touched to see how much you shared in the documentary about raising your son. You showed the positives and the negatives, things that might have been painful for you or him, or for anyone else in your life. In the documentary, you say that looking at older photographs can be stressful because you're reliving memories. How was that experience for you? Did you have to take a lot of breaks?
BH: We may have taken breaks naturally, based on times and location. I just so happened to be in a moment when Kadeem just wasn't calling. He's done it before. No matter how many times you call, you just gotta stay positive. It just so happened that I would feel comfortable to share anything with Frédéric. I could talk about anything. I think for him as a filmmaker, it was good news.
FT: I really appreciated it. I knew Bethann was being vulnerable. As much fun and a brilliant storyteller and performer Bethann is, I was also hoping that she would reveal some of those more vulnerable parts. I knew it was not necessarily easy, but what surprised me was how she was open to it, and she was trusting me with hearing those stories.
Have you always been that open and vulnerable with other people? Or did you find that came later in life?
BH: It's interesting. That's good, as a youth, to ask that question because sometimes you want to know for yourself. When people ask me things like, "Did you always have the ability?" I think I was always like that. I did a lot of interesting shit as a kid, you know. And then when I got to high school, I was gonna go to performing arts, and it's hard to get into performing arts. My mother was not a helicopter mom, my grandmother didn't know what I was always doing. I had to audition. And I got in. And then this white guy walks into my high school. He puts his PowerPoint or some pitch and he starts telling us about the school. I knew that was where I needed to go. I don't know what called me, other than the fact this was a white guy and we grew up in an all-Black neighborhood. If this guy comes to the school I thought, This is it. And it was the moment! That tells you something. If you knew to do that then, then everything you're doing in the mature life, later years, you obviously were meant to be this human.
What was it like at the school?
BH: When I went to that school, I didn't care what anybody was saying. Like I said, if you're gonna go to the circus, get on the ride! I went there for a reason. I didn't go there to just go and study. I went there for an opportunity to see what I could do that would be different. And I did. I mean, I was on the cheerleading team. Those kids embraced it. I think when you ask that question, "Did I always have that?" Yeah. Must have because I had to talk to a lot of people. I was very popular. So there's a reason. You must because you must be really nice. You don't turn out to be nice later. I always say people become more of who they are. People don't change. I don't care what anybody says. They say, "But he changed." No, he was becoming, she was becoming. But in general, character does not change.
Do you have a definition of "excellence"? In the documentary, we see how in your career, or in Kadeem's career as Dwayne Wayne on A Different World, the careers of the models you looked after for many years, excellence seems to be a pinnacle that you wanted people to reach, and I don't know if it ever truly can be reached. How do you define that sort of achievement?
BH: I don't use that word. I don't like "Black excellence," I don't like "Black girl magic." I don't like all those fucking expressions that people come up with that are current. I don't talk "beauty." People use that word because that's the way they have to explain everything they know. And I go "human." I just like to win. I do. I have a good eye, so when I picked my models, I would only choose who I knew I could sell. I had the right people to go to: Steven Meisel, Bruce Weber. I knew people who really would get it. You know what I mean? Arthur Elgort, always. And they loved my eye. So when I would present someone, even if it was the newest type–looking little white girl with red hair and freckles, they know if Bethann sent this girl, there's something to this girl. You know?
With myself and Kadeem, yeah, it's true, I told Kadeem to consider acting. Kadeem was a talent. He was good at it. So people really believed he was Dwayne Wayne. Everybody wanted him to marry their daughter. "He's Dwayne Wayne!" I'd say, "No, he's Kadeem, he's just an actor." I'd go to an Abyssinian church, "We want your son, Dwayne Wayne." I'd say, "No, Patti LaBelle is Dwayne Wayne's mother; I'm Kadeem Hardison's mother." It was hard for him as an actor to come out of that because people would typecast. I just got lucky that sometimes I found the right talent and they became successful.
When you watched some of the interviews that people gave for the documentary, how did you feel? Tyson Beckford in particular got really choked up talking about you and your passing on.
BH: I wish you'd seen the four-hour cut. Tyson was good. I was really impressed because Tyson, during my time, raising that child, he was difficult. He was really so fucking good. He called me afterwards and said, "You're going to have one of the best documentaries!" I said, "How do you know? You just did one interview." He said, "I'm telling you, watch." To some degree, he's right. I, too, was moved by him.
I think everyone would be surprised because if people know of Tyson, they know of my journey with Tyson. Here we are, we're still together. With a lot of elasticity, because now he can do a lot of things and I don't have to worry about it. But I keep track of the fashion stuff and I have an agent now in between us. Before, I was everything. I was legal, manager, agent. There were no PR people, nothing. Just me and him, because I was capable. And I had to protect what I helped create. Not everyone can do that. Tyson and I are embroiled in each other. And I promise you, to see him sit there and talk about me the way he did, I was really impressed with it.
In your film, Robin Givhan talks about the fashion industry and the garments that are made, how they can really help people determine value or determine who is valued in our culture, and determine what our culture is concerned with, afraid of, excited about, or attracted to —
BH: I had heard that, too. It was a little over my head. But it added value to what was done because Frédéric kept it.
FT: It was important, and we also included Tracee Ellis Ross in the beginning talking about the importance of image. It's not Bethann's job to remind everybody; it's our job to frame it. Whether it's movies or magazines, the image influences how we see ourselves and how others see us. I think it was important to have these bookends, and the context of a fashion show on Hollywood Boulevard, to remind people the power of fashion and the responsibility. And in between the bookends, you understand what this responsibility can mean through Bethann's work.
How did it feel to watch the film with such a large group of people?
BH: I think the audience saved me. I love credits. I would never walk out or stand up on any credits. I didn't care what anyone thought afterwards because I know there's an audience, that everything I believed in doing this was right. Everything that I shared, I knew people would feel. I know all along I'm an inspiration to so many young girls, from the music business all the way through fashion, there was no one like me. When they'd say, I don't have anyone to talk to, my mother never did any of this, you're the only one we know … to see this done, and Frédéric believing what he knew was worth doing and seeing the crowd's reaction … I thought, I'm gonna help make this get out there. This is the next movement.
You're writing a book, which is included in the documentary. How do you feel about this stage in the writing process?
BH: This film might be the reason why the book will do well. The publishing house was hoping it would come out before the film, but once the editor saw an early cut of the film, she thought, Nah, there's no competition. No matter what comes after, it'll be fine. It's like you've built up. Normally, once people see the film, they don't need to read the book. People will read until the end of time, but everything is very quick now. I buy books, but I don't read. "I'll read them when I'm 95." Well, you're getting close to that, you better hurry up! But at the end of the day, it's probably the film that will make people want to read. We were doing both at the same time, and these last few months I started devoting more energy to the doc.
FT: The book is going to be brilliant. Bethann is a writer.
BH: The publishing house kept saying, keep coming up with these stories … The next thing is the big edit. I hate that. I know every writer hates it. I can't even imagine. She gave me a sample of the first part she wanted to edit and I was like, "Holy shit." She was like, "Just look at it this way …"
At this point in your life, and also after completing the documentary about your impact on the industry and the culture in New York, do you feel a sense of optimism about where things are going? Or about how people are engaging with not even just fashion, but other cultural institutions, events, happenings in New York? How do you feel?
BH: I feel that things are integrating better, of course. Specifically, after the Black Lives Matter movement and Mr. Floyd losing his life in that way, it became an integrated movement. It wasn't a Black movement, it was an integrated movement. That changes everything, when white people can see their white kids out there doing things, it helps them to get onboard. One great thing about youth is they want to change many things. I was thinking about Kent State. Those kids did so much, and they shot them. Those weren't Black kids they shot. They shot white kids. You think about people standing up in China, in Iran. It's the youth. It's very important to see. Right now, yes, things have changed in New York, in the United States of America. It's really scary. We had a very arrogant, nonpolitical president. That changed the game. Now we are changed for a long time to come.
But with our narrow little world called fashion, narrow world called the modeling industry, it definitely has changed for the better. And it's affected other industries, too, corporate-wise, to be much more conscious of the fact that a Black man or woman could run their shit. That's been very valuable. That happened all because of the movement. And I'm just grateful for that.