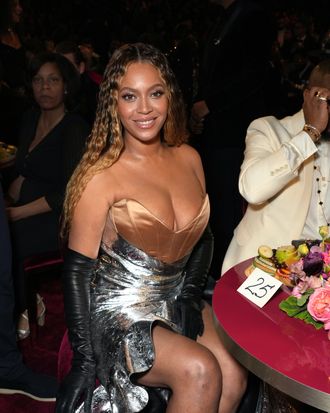 She's arrived.
Photo: Kevin Mazur/Getty Images for The Recording Academy
It's been a busy night for Beyoncé. As artists of all walks gathered in the Crypto.com Arena for the 2023 Grammys, the queen was nowhere to be found for the first hour but showed up just in time to make Grammys history.
After winning three Grammys pre-arrival, Beyoncé appeared in the audience before winning the Best Dance/Electronic Album Grammy … and breaking the record for the most Grammys ever won by one person. In an emotional speech, she thanked her uncle Jonny, her parents, and her husband and children. "I'd like to thank the queer community," she added, "for your love and for inventing this genre."
Earlier in the evening, The-Dream, who wrote and produced "Cuff It," accepted the award for Best R&B Song onstage. He offered a mere "Beyoncé thanks y'all" before turning the mic over to Nile Rodgers. The show's host, Trevor Noah, claimed that she was "on the way." Was she stuck in traffic? Were there too many private jets in the L.A. sky tonight?
Beyoncé's tardiness wasn't the only aspect of the night that went unexplained: Renaissance somehow did not win Album of the Year, with the award going to Harry Styles's Harry's House instead. We've been here before (remember Lemonade?), though unlike Adele, no one from Team Harry fully acknowledged the glittery horse-shaped hole in the awards programming. I guess making Grammys history will have to be enough to celebrate — for now.
This post has been updated.