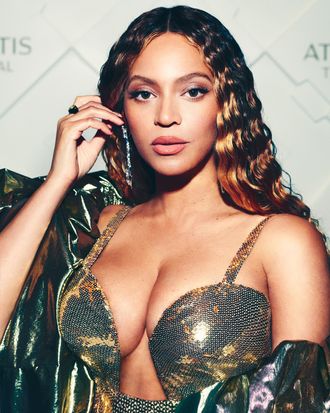 Photo: Mason Poole/Parkwood Media/Getty Images for Atlantis The Royal
On Sunday night, Beyoncé made history as the artist with the most Grammys ever when she won four awards for Renaissance — for Best Dance/Electronic Recording, Best Traditional R&B Performance, Best Dance Recording, and Best Dance and Electronic Album. But somehow, once again, she was snubbed of the Album of the Year award. That prize went to Harry Styles for his album Harry's House. The fact that Recording Academy voters shut Beyonce out of a major category — and that Styles beat Lizzo, Kendrick Lamar, Bad Bunny, Adele, Coldplay, Mary J. Blige, Brandi Carlile, and ABBA in the category — has left viewers absolutely confounded.
In 2017, Beyoncé's Lemonade lost the Album of the Year award to 25, by Adele, who acknowledged the madness of Beyoncé losing in her acceptance speech. In 2015, Beyoncé's self-titled album lost the same award to Morning Phase, by Beck. And in 2010, I Am … Sasha Fierce lost to Taylor Swift's Fearless. Sunday's loss was also a reminder of one particular comment an Academy voter made to Variety about the Album of the Year category: "With Beyoncé, the fact that every time she does something new, it's a big event and everyone's supposed to quake in their shoes — it's a little too portentous."
When Styles gave his acceptance speech, he said he had been inspired by all the artists in the category. "I think — like on nights like tonight — it's obviously so important for us to remember that there is no such thing as best in music," he said. But then he added, "This doesn't happen to people like me very often, and this is so, so nice." A Black woman hasn't won the category since 1999, when Lauryn Hill got the award, but several white men have, including U2, Mumford and Sons, and Steely Dan. Even other artists in the crowd seemed surprised that Beyoncé didn't win Album of the Year.
Perhaps Lizzo put it best in her own award speech when she said directly to Beyoncé, "You clearly are the artist of our lives."