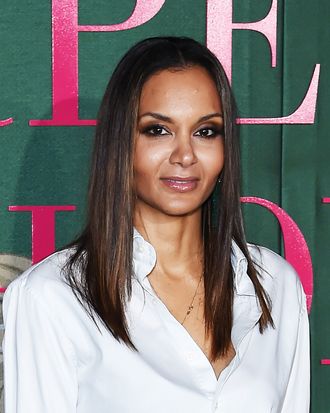 Photo: Stefania D'Alessandro/Getty Images
Stella Jean, a Haitian Italian designer known for her colorful printed pieces, has had enough with Italy's fashion council's lack of diversity and inclusion. Jean is the only Black designer who belongs to the council, and for decades she has been fighting for younger designers of color. In July 2020, Jean sent a letter to Camera Nazionale della Moda Italiana, the organizing body of the Milan shows, outlining a proposal to hold the industry accountable, including transparency about the percentages of Black employees at Italian fashion houses. She told the New York Times that same year that she would not return to Fashion Week until the lineup was more diverse. "I don't want to be the only one anymore," she said. "But it's not about boycotting. It's about asking for change."
After taking a two-year hiatus, Jean decided to return to Milan Fashion Week in September, only to withdraw again. She is also on a hunger strike to raise awareness of her peers who are part of We Are Made in Italy, an initiative launched in 2020 with the hopes of being the answer to the lack of BIPOC designers in Italian fashion.
The WAMI collective followed Jean's lead and decided not to participate in Milan Fashion Week, though designers Zineb Hazim and Karim Daoudi, who have both participated in the WAMI collective, remain on the schedule for a joint presentation.
President of the Italian Fashion Chamber, Carlo Capasa, told AP News that the calendar is "full of diversity." And, sure, while cities like New York have made changes to be more inclusive, with brands such as Christopher John Rogers and Theophilio, there is certainly still a lot to be done.