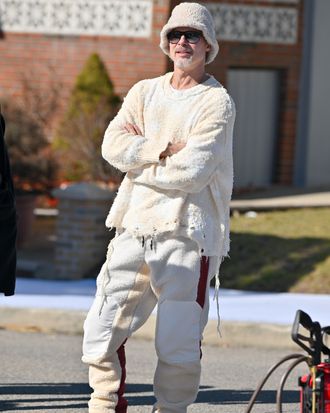 Photo: James Devaney/GC Images
It's hard to expect much from men in positions of power anymore, but with all of that wealth and fame and nearly every designer on earth pining to dress them, is it too much to ask for, at the very least, a decent outfit?
Let us take, for example, Brad Pitt. Here he is on set for his upcoming film, Wolves, wearing an oversize, raw-hem, tattered sweater; a fuzzy bucket hat; and patchwork shearling pants that I thought were some variation of poots (pant boots) at first. To be frank, the top half of this outfit on nearly anyone else would've really worked for me. As a co-worker said, "That's an ideal cozy outfit for me, but I'm not a middle-aged man with some allegations against me." Yikes.
After all, with abuse accusations swirling against him, you'd assume he'd want to mitigate any unwarranted attention, no?