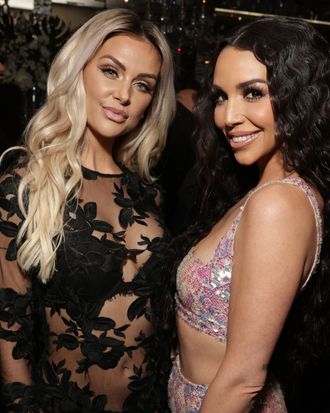 Photo: Todd Williamson/Bravo via Getty
Following in the footsteps of fellow Bravolebrity Kyle Richards, Lala Kent and Scheana Shay are bravely coming out as anti-Ozempic (at least for weight loss). The Vanderpump Rules stars were asked about their thoughts on the diabetes treatment turned weight loss drug du jour at the season 10 premiere of their reality show. And they did not hold back.
"Stop taking it for weight loss. Enough already," Kent told People. "I think that Hollywood is all sorts of fucked up. We've got to do better." Ozempic, as well as other injectible drugs like Wegovy and Mounjaro, have reportedly gained popularity in Hollywood as a weight loss drug, despite it being marketed as a drug to help treat people with Type 2 diabeties. Chelsea Handler recently opened up experience taking Ozempic, also known as semaglutide, telling Call Her Daddy that she's injected five of her friends with the drug. The drug has also come under scrutiny recently for potential negative side effects, including extreme nausea, and post-use weight gain. Kent continued, "I think there's a lot of things that need to change and it starts with us and there are times where I roll my eyes and say, 'Fucking do better, all of us.'"
Meanwhile, Shay, Kent's Pump Rules co-star, had more tame reaction to being asked about Ozempic, telling People, "I haven't heard of it. I don't know, I would stick with Hydroxycut." Shay previously appeared in Instagram ads for Hydroxycut, a weight loss supplement, in 2016. At the time, she claimed in an Instagram post that she didn't use the drug specifically for her own weight loss, but instead as "a great substitue for coffee in the mornings and before workouts."
Hydroxycut might not be a drug intended for diabetes treatment, but, as reported by People, it comes with its own set of problems. The drug was recalled in 2009 after the FDA found cases of high blood pressure, heart attacks, and other serious health issues linked to ephedra, a key ingredient in the product. Hydroxycut has since been rereleased with a new formula, but reports have linked it other health problems. Still, Shay isn't the only Bravo star to endorse the product. Hydroxycut's official Instagram page also features appearances by Real Housewives of Potomac star Gizelle Bryant, Real Housewives of New Jersey's Teresa Giudice, Real Housewives of Atlanta's Kenya Moore, and Pump Rules' own Tom Sandoval and Tom Schwartz.