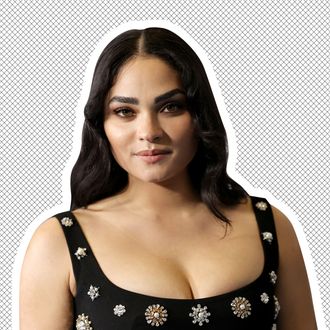 Photo-Illustration: by The Cut; Photo: Getty Images
If you watched the first season of The White Lotus, you might be a little bit afraid of Brittany O'Grady or at least of her character, Paula. As a Gen-Z college student staying at the luxury resort with her frenemy Olivia's (Sydney Sweeney) rich family, O'Grady could shut anyone down with just one calculated arch of her perfectly manicured eyebrow (pro tip: She gets them threaded).
The actor returns to television this spring as Elaine in The Consultant, the Amazon Prime Video adaptation of the novel by Bentley Little. Elaine is an aspiring career woman who is forced to confront how far she'll go to get ahead when a mysterious new consultant, Mr. Patoff (Christoph Waltz), takes over the gaming company where she works. Elaine, a personal assistant in a male-dominated field, is in a position familiar to many of us: underappreciated, overworked, and ambitious. "She's one of my favorite characters I've ever played. I loved being able to play a woman in my stage of life," O'Grady tells the Cut. "It felt empowering to play someone who was driven and somebody that wanted to put out fires."
Elaine is incredibly driven and determined to succeed, but as a woman of color, she knows she'll have to get her hands a little dirty to reach her goals. Throughout the season, it's a constant calculation. Have you ever experienced that kind of dilemma? 
I have a pretty strong moral compass, so for the most part, I'm pretty true to myself. I surround myself with people who support me and see me and know my values. I also have faith that things will unfold in the way that they are supposed to. I think that our jobs are about external validation in a way and how we're perceived, and that's always a balance — trying to find a way to have enough self-worth outside of what people value or perceive.
The Consultant is a commentary on the American glorification of work. What's the worst or craziest thing you've ever done for a job? 
The craziest thing I've ever done for a job was scuba diving, and I'd never done it before. It was for a music video, and it was kind of risky and in a weird environment. Doing that on the fly and learning how to breathe in the little oxygen mask for five minutes and then just be graceful in the water … I think that was the craziest job I've ever done. And the most risky physically. It was insane. I don't know what I was thinking.
You are obviously known for starring in The White Lotus season one. Did you watch season two? 
I did!
Do you have any final words for Tanya (R.I.P.)? 
Personally, as Bri, I'm distraught. I'm absolutely distraught. Watching that ending scene and seeing the circle of people that Tanya surrounded herself with disgusts me. I'm sure that Paula disgusts a lot of people. This is the first time I'm on the other side, so that whole story just twisted me inside. It was genuinely uncomfortable. I'm hurt for her. It's just sad.
I do think that Paula has a bit of an unfair reputation. But, at the time of the finale, I tweeted "Justice for Kai," and it still gets likes a year later.
As it should! That was the hardest thing for me — justifying what she did and justifying what she did to the family and what she did to Kai. It really rubbed everyone the wrong way. I went to the pharmacy and the pharmacist was like, "Oh, yeah, your character was, like, really annoying." And I'm like, "Can I have my meds?"
Elaine is so different from Paula and from your previous characters on Little Voice and Star. Do you purposefully look for different characters?
I do. I try to do that every time and continue to grow and continue to put myself in other people's shoes. That's the fun part about being an actor: letting your imagination run wild and getting the opportunity to work with incredible people. Learning new skills is really fun for me, so that's my next thing. I want to do a job where I can learn a skill, like ride a horse or train to do something I've never done before.
Between Star with Queen Latifah, The White Lotus with Jennifer Coolidge and Connie Britton, and The Consultant with Christoph Waltz — to name a few — you've worked with some pretty talented co-stars. When you work with legends like that, how do you approach it? 
When I go to work and get new jobs, I definitely bring my A game and my own personal self to the table and the character, and then I start to create relationships with people. I'm a people person. I love connecting with people and figuring out the chemistry that I'll have with them and how I can work with them. I like to create my relationships authentically, and I like to be able to get to know people for who they are outside of their work. That's the really cool part about the job: You get to see people as human instead of a commodity. And that's a lot of fun.
I heard that you were interested in manifesting goals for the year. Are you manifesting anything for 2023?
I would love to have some cool jobs, and I'm manifesting good health and gratitude and just finding the center within. I'm manifesting something to consistently open my eyes and excite me. I usually find that in my work … I usually manifest through Pinterest. I've been doing it since 2018, and I've manifested some pretty cool stuff. It's like a really cool vision board that you have with you all the time on your phone.