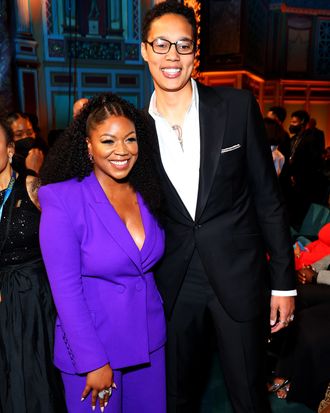 Photo: Leon Bennett/Getty Images for BET
Brittney Griner and her wife, Cherelle, received a standing ovation as they walked onstage at Saturday's NAACP Image Awards.
"It feels so good to be here, especially with my beautiful, amazing wife and with all of y'all here today," Griner said. "I want to thank everyone. Let's keep fighting to bring home every American still detained overseas."
The couple was introduced by Queen Latifah and as they walked onstage, the camera panned to the audience, showing an emotional Tracee Ellis Ross, Gabrielle Union, and other Black celebrities clapping for the couple. In her comments welcoming the Griners to the stage, Latifah said, "As we gather here tonight, in the spirit of overcoming adversity, I want to take this moment to recognize someone who has done just that."
Cherelle thanked the crowd for the applause and support. "We are just truly so thankful to all the people — many of whom are Black women and Black-led organizations — who fought so hard to bring B.G. home tonight," she said.
After almost ten months in custody in a Russian prison, Griner was released in December as part of a prisoner swap for Russian arms dealer Viktor Bout. Griner, a two-time Olympic gold medalist who played for the Phoenix Mercury in the WNBA and for Russia's UMMC Ekaterinburg during the off-season, was arrested on drug charges in February 2022 after customs found vape cartridges in her luggage at the airport.
At the time of her release, President Joe Biden said that Griner was in good spirits but needed "space, privacy, and time with her loved ones to recover and heal from her time being wrongfully detained." Griner wrote on Instagram shortly after returning to the U.S. that being detained in Russia had been "a battle at every turn." She thanked everyone who fought for her release and promised to use her platform to do whatever she could to help other detainees come home.
On Monday, the Phoenix Mercury posted a video of Griner in her uniform, days after confirming that she would be returning to the WNBA for the 2023 season. This will mark her tenth season with the team and her first time back in the league since 2021.