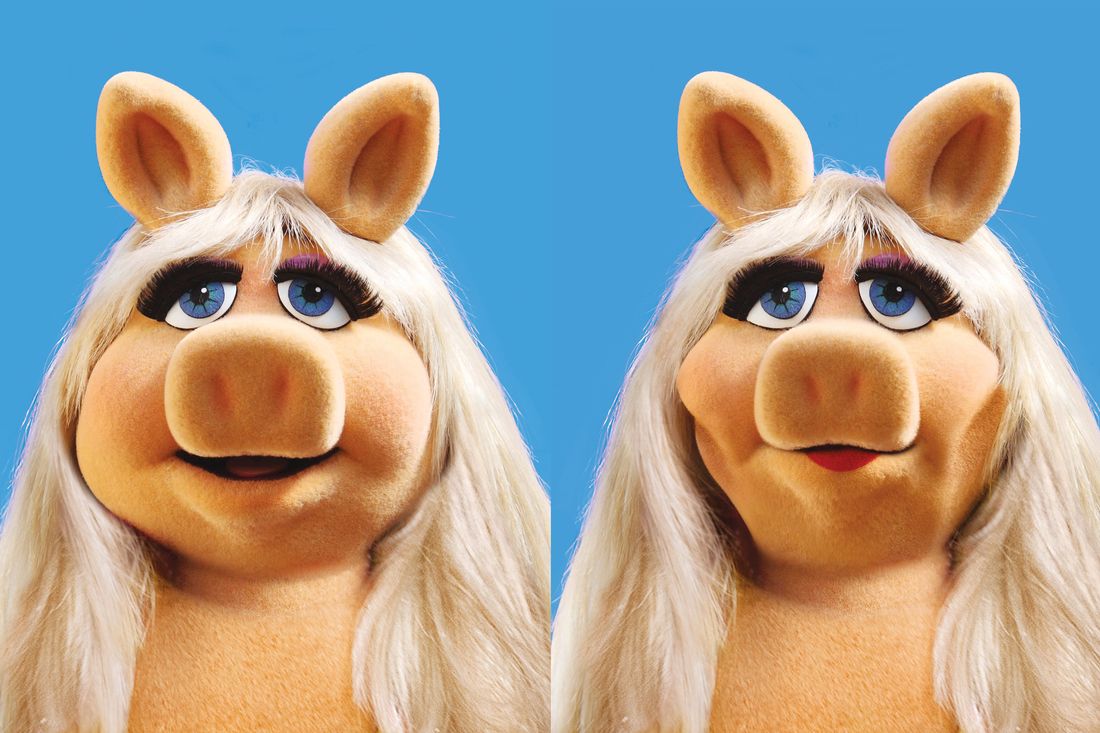 Photo-Illustration: Joe Darrow/Muppets/Walt Disney Prods/Kobal/Shutterstock
Since roughly 2016, millions of people have gone to dermatologists to put things in their faces with one particular goal: to look like sexy babies. The way they achieved this was with filler — generally acid and fat injections. This era of filler created a specific aesthetic marked by heart-shaped faces, teeny-tiny noses, and full, puffy lips and cheeks.
Quite recently, faces have begun to go the opposite way.
"I can't remember the last time somebody asked me for big, juicy, plump lips," says Dhaval Bhanusali, the doctor behind Martha Stewart's ageless skin.
If you know famous faces, the transition can be defined as this: "Everyone wanted to look like Kylie Jenner. Now they want to look like Bella Hadid," says Matthew James, a British makeup artist and beauty influencer who used fillers for ten years to look "a bit pillowy."
One reason for the shift? It turns out fillers weren't the elixir of youth people wanted them to be. Over time, many a filler enthusiast found the substance was actually migrating around the face.
"It was marketed as this riskless thing," says Carly Raye, a Toronto-based content creator who got lip fillers at 20. She had a common experience: Her filler traveled, creating a ring of puffiness around her lips that various surgeons have described as the "Juvéderm mustache," "duck lips," or "Homer Simpson face."
Filler could pile up anywhere. "I would smile and I had little bulges on the tops of my cheeks," says Rosie Genute, a Jersey-based makeup artist, of her wandering under-eye filler.
Raye and Genute, like many other patients, were led to believe that minimal risks were involved and that though migration was possible, it was unlikely. What's more, patients were often told filler would disappear quickly. That isn't always the case. "We say that filler only lasts a year, but that's completely false. It most often lasts a lot longer," says Sagar Patel, a Beverly Hills facial plastic surgeon.
Why all this new information about fillers now? It seems that everyone — from providers to patients — simply didn't know that much about the stuff to begin with. And maybe they still don't. Hannah, a grad student in New York, described her first several months with fillers in 2021 as wonderful. "I looked more beautiful than ever," she wrote over email, "and then, at month five, my whole face swelled up and did not go down."
She says she received "profoundly contradictory" explanations from the 20 doctors she saw in the following months. "The physician who did my fillers, upon seeing my face, informed me that such a reaction was 'impossible' and that she 'had never seen anything like this before.'"
Hannah was prescribed dozens of medications to get rid of the swelling. When none of them worked, she — like Genute and Raye, with their migrated filler — decided to dissolve.
But dissolving filler, like filling in the first place, isn't a silver bullet. It's done by injecting hyaluronidase, an enzyme. Several doctors say that, while it's medically safe, they avoid using it outside emergencies or — as Simon Ourian, surgeon to Kim Kardashian, Megan Fox, and various Victoria's Secret Angels, puts it — when "things are really grotesque."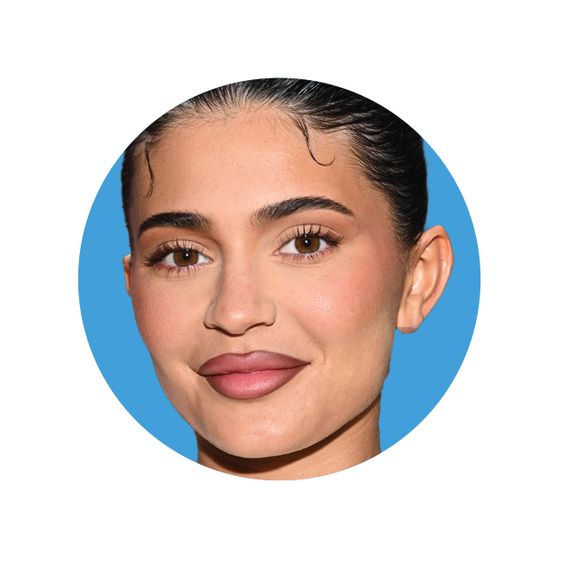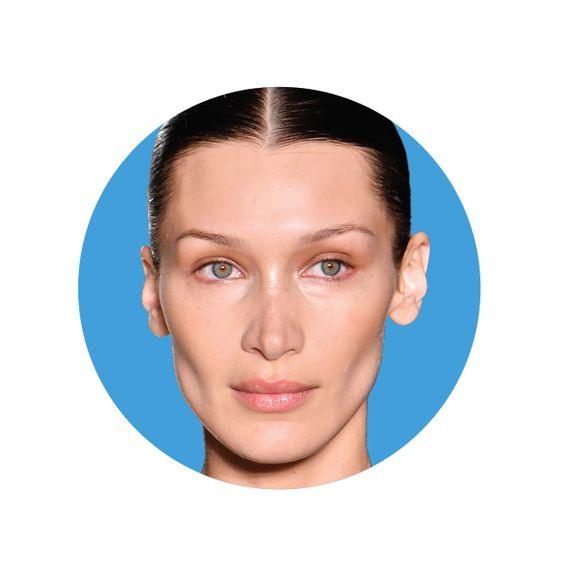 Ourian and several other providers say this is because hyaluronidase can also dissolve some of your natural tissues, not just your fillers. What's more, many patients describe dissolving as an uncomfortable — and in some cases extremely painful — process. "Imagine snake venom or pure acid," says one patient.
But pain may be a best-case scenario, judging from the many internet support groups devoted to hyaluronidase complications. I spoke to a dozen dissolvers. All describe their post-hyaluronidase skin in disturbing terms: "spongy," "melted," "like jelly." "It feels like the skin isn't attached to my face," says a woman in her 20s. Another shared a photo of herself tugging handfuls of loose cheek skin to either side of her face.
Patients who have had no complications filling and dissolving spend between $2,000 to $6,000 on the process, but even those who are fully dissolved report scar tissue at the injection site. Patients who have had complications — and tried to fix them — say that between travel, sick leave, surgical face-lifts, and various treatments, they've spent up to $70,000.
The huge number of people in online support groups is a testament to just how widespread botched filler is. "A few years ago, some doctors were just learning how to do fillers. You tend to get overzealous and fill up the face, chasing every single line, every single sign of aging," says Ourian. "And people were paying for these procedures by the syringe so that there was a tendency to just keep putting more and more and more in a pursuit of better results."
"Now," he adds, "everyone is realizing that looking like a chipmunk is a bad look."
Some surgeons pointed to the rise of chain clinics and med spas as responsible for improperly filled faces. "People will take a course for eight hours and then they go and start injecting," says Akis Ntosos, who runs a boutique clinic in the Upper East Side. One surgeon called overfilled faces a "beginner mistake," while a dermatologist described med spas as "chop shops."
For the most part, though, it really doesn't seem to matter where people went for these procedures — the results were mixed at best. Alice, a Vegas waitress, got her lip filler dissolved by a famous Beverly Hills surgeon who she went to for a lip enhancement surgery. Alice is a pseudonym — she's worried about retaliation from the practice, which cold-shouldered her when she complained of complications from the dissolver, which she says left her with deep gouges around her nose and mouth, rashes across her body, and pink boils over her lips.
When she called the clinic, the surgeon suggested that she'd picked up a virus, and if she came in again, she could buy more filler to fix the gouge.
Many patients reported being pressured, dismissed, and gaslit by providers. I spoke to a retired utilities serviceman in his 60s who went to a med spa for a consultation about his acne scars, "but they kind of oversold me and started putting fillers everywhere," he says. His skin swelled and broke open. It got worse: "The dissolver spread down my cheek and became white and discolored. The skin has slowly started to come off, and I couldn't really see through the eye."
"It's basically ruined my life," he says.
With their fillers dissolved, customers in search of a more angular face are now lining up for buccal-fat removal.
"Instead of luscious lips and small noses, we're seeing defined jawlines and cheekbones," says Patel. "In 2017, it was about looking young and cute, but now people are like, I don't want to look like I'm 15. I want to look like I'm 28 and sexy." There's a name for this new face: snatched.
"You build the mountain with filler, and you dig the valley with buccal-fat removal," Patel explains.
"People wanna look more snatched without drawing attention to themselves, so they're asking for very elegant lips and refined jawlines without a lot of volume," says Ramtin Kassir, a Manhattan surgeon who does Snooki, some New Jersey Housewives, and my cousin.
"It's the chic look, if you will," says Ourian. "It's a chiseled look. You have nice high cheekbones. You want to look like you haven't done anything — you just naturally look this good."
One Los Angeles surgeon with a waiting list until 2025 offered to do my face for free "whenever you need." Technicians would just go inside my mouth and slide a slab of fat out from under each cheek, he explained, and for $5,000, he could squirt some filler atop my cheekbones and I'd look like Bella Hadid — for a few years.
I'm tempted, even after everything I'd just heard, even when I think of the patients who described being hooked on fillers. "Of course it gets addictive," Matthew James, the British makeup artist, told me. "You feel like anything wrong with your face can be corrected," he says. "And then all you see are imperfections, and you're like, well, I'll just get it done — it's the pursuit of ultraperfection."
"Filler is easy to overdo once you get started. You suddenly look flawless," echoes Hannah, the grad student. "Then it looks like it's gone after a few months. And you get sad. So you get more." Though she's spent upwards of $20,000 undoing the damage caused by her filler, she says that even if she'd known about the risks from the get-go, she's not sure she would have been swayed.
Would I be? I stood in front of the mirror and sucked my cheeks in. Then I took a contour stick, which I'd used from 2016 to 2019 to make my face heart-shaped, and followed the instructions of beauty influencers under the #modelcheekbones hashtag on TikTok, painting blue shadows under my cheeks. I thought I looked beautiful. My partner, who hadn't been brainwashed from a month of staring at dermatologist-altered faces, said I looked "like Corpse Bride."
Whatever — with just a quick visit, I could make this my new face. And if the next trend is cherubic cheeks? Surely someone could put the fat back, somehow.
An earlier version of this story incorrectly stated the amount of money that Hannah spent dissolving her filler. It's actually $20,000.
More From The Spring Fashion Issue
See All