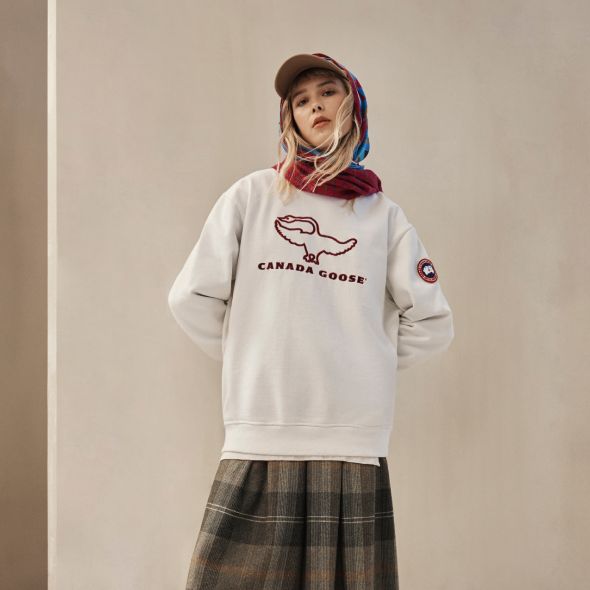 Photo: Canada Goose Generations
Whether it's your mom's designer LBD from the '80s, your uncle's college bomber jacket, or your grandmother's 1962 power suit, every piece of clothing has a story to tell; each one with a unique history behind it, serving as a cultural snapshot. It's one of the reasons fashion is so nostalgic and enduring. It also helps explain how resale has quickly become fashion's hottest sector.
These days, brands are making it a priority to keep their highest quality pieces in circulation and their heritage stories alive. After all, you can tell a lot about a person, a time, and a place, by looking at a garment. But in order to do so, it's important for the quality of the pieces to hold up over time.
One iconic brand that has consistently delivered uncompromised craftsmanship since its 1957 founding is Canada Goose. With the brand's new recommerce platform, Canada Goose Generations, you can now shop pre-loved Canada Goose items directly from the brand. The platform also allows you to trade in your own pre-loved Canada Goose garments and gear in return for credit, giving another life to pieces that deserve to continue their journey.
The processes are simple for both resale buyers and trade-in customers: Head to Generations.CanadaGoose.com to find one-of-a-kind pieces from past collaborations and collections. There's nothing like scoring a distinctive, rare find that speaks to your personality; something you know you'll have for years to come. It's yet another reason resale shopping has exponentially grown over the past few years — the ability buyers have to purchase truly unique items that reflect their individual style.
If you're trading in, first, take a look at your item's tag and find the style number. With the Canada Goose catalog online, you'll be able to locate your specific item using that style number. From there, you'll be given a range of what you can expect to receive as a credit for your trade-in garment. Next, you'll be sent a prepaid shipping label so you can mail your item to Canada Goose. The Canada Goose team will then assess the condition of your garment. If it's eligible for trade, you'll earn a gift card, which can be used at canadagoose.com, generations.canadagoose.com, or at a Canada Goose store.
Every Canada Goose item is designed with intention and longevity in mind, making the Generations platform all the more exciting. (Vintage Canada Goose, anyone?) But while an appreciation for craftsmanship and unique, timeless pieces have helped propel the resale movement forward, increased consumer consciousness around sustainability has also been a major factor.
By refreshing its preloved heritage pieces for a new generation and a new adventure, Canada Goose is able to extend the item's lifecycle, bringing the brand's commitment to sustainability and quality directly to your closet. What's more, Generations is driven by the brand's purpose platform HUMANATURE, which unites Canada Goose's sustainability and values-based initiatives.
According to the brand's website, "HUMANATURE is how we talk about our purpose," says Canada Goose CEO and Chairman, Dani Reiss. "We are steadfast in our commitment to strengthening our communities,
protecting our planet, and working towards a future for generations to come."
Sustainability isn't a new commitment for Canada Goose either. The brand first entered the circular economy in 2009 through its Resource Centres Program, which provides excess fabrics and materials to communities in Canada's North, complementing its long-trusted product warranty program and repair services. Today, Generations further supports the brand's Sustainable Impact Strategy by helping to achieve its annual warranty waste goal, which is to divert 100 percent of its post-consumer global warranty waste products by the end of 2025.
Circular fashion is the future, and with this sustainable, forward-thinking mindset, there's limitless potential for both brands and consumers. Even better when ushering in this new era can be as easy as purchasing a pre-loved parka.
A few things to keep in mind: Canada Goose Generations is currently only available in the US but is expanding to Canada later this year. The platform is accepting all outerwear and apparel — including parkas, lightweight down jackets and knitwear. The brand only accepts trade-ins through the mail. In-store trade-ins will not be accepted. Finally, once your gift card is issued, your item cannot be returned.
This advertising content was produced in collaboration between Vox Creative and our sponsor, without involvement from Vox Media editorial staff.