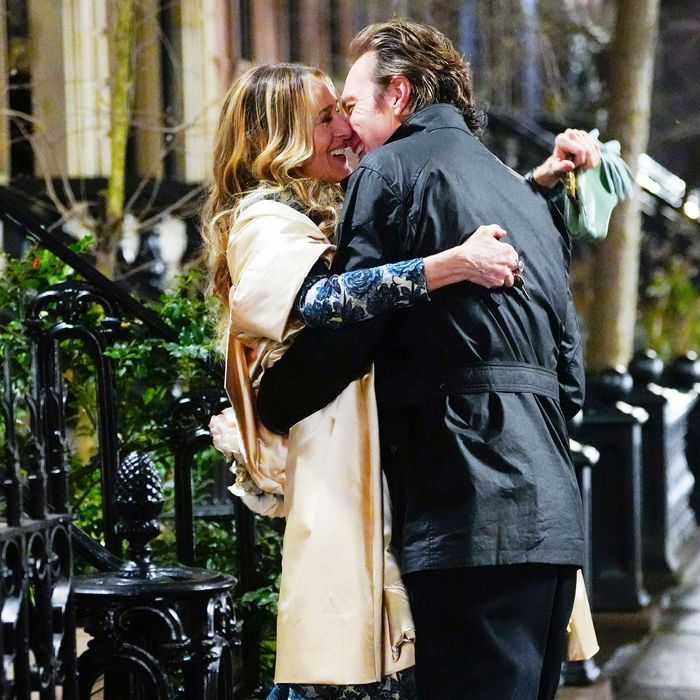 You have to give it to Sarah Jessica Parker and John Corbett. Twenty-three years after their television romance as Carrie and Aidan began, they still have the ability to send us into an absolute frenzy.
On Thursday night, Parker shared a snap from season two of And Just Like That … of her character, Carrie, and her ex-fiancé, Aidan (played by Corbett), kissing on a New York City street. She captioned the photo: "This is not a drill." The show's official Instagram account also shared images from the shoot, captioning them, "And just like that Carrie is back on her tip toes."
Under Parker's post Gwyneth Paltrow commented, "NO WAYYYYYY," Andy Cohen commented, "I'm freaking," and Old Navy's account (?) commented, "Carrie in her Bennifer era!!!"
Although some people aren't pleased about the reunion — we can't blame them for wanting to protect Aidan from having his heart crushed by Carrie yet again — I'm choosing to believe that Carrie has grown up. Even selfish people deserve love.
Aidan — the six-foot-five, handsome, charismatic carpenter — first appeared on Sex and the City's third season in 2000. Carrie didn't treat him very well: She cheated on him, barely took an interest in the things he enjoyed, and didn't like living with him even as he labored to renovate their perfect home. The two dated, broke up, got back together, got engaged, and ultimately broke up again. The last time Carrie saw Aidan, the two had run into each other in Abu Dhabi and kissed. But they weren't endgame.
Even though we've known since September that Corbett would be returning and Parker shared photos of the two of them walking arm-in-arm in January, seeing the two kissing makes it seem much more real (or at least more real than what is surely a dream sequence of them at brunch with Aidan smoking a cigarette).
Last week, Parker told Extra that she was happy to be working with Corbett again and that his storyline in the show's second season would "be really meaningful to the audience who feel a lot of affection for him."
Hopefully we can all agree that even if Carrie might not deserve Aidan after everything she put him through, we, the fans, deserve to have Aidan back. And who knows, maybe Carrie will surprise us this time around.