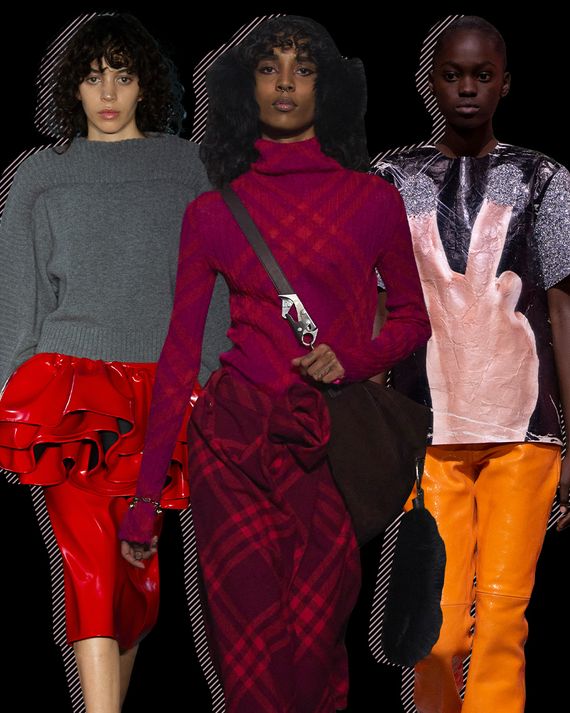 From left to right: Christopher Kane, Burberry, JW Anderson
Photo-Illustration: The Cut; Photos: Courtesy of Christopher Kane, Courtesy of Burberry, Courtesy of JW Anderson
After much to-do, Daniel Lee showed his first collection on Monday night for Burberry, the British raincoat label that spent nearly five years in a fashion drought, partly because his predecessor, Riccardo Tisci, wasn't the man for the job and partly because of the pandemic. Lee quickly set Burberry on a youthful course — that is, prime for TikTokers with its loud plaid-blanket coats and cozy water-bottle holders — and perfect, too, for footballers and yobs who just love a funky T-shirt and a bigger Elmer Fudd hat to wear down to the pub.
Lee put out a lot for the first showing. And what did reporters cornering him afterward want to know? They wanted to know about the ducks. Lee had used a duck print in a closely repeated pattern for skirts, pants, and long shirts. There was also a guy wearing a hat that had a duck head built into the crown and its bill extending over the brow.
Lee, who is originally from Yorkshire, smiled. "I find it very British," he said of the ducks. "It makes you think of a park and Burberry obviously being a very outdoors brand that's associated with rain and protection, and ducks, you know, like water." There were also hiking boots, faux fox tails dangling as charms from bags, and a feathery coat in blended orange, red, taupe, and black that suggested pheasants. So he's got the English field sports covered. Later, when asked if the luxury brand might be viewed as an antidote — a very privileged antidote — to Britain's troubles, he replied, "I want it to be positive. I want it to hopefully show some positivity about Britain to the world."
That may be hard to determine and even unnecessary. What is fairly certain is that his accessories will have a positive impact on Burberry's financial results. There were all kinds of bags, as well as shag-fur mules; fleece-trimmed suede wedges; sneakers that looked channeled, like a puffer jacket; chunky boots; and black brogues covered with straps. Lee, who previously worked at Bottega Veneta, seemed to design for various constituents — for example, those who love generous raincoats (in army green with wide faux-fur colors in green) and those who are anti-fashion (a mid-length plaid sack over matching leggings) and those who are conservative and have dressy functions to attend (plaid blouses and skirts). The history of Burberry under his predecessors, Tisci as well as Christopher Bailey, who really defined the brand for this century, is not exactly lacking in color. But here, too, Lee put his stamp on things, with royal blue, fuchsia, purple, and vivid yellow.
Lee wisely avoided the obvious symbols of British counterculture — namely, punk. But while it did have an edge — I would consider a dumpy sack dress with plaid tights both edgy and deeply British — the collection could have used a little more bite and less positivity. It is not flying the flag of Great Britain. Also, I had a general impression of too much stuff, too much merchandising and product development — and not enough of pure design. That's where the real edge and mystery happen. But, seriously, it was a good start, ducks and all.
The number of talented designers sidelined in recent years — fired or forced to close their businesses — keeps growing. Alessandro Michele of Gucci is the most recent to join the list. Meanwhile, more and more new names are entering the field. In London, they include Paolo Carzana, who is Welsh; Steven Stokey-Daley, a former actor whose label is called S.S. Daley; and Feben, a one-time refugee who identifies as Ethiopian and who soon after graduating from Central Saint Martins was making costumes for Beyoncé.
But the situation has created a bottleneck of talent. There are simply too many emerging designers competing for attention and consumers. The big luxury brands, like Burberry and Prada, dominate the market; last week, Louis Vuitton announced it had hired not a designer as men's creative director but, rather, Pharrell Williams. Editors and writers once played a key role in identifying the best of the newcomers. Think of Alexander McQueen, Rick Owens, Christopher Kane. But today that useful winnowing has been fractured by social media and the rise of paid influencers, if not wholly discounted by the public. On Sunday, before Feben's show at the NewGen venue behind Selfridges, I wandered through the department store. It was mobbed with shoppers. But despite a big turnout for Feben, there were surprisingly few fashion kids on the sidewalk outside the NewGen space. In the past, the street scene was a main London attraction.
You can sort of understand, then, the significance of the stiffened square-shaped collars and flaps that appeared on many of Kane's suit jackets and tailored dark wool dresses. They were based on chopping boards, the designer said after his terrific show. In a figurative sense, everyone's head in fashion is on the block — waiting to be lopped off by a corporate boss eager for bigger sales numbers or by the forces of our fast-moving, blunt, less-kind age.
Kane's primary shapes this season come from uniforms — waitress, school — and from the bustle, a feature of late Victorian dress, though he treated it irreverently, as a many-flounced skirt with a loose-fitting pullover or as a front or rear panel on a pencil skirt; and for added kick, he did some versions in black and lipstick-red vinyl. Despite the frills on the skirts, the clothes felt more stripped back this season, beginning with the first simple dresses and a coat in charcoal or black wool that featured a small, embroidered flower stem. Kane referred to them as the kind that "creeps through a sidewalk"— that is, not cultivated. Between the restraint of the forms and the detached prettiness of the flowers (placed low and to one side), the clothes had a nice sexual tension. That's a Kane speciality, but it now feels more adult.
And like quite a few designers this year, he had animals — tube dresses with dense, AI-generated prints of pigs, baby chickens, and rats. "Working-class animals," he noted, almost proudly. "We should be at home with these animals," the Scottish designer said, before adding with a laugh, "Well, I am." Actually, animals have long figured in his fashion. The AI twist made for a funny use of technology.
Few designers are more aware of what's going on around them than Jonathan Anderson — and I don't necessarily mean the Zeitgeist but, rather, the movements within the industry. As a friend of his once said, "He can see the whole field and where to go and who's got the ball." As if anticipating Daniel Lee's field and stream Britain, a happy England, Anderson referenced the work of the audacious Scottish choreographer and dancer Michael Clark, who collaborated with artists like Sarah Lucas and Leigh Bowery, who created costumes for his dance company. Clark's work was deeply sensual and provocative, connected to punk and the gay club scene. Displayed on monumental cubes in the center of Anderson's show space were Clark's illustrations of a black penis on a green background, the victory sign partially coated with silver glitter, and his riff on the Coke logo: "Enjoy God's Disco." That same imagery appeared on tee tops that had the crinkled texture of a reusable shopping tote. Other tees and knits simply featured Clark's name, as if to honor his influence.
Anderson said he couldn't very well look at Clark's archive without revisiting his own. True, but he was also asserting his creative territory. In 2015, Anderson put male models — groomed like matinee idols — in tailored shorts with ruffled edges and matching tops of classic gray pinstripes and a camel-colored fabric. Widely mocked at the time, the outfits, which included bustiers, anticipated the complete blurring of gender in fashion. For fall 2023, he remade the bustiers in faux fur and showed them with willowy, boot-cut pants.
One can easily get lost in the "greatest hits" and not see that the clothes and attitude were more direct, more pared back than usual for Anderson. He did something of the same in his recent men's shows for both JW and Loewe. The ideas and shapes were quite distilled — and more powerful and sexy for it. (You may remember, or not, that at the Loewe men's show last June he showed shoes and garments sprouting real grass, and coats embellished with iPads.)
Anderson wasn't being lazy, as some probably concluded about this latest JW show. He was considering the field and lowering the tempo as others were raising it.
Simone Rocha took the theme for her collection from Lughnasa, the Celtic harvest festival. Although raffia is commonly associated with warmer climates, she nonetheless used it to plump up the volume of delicate beaded dresses in black and blush-pink tulle, with hanks of the fiber trapped between two layers of tulle. People in rural societies have used dried grasses for household purposes — to stuff mattresses, make brooms and chair seats. So the raffia has symbolic meaning. It evokes home. And it was just strange and wonderful to look at, like someone was rolling around in a hay loft. (For stores, the raffia will be replaced with wadded tulle, though a client has already asked to buy one of the runway dresses.)
But all of the materials in Rocha's collection were interesting — black Linton tweed shot with lurex for a kilt with raw edges; black boiled wool for an austere-looking coat with black nylon sleeves shaped like those of a bomber jacket; crushed gold cloque for puffed-sleeve dresses; thick black cord for a men's loosely knotted macrame sweater. Rocha is in her second season of doing menswear, and it allows her to give the textures of feminine clothes to men (lace, cloque) but, more, it brings more realism (tailoring, structure, workwear) to her aesthetic.
Of all the new talent in London, the most promising to me are Stokey-Daley and Carzana. A winner of the LVMH Prize, Stokey-Daley has done about five collections, and you can tell from his sense of proportion and choice of fabrics that he has a lot of confidence. I suspect that being an actor, and being around actors, has helped him understand gestures, artifice, emotion. That he sees in his mind's eye an actual person before he designs. At the same time, he has a solid sense of form. A long, fitted white cotton shirt dress with a sweeping skirt and a sheer black V-neck dress pulled tightly over it and beaded at the hem was gorgeous.
Carzana's approach is more modest and certainly original. Calling his collection of 15 looks "Queer Symphony," Carzana used vegetable dyes to achieve the extraordinarily rich colors for garments that were often in shreds, as if the models were castaways or lost boys. Three of the looks had a wired shape covered in gauzy fabric attached to the back. It suggested a shadow or, perhaps, an angel. Other pieces were cut and tailored from Welsh blankets. Carzana may or may not be interested in "building a brand," in that banal phrase. But he seems to be someone with great sensitivity. This is Britain, too.