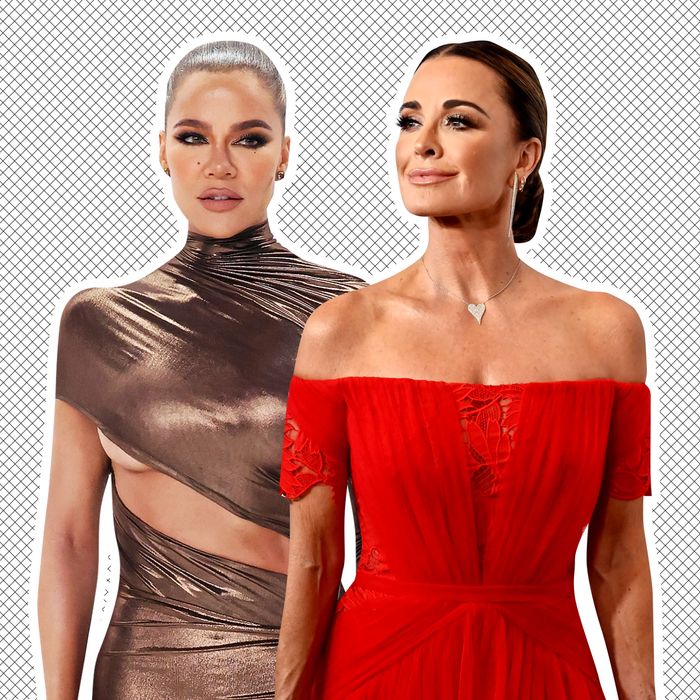 Photo-Illustration: by The Cut; Photos: Getty Images
In recent months, off-label use of Ozempic — an injectable diabetes medication — for weight loss has become so common that the Food and Drug Administration has said the drug is now in short supply. Unsurprisingly, the drug, which comes with both a high out-of-pocket cost and undesirable side effects, is especially popular in Hollywood. "My anti-aging doctor just hands it out to anybody," Chelsea Handler said in a recent interview, claiming that she initially didn't even realize she was on it. Inevitably, fascination with the latest weight-loss trend for the rich and famous has led to rampant speculation about which celebrities are taking it.
By now, you've probably heard rumors that Ozempic may have helped Kim Kardashian fit into Marilyn Monroe's dress for the Met Gala, where she infamously told Vogue she'd dropped 16 pounds and "hadn't eaten carbs or sugar in three weeks." Speculation has also plagued Khloe Kardashian and Real Housewives of Beverly Hills star Kyle Richards.
For her part, Richards has repeatedly denied the accusations and attributed her weight loss to a militant gym routine and diet. Most recently, she said she's "put a lot of effort into my diet and exercise and taking care of myself, so when people like to think I took the easy way out, it's really frustrating to me." Emphasizing that last point, she added, "I work really hard." Khloe Kardashian also denied taking the drug. "Let's not discredit my years of working out," she wrote in a since-deleted Instagram comment. "I get up 5 days a week at 6am to train. Please stop with your assumptions."
These comments are tone deaf, sure. But they also play into harmful stereotypes that people with bigger bodies have long had thrust at them. The flip side of suggesting that people who "successfully" manage their weight are hardworking is that those who struggle to lose weight are not. In addition to perpetuating misconceptions that people who are fat don't eat well, don't exercise, and are lazy and undisciplined, equating weight loss with hard work and dedication reinforces the idea that being thin is a moral good.
In saying that she doesn't "take the easy way out," Richards implies that people who do take medication for weight loss are somehow cutting corners. Most fat people know that there is no shortcut. If someone who is obese is taking medication as directed by a doctor, chances are they've already tried other avenues and feel like they have no choice but to withstand the side effects like nausea and diarrhea. "My only take on Ozempic/weight loss 'shortcuts' is that if you think fat people should be thin, but you also think we need to 'earn' thinness through torturous food restriction, social frustration, & ED-like obsession, you just (still) want to punish fat people for being fat," the writer Helen Rosner tweeted.
Richards and Kardashian aren't alone in their desire to distance themselves from the drug. Few celebrities have admitted taking Ozempic or similar medications like Wegovy and Mounjaro — Handler, Elon Musk, and Rosie O'Donnell are rare exceptions — suggesting that even if weight-loss drugs are surging in popularity, there's still shame associated with them.
Celebrities don't owe us information about their health or what medications they take, nor should they have to defend their bodies, diets, or exercise habits. For more than a decade, both Richards and Kardashian have been judged, criticized, and even bullied for their looks. The practice of closely monitoring famous people's bodies, especially women's, just further exposes how obsessed we still are with weight loss — and how deeply ingrained fatphobia is. But continuing to treat weight loss as a prize will always be a trap.