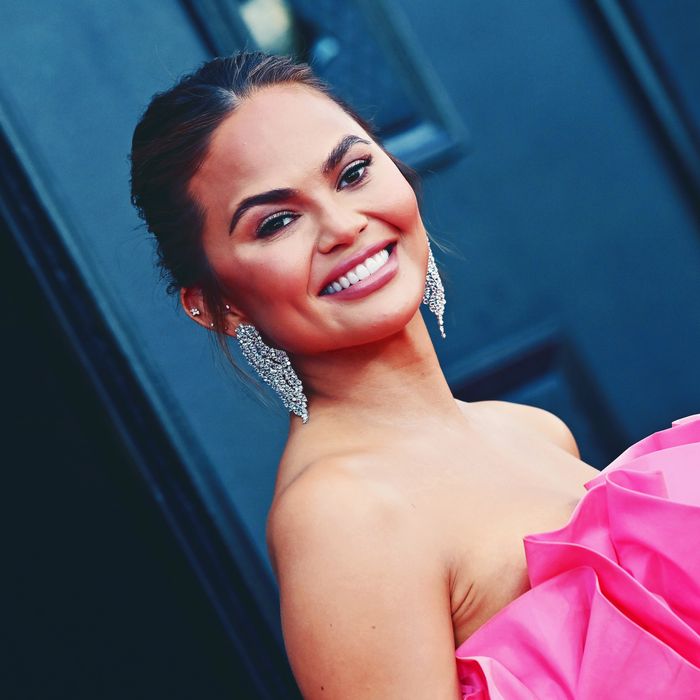 Photo: Axelle/Bauer-Griffin/FilmMagic
Chrissy Teigen has always been a little controversial on Twitter — so much so that she's taken multiple breaks from the social-media platform over the years. But this controversy might be her best yet.
You may recall that in 2019, after then-President Trump insulted her and her husband, John Legend, on Twitter, Teigen tweeted, "lol what a pussy ass bitch. tagged everyone but me. an honor, mister president." Little did she know that, almost four years later, this very tweet would be read aloud during a House Oversight Committee hearing because Trump was so upset by her response, his White House contacted Twitter in an attempt to have the tweet taken down.
This new tidbit came out during the House Republican's hearing on Twitter and the site's supposed "role in suppressing the Biden laptop story," when Representative Gerry Connelly asked witness Anika Collier Navaroli about the White House's complaint. Navaroli, who worked for Twitter's content-moderation team at the time, told the congresspeople, "I do remember hearing we'd received a request from the White House to make sure we evaluated this tweet, and they wanted it to come down because it was a derogatory statement directed at the president." A representative then asked Navaroli to read the tweet in question, resulting in Teigen calling Trump a "pussy ass bitch" being in official House Committee records.
Teigen, who just welcomed her third child, reacted to the moment on social media. "I don't know how to go on after this," she wrote on Instagram, reposting the video, much to the delight of her famous followers. (Andy Cohen, Bobby Berk, Katie Couric, and Brooklyn Decker all commented, among others.)
Elsewhere in the hearing, as reported by NBC News, Representative Alexandria Ocasio-Cortez brought up a tweet the former president wrote calling on her and other Democratic congresswomen of color to "go back" to "the places from which they came." Navaroli confirmed that she and her team recommended that the tweet be taken down for violating a policy against abuse of immigrants, which specifically cited the phrase "go back to where you came from." Her team's recommendation was overruled and the policy was changed days later. "So, Twitter changed their own policy after the president violated it in order to essentially accommodate his tweet?" Ocasio-Cortez asked, to which Navaroli answered, "Yes."