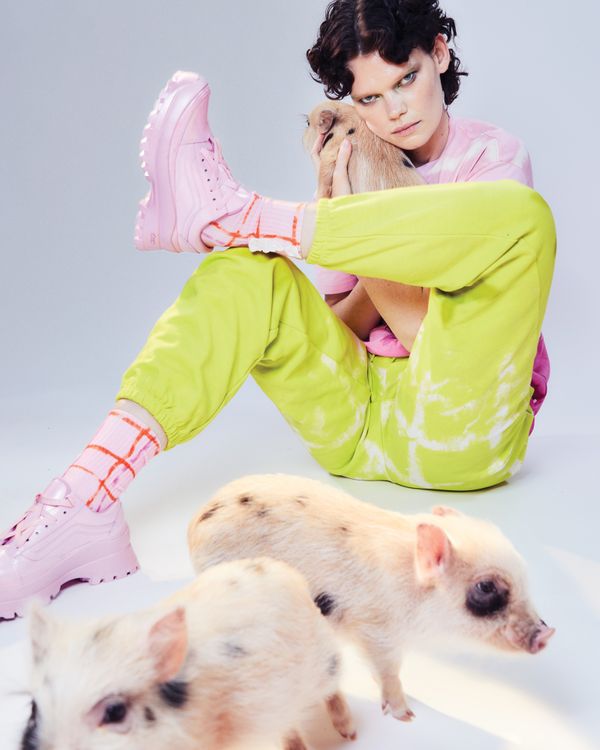 For more of the Cut's favorite fashion, beauty, and home finds, sign up for the weekly Cut Shop Newsletter.
What is it?
It's a ten-piece collection of slip-on and lace-up canvas shoes, socks, button-down shirts, hoodies, and sweats with hand-drawn artwork that merge the classic skate-shoe silhouette of Vans and the colorful, childlike ethos of Collina Strada (the brand has a broccoli bag).
If you are unfamiliar with Collina Strada, it's known for its bright, billowy clothing and its focus on sustainability. In the past, Collina Strada designer Hillary Taymour has teamed up with Reebok and Melissa for chunky, offbeat footwear and with Lower East Side favorite Sandy Liang.
Do I need this?
If you're a fan of Collina Strada's technicolor wares and need a little extra color in your wardrobe at a fraction of the price, yes, you need this. The collection features playful prints that will make you nostalgic for your childhood — including the hand-drawn artwork on canvas, chunky metallic sneakers, and tie-dye tops and sweats.
If you couldn't get your hands on your size in the Collina Strada x Melissa sandals, this is the next-best thing.
How do I get it?
The collection will be available on February 10 at select Vans stores, Vans.com, and CollinaStrada.com. Prices range from $25 to $80 for accessories and $90 and up for apparel and footwear.
What are people saying?
Fans of Vans don't seem thrilled about the collection, according to Instagram comments, with some saying, "This one ain't it" and "Well, this is one way to lose customers." Bah! Humbug! However, this collection is for the fashion girls, and you can bet that opinions will change when people see the footwear featured in Collina Strada's runway show during New York Fashion Week.