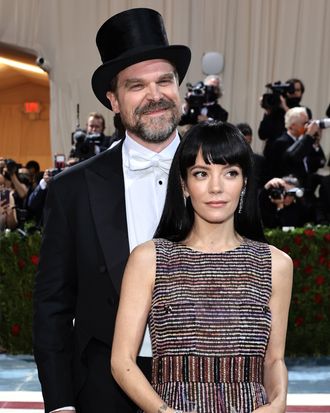 Photo: Jamie McCarthy/Getty Images
Another day, another controversial Architectural Digest home tour. After Michael Imperioli's White Lotus–esque Manhattan apartment tour dropped last week, I didn't think I could be surprised by a celebrity's living quarters anymore. But I was wrong — dead wrong. This week's "Open Door" featured David Harbour and Lily Allen's Brooklyn town house, and, boy, is it … floral.
If you walk through Allen and Harbour's home, odds are you will see floral wallpaper, and you will wonder if you're in a life-size doll house. While the kitchen is mostly white and beige, the rest of the house is all color, starting with the living room, or the "Garden Room." Complete with a double-sided green velvet couch, matching chairs and accents, and floral wallpaper, the living room will delight anyone who ever dreamed of going to the Secret Garden without actually going outdoors. It's pretty impressive, but it's the bathroom that really deserves closer inspection.
"When I lived in apartments in New York City, I just had bathrooms. And there was a toilet and a shower and a sink and a toothbrush," Harbour said. "And now I have a room where you can take a bath, or you can, like, sit." To say this isn't your average NYC bathroom would be an understatement. The room is part bath and part sitting room, featuring a bath, two pink chairs, a fireplace, vanities made out of commodes styled after those of French King Louis XVI in Versailles and featuring swan taps — a request from Harbour, apparently. "I did demand a couple things on this floor, the actor said before letting the AD cameraperson into the bathroom. "I said, 'I need swan taps.'" Cut to swan-molded faucets on matching his and her sinks. (There is also a bigger swan tap in the bathtub, or as Allen calls it, "The big daddy swan.") These details are all worth unpacking, but the real head-scratchers are the floral carpeting.
Yes, there is carpeting around the bathtub. The accompanying AD article assured fans worried about this detail that "the toilet and shower are in a different room altogether." But, respectfully, I am still concerned about the carpet surrounding the bathtub — something the CDC actively cautions against on its website. There's also the big pink fridge, which I assume is also a precarious thing to put on a carpet. The couple refrained from telling AD what is actually inside the "fridge from outer space," as Harbour called it, but I'm not entirely convinced that the giant structure isn't a cryogenic pod used to keep Austin Powers alive.
The town house also includes a windowless master bedroom painted flamingo pink, which Allen calls a "bed-womb," two walk-in closets (guess who's is bigger), a media room with a tiger print carpet and tiger print sofa, and a personal sauna and cold plunge tub out back. Even if it's not your taste, there's no denying this home has personality. Of course, the internet is already divided in its opinions on the home, but I think we can unite against carpeting in a bathroom. That's just asking for trouble.