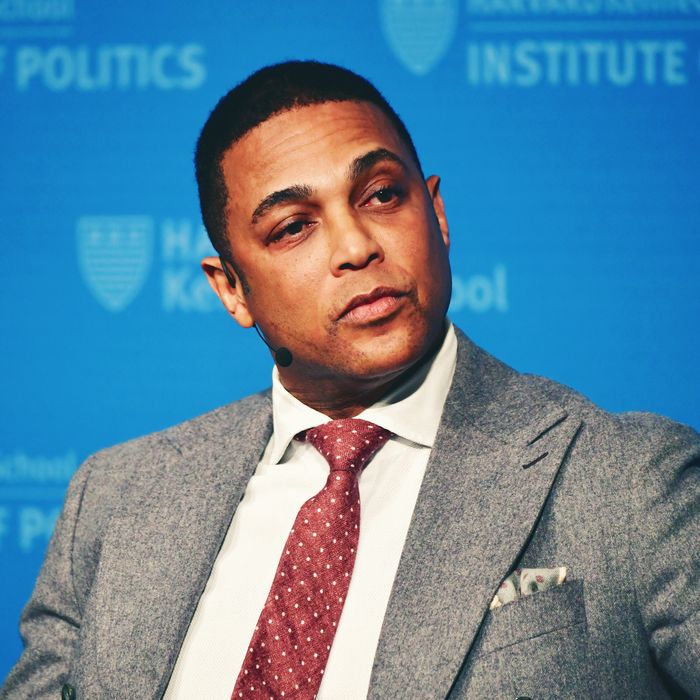 MISSING: Don Lemon
Photo: Paul Marotta/Getty Images
Nearly a week after Don Lemon was last seen on CNN This Morning making weird speculative and sexist comments about presidential candidate Nikki Haley's age and professional capacity, Lemon returned to the co-anchor chair. He also apologized on Twitter.
Reacting to Haley's presidential bid — announced February 14 with a video calling for "a new generation of leadership" — Lemon decided to riff on her references to her competitors' ages. "America is not past our prime, it's just that our politicians are past theirs," Haley said in a Wednesday address in Charleston, South Carolina. "In the America I see, the permanent politician will finally retire. We'll have term limits for Congress and mandatory mental competency tests for politicians over 75 years old." For reference, sitting President Joe Biden is 80, while Haley's fellow GOP candidate Donald Trump is 76. Haley herself is 51.
While you might view Haley's remarks as ageist (fair enough), Lemon's were ageist and sexist. After opining that Haley chose "the wrong road to go down" with her focus on age, Lemon went on, "Nikki Haley isn't in her prime, sorry! When a woman is considered to be in her prime is her 20s and 30s and maybe 40s." After his co-anchor Poppy Harlow cut in with "What do you mean? 'Prime' for what?," Lemon continued to spin his wheels. "It's just, like, prime," he said. "If you Google, 'When is a woman in her prime?' it'll say 20s, 30s, and 40s. I'm not saying I agree with that, but I think she has to be careful." As his colleagues pushed back, Lemon threw up his hands. "Don't shoot the messenger, I'm just saying what the facts are. Google it!"
I am a diligent journalist and so I did of course Google it, but unfortunately, I am no better informed for my efforts. Lemon took over most of the top search slots, but Amazon's Alexa reports that "a woman's prime is referring to an age range where a woman feels physically and sexually at her peak. Often, it's in the late 30s to early 40s but can extend far into the 50s." TheHealthyJournal.com informs me that "a woman's prime is between the ages of 28 and 45," according to someone, because during that time "they're busy raising kids, and they are capable of doing what they want. After that, physical and mental handicaps develop. Her best years come when she achieves religious faith." Based on my research, it doesn't seem like science has furnished a hard and fast answer on this. Clearly, Lemon is talking out of his ass again. (Remember when he suggested to one of Bill Cosby's victims that she maybe could've avoided being raped if she'd fought back a little harder? Just one example.)
According to the Daily Beast, some CNN staffers are pushed for consequences: "There were grumbles of mansplaining," one source said. "And how much longer the women should have to be talked down to before there's a change." For reference, Lemon is rumored to have screamed at Collins in December, after making belittling on-air observations about how men's sports teams are "more interesting to watch" than women's.
The following day, Lemon wasn't on air and co-anchor Kaitlan Collins explained his absence, saying he had a scheduled "day off." Others assumed he was scrambling to apologize to his fuming colleagues. Two things can be true at once, and yet Lemon was missing from the show on Monday ("not pre-planned prior to the events of last week," according to the Hollywood Reporter, but supposedly "related to the holiday") and again on Tuesday.
THR obtained an internal memo from CNN chairman Chris Licht, informing staff that Lemon will return to his regular slot on Wednesday, and also that he will undertake some sort of "formal training," whatever that means.
Licht reportedly opened Friday morning's editorial call with a rebuke of Lemon, telling those assembled that "his remarks were upsetting, unacceptable and unfair to his co-hosts, and ultimately a huge distraction to the great work of this organization." Lemon himself has apologized on Twitter, calling his statement "inartful and irrelevant" because "a woman's age doesn't define her either personally or professionally." He has also groveled directly to his colleagues, saying on the call that he is sorry and "did not mean to hurt anyone" and that "the people I'm closest to in this organization are women." But was having women for friends enough to save him? Or was it the "frank and meaningful conversation" he and Licht had, per the latter's memo? "We take this situation very serious," Licht told staff on Monday night. "It is important to me that CNN balances accountability with fostering a culture in which people can own, learn and grow from their mistakes."
Presumably, that's where the "formal training" comes in, though its syllabus remains a mystery. Is it a training to identify different forms of bias in the workplace? A tutorial about how the U.S. women's soccer team is actually markedly better than the men's by pretty much any metric? Reached for comment, a CNN spokesperson said only that "the company has a number of resources and programs, and Don is committed to our recommendation." Good luck to him.
This article has been updated.