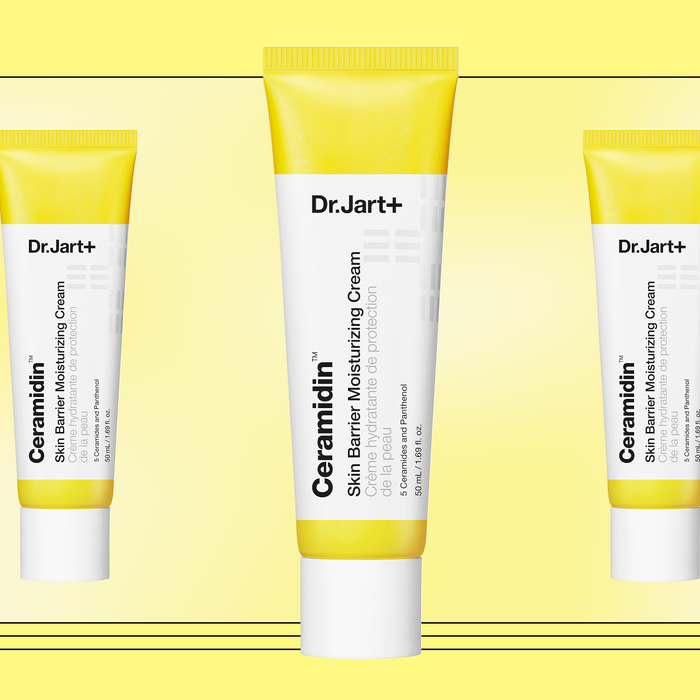 Graphic: Dr. Jart+ / Kelly Millington
By the time I turned 28, my skin-care standards changed. For close to a decade, I put every trendy ingredient I could find on my face. In my defense, it was my job. But when I hit my late 20s, the constant rotation that was my skin-care routine felt exhausting and ineffective. Maybe my fickle approach caught up to me, or maybe I'm just getting older. All I knew was that my vagabond product tendencies stopped working for me.
It wasn't until I noticed my skin growing more dry, red, and irritated by the day that I was finally ready to trade in all of my half-opened, half-loved products for formulas that would be especially gentle on my evolving skin. This is how I found the Dr. Jart+ Ceramidin™ Skin Barrier Moisturizing Cream.
When I was ready to reduce and simplify my routine, I rediscovered one vital nugget of information: If your skin looks depleted, dull, dry, flaky, and sensitive, then you might have a damaged skin barrier. A damaged skin barrier can't function properly, which can lead to transepidermal water loss and the aforementioned symptoms. As far as helpful ingredients go (think: ceramides, panthenol, glycerin, etc.), I wasn't using any of them.
I've always been really good with using the right ingredients for my skin concerns. If my breakouts left behind dark marks, I used my vitamin C. When my skin felt dry, I reached for the hyaluronic acid. What I let myself forget is that none of that likely matters if my skin barrier is in a state of emergency.
Beauty pros sometimes use the analogy that the skin barrier — the outermost layer of skin — is a brick-and-mortar structure. The skin cells are the bricks and the lipids surrounding them are the mortar. Together, this barrier works to protect skin from the outside world. When the lipid matrix that holds those cells together isn't supported, invisible cracks form in the skin, allowing the bad stuff in (bacteria, pollution, etc.) and the good stuff (moisture! water!) out. No wonder I felt like I was in a dead-end relationship with my routine. So, I put the Ceramidin™ Skin Barrier Moisturizing Cream to the test.
First impressions:
I love self-explanatory product names. Ceramidin™ Skin Barrier Moisturizing Cream says it all: This is a moisturizing cream that uses ceramides to address skin barrier concerns. Simple, just the way I like it.
Dr. Jart+ hasn't let me down with packaging before (the brand's famous rubber masks both horrified and enticed me in the best way), so I'm not surprised that the cream's white and bright yellow tube triggered a rush of joy.
Using the cream for the first time: 
This cream feels both lightweight and deeply moisturizing. I immediately noticed the unique texture — it feels more like a primer than a dense cream. Heavy moisturizers do not usually agree with my skin, so I appreciated this cloud-like, cushiony consistency. It also applied like a primer, appearing to sink into my skin quickly without feeling or looking greasy.
I've recently adopted a skin-cycling routine, which means that I rotate through several daily regimens each week. Exfoliation, retinol, recover, recover, and repeat. I happened to be exfoliating the first night I tried the moisturizing cream. Since my go-to serum uses AHAs, I wanted to ensure my skin retained moisture while I slept , so I sandwiched the exfoliating serum between a layer of the Dr. Jart+ Ceramidin™ Skin Barrier Serum Toner and the moisturizing cream. Both formulas use ceramides and panthenol to help strengthen the skin barrier. By morning, I knew the choice was worth it. I remember waking up and touching my skin, wondering why it felt so soft.
After one week:
My apartment's 50-year-old radiator hasn't been generous with my skin this winter, which can make it appear dehydrated and irritated. There have even been days when the harsh environment led to unfortunate stinging. And while I love my AHAs, BHAs, and retinoids, I knew that, for at least this week, I wanted to try taking a break from any potent ingredients that may worsen the effects of the external stressor. Focusing all of my attention on skin barrier protection seemed like the smart move, so I stuck to a simple combination of the toner and moisturizing cream after cleansing. My skin happily soaked them up.
Since my skin was feeling temperamental, I added in two masks for extra moisture protection. The Dr. Jart+ Ceramidin™ Cream-Infused Mask was up first. I normally don't use sheet masks because they slip right off my face and it's not very becoming to have a full-blown tantrum over that kind of loss, but this mask felt more like an adhesive. It didn't budge an inch in the 20 minutes I had it on. A few days later, while nursing a brutal martini headache, I tried the Dr. Jart+ Ceramidin™ Skin Barrier Moisturizing Mask. This mask uses a similar formula as the serum toner and moisturizing cream, so I knew it could help flood my skin with moisture. At the very least, the cold sheet mask was temporarily soothing for my bloated aching face.
After two weeks: 
By week two, the serum toner and moisturizing cream were official members of my routine. I stopped using other moisturizers throughout my rotating skin cycle and stuck with the moisturizing cream for morning and night. Like I mentioned earlier, it sinks in quickly and leaves skin bouncy and soft. Even if you have oily skin, this cream shouldn't leave a shiny cast.
Final verdict:
My friends are about to become so sick of me for talking about ceramides. I apologize in advance. If you're like me — an aging, gin-drinking adult ready to settle down with a gentle routine — you might want to consider picking up the entire Ceramidin™ collection. Friendly warning: These products aren't cheap, so if you have to buy the full four-step routine in phases, start with the moisturizing cream. Even if you don't take my word for it, the 180 five-star reviews it racked up on Sephora might convince you.
This advertising content was produced in collaboration between Vox Creative and our sponsor, without involvement from Vox Media editorial staff.