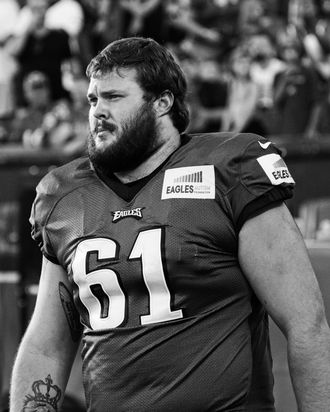 Photo: Icon Sportswire/Icon Sportswire via Getty Images
As the Super Bowl approaches, a player for the Philadelphia Eagles is facing felony charges for rape and kidnapping in his native Ohio, the state's attorney general announced on Wednesday.
Per the New York Times, 25-year-old rookie lineman Josh Sills was indicted by a grand jury on one count of rape and one count of kidnapping in connection with a 2019 incident in Guernsey County, Ohio, where prosecutors allege he engaged in nonconsensual sexual activity and "held a victim against her will." While the details of the alleged rape are currently unknown, authorities have revealed that it was "immediately reported" and investigated by the Guernsey County Sheriff's Office. Sills was issued a summons to appear in court on February 16, just days after the Eagles square off against the Kansas City Chiefs in the Super Bowl. After news of the charges broke, the NFL put Sills on the commissioner's exempt list, effectively barring him from traveling, practicing, and playing with the team.
"The organization is aware of the legal matter involving Sills," the Eagles said in a statement per the Times, adding that they are in "communication with the league office and are in the process of gathering more information." Sills has not yet commented on the allegations.