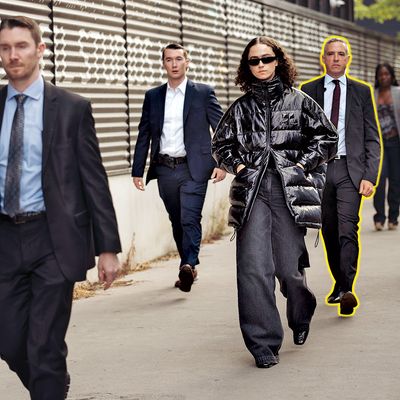 Double-flanked last September.
Photo: Raimonda Kulikauskiene/Getty Images
Ella Emhoff, the model, designer, and stepdaughter of Vice-President Kamala Harris, and her boyfriend, GQ fashion writer Samuel Hine, can be found at pretty much every important fashion show. Most 23-year-old Parsons grads would relish this kind of excitement and its newfound freedoms, but Emhoff is under near-constant surveillance. That's because her relationship with Hine has a third party (no, not like that).
They're striding near Emhoff outside the Courrèges show, watching her on the runway at Prabal Gurung, peering at her from mere steps away at the Met Gala. There they are, in their little ties, cropped haircuts, and close shaves: her always-present Secret Service detail.
Emhoff attends the kind of events where the dangers include someone stomping on her pinkie toe with last season's Versace heels. The necessary entourage makes it all feel so very My Date With the President's Daughter.
They're subtle, as you'd expect. I saw Emhoff sitting front row at a Susan Alexandra presentation, but not once did I register the fact that there were some highly skilled, definitely armed if-need-be bullet-takers present. If I had, I would've given a polite wave to the dude who seems to be helming her security team. "You know it's a safe event when Secret Service are present," one fashion insider told me. "They're all of our security!"
Did they know, when they were undergoing what we can assume is grueling training, that they would get what everyone in this world truly wants: a third-row seat at the Loewe show in Paris?
More From The Spring Fashion Issue
See All