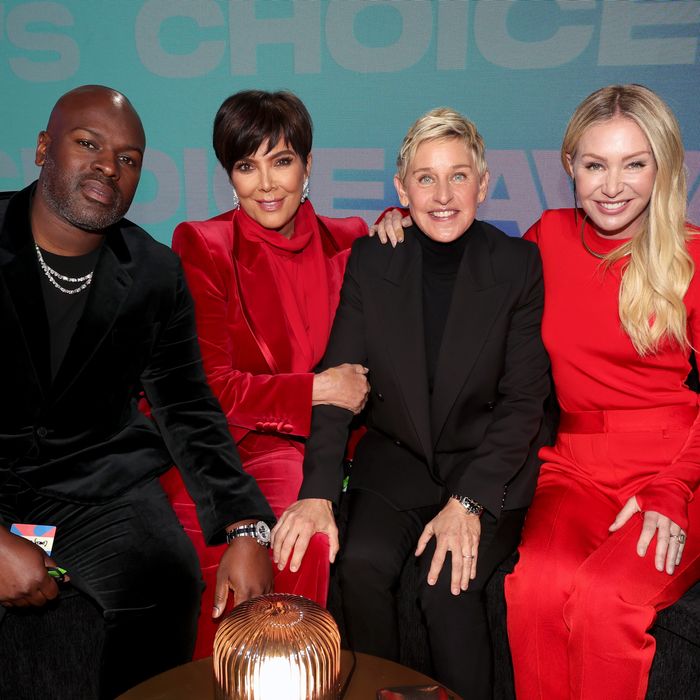 Photo: Christopher Polk/E! Entertainment/NBCUniversal/NBCU Photo Bank via Getty Images
After almost two decades of hosting The Ellen DeGeneres Show, Ellen DeGeneres has made a lot of celebrity friends. She's got so many famous buddies, she doesn't even remember being invited to their birthday parties. Which might explain why her recent vow renewal was attended by everyone from Prince Harry and Meghan Markle, to Katy Perry and Kris Jenner.
DeGeneres's wife, Portia de Rossi, surprised the former talk-show host with a vow renewal at de Rossi's birthday party this week, as seen in a video shared to The Ellen Show's official YouTube channel. De Rossi wore her Zac Posen wedding gown from 2008 for the occasion, while DeGeneres, clearly caught off guard, wore khakis and a blue argyle sweater vest. Jenner officiated the ceremony, calling them her "BFs," a "match made in heaven," and "couple goals who continue to amaze me with how cute they are together." She also mentioned double dates with Corey Gamble, her longtime boyfriend who appeared to be filming the ceremony on his phone.
Is it strange that Jenner officiated DeGeneres and de Rossi's vow renewal? Not quite. What is strange is the surprising mix of celebrities who witnessed it, all of whom are apparently still friends with DeGeneres following allegations she created a toxic work environment at her talk show. According to People, Prince Harry, Meghan Markle, Katy Perry, Orlando Bloom, Gwyneth Paltrow, Carol Burnett, Melissa Etheridge, and Brandi Carlile were all in attendance. (Oh, what I wouldn't give to be a fly on the wall as Jenner spoke to the Duke and Duchess of Sussex.)
Fans of Harry's memoir, Spare, will also be thrilled to know that Jennifer Aniston and Courteney Cox were reportedly also there. No word on whether this party also ended in Harry tripping on magic mushrooms.