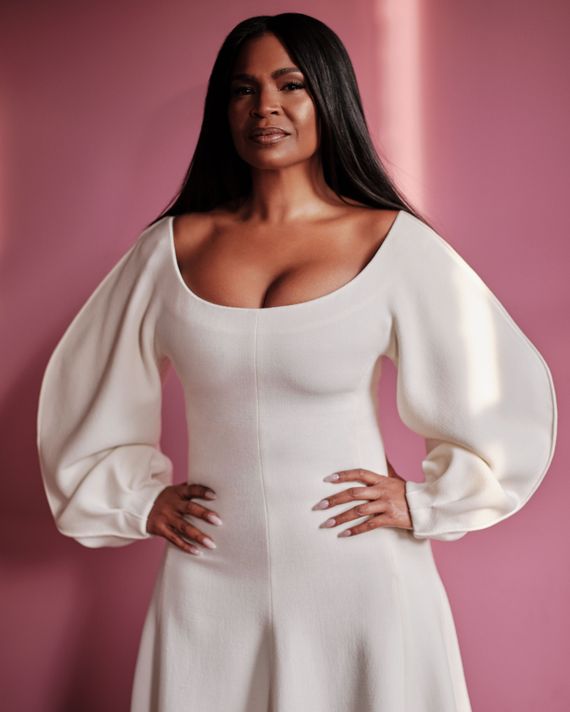 Gabriela Hearst
Minha Dress,
available at gabrielahearst.com
.
Photo: Rahim Fortune/
Find me someone, anyone, who doesn't love Nia Long. The 52-year-old actress has, throughout a decades-spanning career marked by roles in '90 classics like Boyz N the Hood, Friday, Love Jones, and The Best Man, earned the sort of goodwill that makes viewers bond deeply with her down-to-earth characters.
Seated in front of a spread of yellowtail sashimi and spicy tuna at a New York restaurant, Long wears a black Lululemon unitard that, she says, "sucks everything in" underneath a black Nili Lotan shirt with a black cashmere beanie over her long hair. She's grabbing dinner with her eldest son, 22-year-old Massai, and seeing The Piano Lesson with him on Broadway later. "We have an open-door policy about communication and hard conversations in our home," she explains, pointing toward Massai. "Sometimes, I embarrass him, I'm sure." (He disagrees.) She adds, "I'm bossy," to which he offers, "You just move at your pace."
Her pace over the past few years, especially in the past six months, has quickened. Last December, Long reprised her role as workaholic Jordan Armstrong in The Best Man: The Final Chapters, which set a ratings record for Peacock and brought beloved movie characters into people's living rooms. "The wonderful thing about Jordan this time is she chose herself," says Long. "Which is a lesson I had to learn big time in my life." A month later, the thriller Missing hit theaters, pairing Long with Storm Reid, who plays a frantic daughter on a search for her mother. And finally, streaming now is the Kenya Barris–directed Netflix rom-com You People: Jonah Hill and Lauren London play a couple facing family discord over their racial differences; as London's poker-faced mom, Long co-stars alongside Eddie Murphy. Despite the personal drama — we'll get there — Long has entered one of the busiest seasons of her career. And it's the audience that has carried her through.
Few public figures are afforded the collective warmth Long felt after news broke that her ex-fiancé and partner of 13 years, former Boston Celtics head coach Ime Udoka, had had an affair with a staff member in the team's organization. Following Udoka's suspension and the breakup, Long relocated from Boston to Los Angeles with their 11-year-old son, Kez.
She describes recent events as "a gut punch and then this red carpet of blessing." Her Nia-ssance is more personal than professional, sparked by a life change that has pushed her into what she perceives as a rebirth. "I'm learning to be still and do nothing," she says in that sweetened Nia Long voice after Massai has left. "For the last 22 years, I've been pouring out. But at a certain point, you're like, Woo, I'm looking a little tired," she says. "Even if I can't see it, I can feel it. So I try to pour into myself and let everyone know this is a 'do not disturb' period."
People never expected Nia Long to be the center of a public drama. How did you go from having peace to what you've dealt with in the past few months?
My only focus right now is my youngest son 'cause he's having a really tough time. I'm sure I have some things that I'm suppressing, but I have to do that to take care of him first. That's the giving. It's natural. I'm sure I'll have to circle back with myself several times to reconcile things. But the one thing I'm trying not to harbor is anger.
That's difficult.
It is. The Celtics made a choice to make my family business public, and I don't understand why. It could've all been handled internally. I do understand why, but I can't talk about it. Maybe one day I will. You know, fear drives stupidity, and I'll leave that right there. I've learned that I'm stronger than I ever thought I was.
Is it hard to talk about?
No, not at all. I just don't wanna talk about it because it's personal and I'm still figuring it out. I'm still going, Wait, did this really happen? Because, you know, you're with someone for 12, 13 years, you think you know them.
People wanted to support you immediately.
That saved my life. It saved my mental well-being because I felt uplifted by the community in a way that felt like my family was checking in and making sure I was okay. And that, I appreciated. I have that for people like Beyoncé. I look at her, and I'm so proud of her because I know how difficult it is to sustain and manage everything she has in her life. My life is probably a smaller version of that. Black women that are dynamic and famous and there to inspire are also required to be exceptional, and sometimes I just get tired of being strong. That's my biggest thing: I don't want to have to be strong. I would like to just have an experience that's pleasant. But the difference comes down to race. Race matters and makes a difference in your experiences and the way people treat you, respect you, and regard you — and the way people protect you. Malcolm X said the least protected person in America is the Black woman. That quote resonates big time in my life right now.
Are you a crier? Do you embrace it?
Oh my God, I cry. I don't cry as much as I used to. I don't know if that's a good or bad thing, but I do check in with myself and let people know how I feel, for better or worse. 'Cause I'm not holding on to nonsense, and I'm also not passive-aggressive. I say it and sometimes it's received, sometimes it's not, but in any case, it's my truth.
Tell me about growing up in Iowa and South Central — how did your childhood shape you?
I was young when I moved to those places, so I didn't know any better, but living in the Midwest is where I learned about racism, No. 1. No. 2, I was able to appreciate a simpler, quiet life. But I understood what segregation was all about living in the Midwest. Through verbal abuse. Through being in a school with 500 children and three Black kids in the whole school. Being chased home and being called the N-word. Those things really happened. But the beauty in that is when I faced certain things as an adult, I wasn't affected as deeply. I knew how to handle myself.
South Central was Black. A little country. There's a family I still talk to, the Kinslows. Karen sends daily prayers to my phone, and I won't forget how they taught me how to make tacos. My mother was a vegetarian, so there wasn't a lot of cooking in my house. I would go to their house, and we would make these huge pans of lasagna. They would make chitlins. I was like, I can't eat chitlins! But I got to see a different part of the Black experience. My family is Caribbean. My grandmother and grandfather would cook curry chicken, rice and peas, and plantains.
What traits did you inherit from your dad? 
My father was very poetic. He was a thinker. He loved Black people. He loved Black women. I have a very strategic mind. All that came from my dad. My sweetness; my sensitivity; my awareness of the world and cultures, people, and religions; and my acceptance of others come from my mom. She's like a little butterfly.
Your approach to acting as you've described it is that it's work and that actors need passive income. Do you see society changing its views on work to echo that thinking?
I had a long span of burnout where I felt like I was on this hamster wheel going nowhere. When you have that level of exhaustion, it becomes bigger in your mind than it is. I started having more gratitude. If you wake up and you're like, Oh my gosh, I have 20 things to do, you're already making yourself tired. I started seeing so many people pass away. I lost my dad. I thought, One day, we won't be here. And I started reexamining what was necessary to keep in my life and what to walk away from. I found myself to be a lot more peaceful. Making a list at the top of the week is also very helpful. Not, I have to do, but, I'm inspired to do these things this week. So that if I don't finish it, I can always push it to the next week. But it feels more like a choice than a demand.
An appreciation of leisure time.
Of living! To live is to be free. I was thinking about how Americans define living through money and possessions. The more possessions you have, the more responsibilities you have, which means the less you can actually enjoy them.
You've talked about your journey of having a child at 40. How important are those public conversations?
Nowadays, with technology, you can save your eggs. I thought, Oh my God, that's gonna be a million dollars. A lot of my girlfriends have done it, but I thought if it was meant to be, it would happen and I wasn't going to worry about it either way. When it happened, it was pretty exciting. I think we should talk about it. We should talk about menopause. We should talk about what happens when you're of a certain age and your body changes. We should talk about things for anti-aging but not where it's like, I want to be forever young. Let's remove "anti-aging" and talk about what you can put into your body to preserve your quality of life.
Transparency is important to you as a mom, too.
There's a fine line between preserving the innocence of a child, being respectful to your parents, and having a platform to be an open, expressive child who their parents respect. I have old-school ways, and I have new-school ways, and I'm still figuring it out. I've made plenty of mistakes as a mother. I've learned about myself through my parenting. Do I have regrets? Of course. But they're not regrets that were life-changing and devastating. They're like, had I thought about it before I got emotionally charged, I probably could have handled this more delicately. But I also know that the world is tough. And if you prepare your boys for that, they can assert themselves in difficult situations without seeming like spoiled brats but like young men who are not afraid to lead the way and are gentlemen and respectful of women. That's my biggest thing right now. Anyone around me has to set that example: respect for women. [A knowing look.] You know what I'm saying without saying it.
If only we could control everything all the time. What scares you about the internet?
I worry about my 11-year-old reading things that are negative. I worry about his innocence being taken away by reading something or seeing something inappropriate, whether it's about me or someone else.
Let's go back in time a bit: Your cropped hairdo inspired lots of Black women. People were crushing on you.
Mm-hmm, I was out last night with a friend of mine in the music business who represents a lot of rappers, and all of a sudden like 15 dudes walk into the restaurant. Me and my girlfriend are sitting there with my friend, and they start clapping: "Nia Long's outside!" It was so amazing. It was so cute.
You actually don't mind that?
I didn't mind it in that moment 'cause I'd had a couple of cocktails, and we were having fun and it felt like all my big brothers walked in who I hadn't seen in years. I felt protected again. It was like the city felt back to normal. I was under the table cracking up. And these were my Queens brothers. It was sweet.
People have been publicly shooting their shots with you. Is it overwhelming?
Oh God, I'm not ready for a serious relationship. My mind is not even there at all. I want to go out and have amazing, important, deep, thoughtful conversations. I want to travel. I want to laugh. I want to cook with my kids and listen to music. I want a good glass of wine. I want a good goodnight kiss. Everything else will have to show itself as being that. I'm just trying to enjoy the moment. I have a couple of passion projects I want to get off the ground. I want to go to Bali for a month, relax, breathe, and do yoga.
Shifting back to work, what's a role that has challenged you the most?
Missing was not easy because it was so technical. I didn't understand where the cameras were, so every cinematic rule I know to be true didn't apply. But I loved it because actors, after a while, come with our bag of tricks, and you rely on those things. I had to feel a little insecure in this film, which worked for the story line.
Tell me about working with Eddie Murphy on You People.
I love him. My mother said to me this morning, "Ooh! Eddie Murphy is still fine!" I said, "Yes, he is." He's such a gentleman. He's always prepared. When he comes on set, you put your shoulders back and just get ready. He's an icon; he's one of our heroes. He's the best to ever do it, and to say I got a chance to work with him is an accomplishment. That was such a big cast that you do the work and keep moving. You're not wasting a lot of time.
What worked in the industry in the '90s that's different now?
Technology has changed the creative process drastically and not always for the better. I like to be lit. I don't want to be changed in post. I'm natural. Touch me up, of course. But when you change in post the moment you captured on the camera, you're taking away the integrity of the performance and the moment. Women need beauty light. When I'm working, my light is almost like another character. I don't know that a lot of young cinematographers and photographers understand how important light is. You should be able to do it all. Because when a woman is lit? She can be any age, any weight, any skin tone, and be beautiful.
Do you feel like you get passed up for roles?
I've felt passed over on things, for sure. There have definitely been moments like, Why wasn't I considered for that? Like, why wasn't I considered for Avatar? I think Zoe's amazing. But I wasn't even a topic of discussion, you know? A lot of times, to be fair, directors know in their minds who they want. It's happened to me, and it's not happened for me. I would love to do a film like Avatar because I'm really a fan and obsessed. I would even do a supporting role in a film like that because it's so magical and beautiful, and there are so many lessons and a connection to Mother Nature, humanity, and race. I just think it's fantastical.
How has competition for roles changed? Have you had to audition for anything recently?
No, but I would.
For Avatar 5.
Right, for Avatar 5, I would. I would if it was something that someone thought I wasn't right for that I know I could do.
How do you take care of yourself?
I love the spa. It's my happy place. I love Shani Darden. She has her own skin-care line. She does amazing facials, her space in L.A. is beautiful, and she's a Black woman. I started working with her about two and a half months ago. I moved from Boston to L.A. and my skin got very dry. On the East Coast, it seems to stay more hydrated. She's helping me get used to that adjustment.
Have you ever had a difficult era with acne?
[Shakes head no.] My skin is a blessing, and I know skin can be tricky. But I think because my skin is dry, I don't get a lot of inflammation. I don't do a lot of fried food; I'm big on colonics and vitamin drips. I'm not saying "Don't have fun." I'm saying have a shoebox for self-care — this stuff is expensive. Do a vitamin drip high in vitamin B because those are the things that keep you energized. Glutathione. B vitamins. Vitamin C. Ashwagandha. It's nasty, it's not very good, but those are the things that help with stress. Black seed oil is life-changing.
And finally, what do you live by now?
This is gonna sound super-corny, but you know that Cyndi Lauper song "Girls Just Want to Have Fun"? I'm kind of there. I just want to have fun and live my life. Without expectation. Not reckless, 'cause I'll never be that. But I want to have fun. And I will.