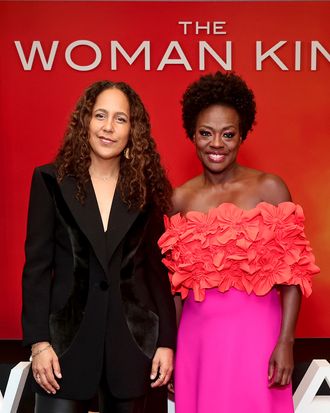 Photo: Emma McIntyre/Getty Images
The Oscars may be slightly less white than they were seven years ago, when April Reign created the movement #OscarsSoWhite, but as the controversy over the 2023 nominations shows, the Academy still has a long way to go. Gina Prince-Bythewood, the veteran director behind this year's release The Woman King, wrote about the Academy's apparent resistance to celebrating films about Black women in a new op-ed, weighing in on the Best Actress debate and calling out Academy members whom she claims were dismissive of her film.
"The Academy made a very loud statement, and for me to stay quiet is to accept that statement," Prince-Bythewood wrote in the op-ed, which was published by The Hollywood Reporter. Although she said she is proud of The Woman King's success regardless of awards, the director noted that the 2023 Oscar nominations, specifically the lack of nods for The Woman King, Till, and Saint Omer, all films directed by and starring Black women, reflected a lack of consideration for their work. "The Woman King wasn't snubbed. A snub is if it misses a category or two. The film was not nominated for one single craft," she wrote. "It's not a snub. It's a reflection of where the Academy stands and the consistent chasm between Black excellence and recognition."
And she's not just saying that because she directed it. Before the Oscar nominations were announced in late January, The Woman King had been nominated for SAG Awards, BAFTAs, a Golden Globe, Critics Choice Awards, and Image Awards. By all traditional metrics, the film should have earned some Oscar honors. Most predictors thought the film would at least receive a Best Actress nod for Viola Davis. That didn't happen. In fact, both Black actresses who had been considered potential nominees, Davis and Danielle Deadwyler (Till), were left off the final list.
Prince-Bythewood refrained from personally calling out Andrea Riseborough's grassroots Oscars campaign, which has come under scrutiny for its reliance on personal connections and networking instead of studio funding, as has become the norm, but the director did identify the privilege required to mount such a strategy in the first place. Riseborough's campaign was reportedly largely driven by white women in Hollywood, with screenings and Q&As hosted by Oscar winners Charlize Theron, Kate Winslet, and Gwyneth Paltrow. "My issue with what happened is how people in the industry use their social capital — screenings in their homes, personal calls, personal emails, personal connections, elevated status," Prince-Bythewood wrote, adding that this would simply not be possible for Black actresses. "There is no groundswell from privileged people with enormous social capital to get behind Black women. There never has been."
Perhaps the most damning point Prince-Bythewood made in the op-ed was her claim that Academy members had dismissed her film because they "didn't think it was a film for them." The director said she was told multiple times at official industry screenings that people had been "dragged" to her film because they were convinced it wasn't something they could enjoy. "The question we need to ask is, 'Why is it so hard to relate to the work of your Black peers?' What is this inability of Academy voters to see Black women, and their humanity, and their heroism, as relatable to themselves?"