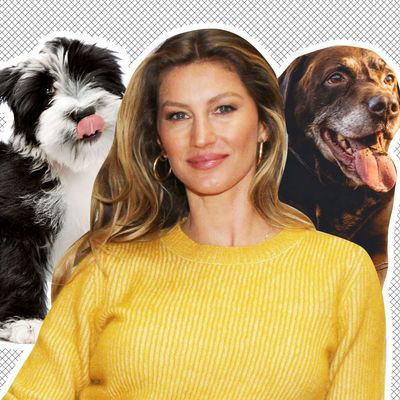 Stay winning.
Photo-Illustration: by The Cut; Photos: Getty Images
It was a very romantic Tuesday for the celebs. Bennifer got matching commitment tattoos, live-laugh-loving in the face of a curse that dooms you to break up after you ink your partner's initials on your body. EmRata and Eric André hard-launched on Instagram. Chris Evans posted eight to 35 photos to his Stories, confirming that he has been happily relationshipped for a year now. And Gisele Bündchen, who is in the process of divorcing her husband of 13-plus years and seems to feel authentically at peace with that? Still winning: The supermodel had not one but two valentines, both of whom are (in my opinion) cuter than Tom Brady.
"Pure love!!" she captioned a V-Day photo carousel of her dogs Lua and Fluffy. "I am convinced they are little angels on Earth. Happy Valentine's Day to all! [heart emoji, heart emoji, heart emoji]."
I am also convinced of this. And even without ever having met Bündchen's dogs, I am confident they would never stick her with the sum total of parenting duties while they prioritized a dangerous, brain-damaging sport into their 40s. I simply don't believe they would publicly retire, only to pull an Uno Reverse on their fans and their family, so I must conclude that they are better valentines than last year's. At a minimum, they didn't obligate her to ring in the big day by watching the Super Bowl. Prayer-hands emoji to that.