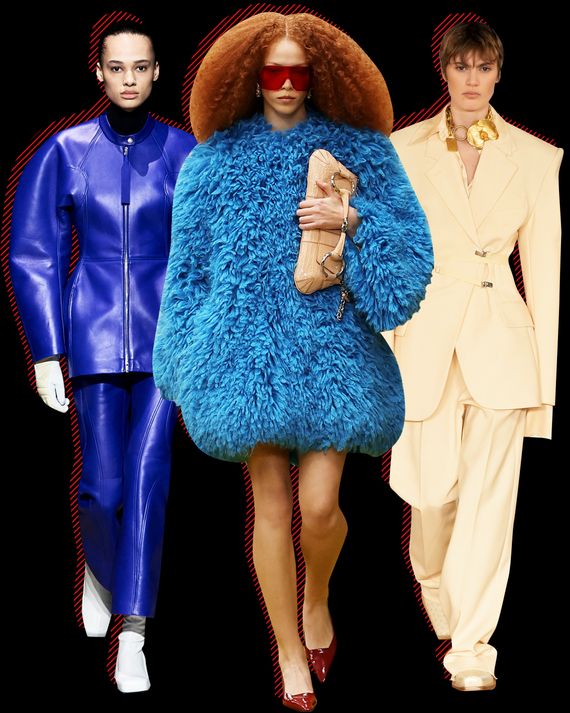 From left: Jil Sander, Gucci, Sportmax
Photo-Illustration: by The Cut; Photos: Courtesy of Jil Sander, Gucci, Sportmax
Sunnei is a small Italian label designed by Loris Messina and Simone Rizzo, and on Friday evening, an SRO (standing-room only) crowd gathered around a chest-high catwalk in the showroom to see their new collection. Actually, standing was the only option; there were no chairs. It was a democratic offering — literally. Each model would walk out, turn at the end of the platform, fall backward onto the crowd, and body surf for a bit until the next model arrived.
It was genius and simple. Telfar Clemons did something similar four years ago in New York, but Sunnei brought its audience closer to the action. You could relate to the sense of trust implied in every fall into the hands of a group: We've gotcha. Plus Rizzo and Messina had placed a camera directly above the mosh pit, capturing the almost religious posture of the models. (It is Lent.) The images are really worth everything. And as the designers said with typical pragmatism, the only clothing bits that people are likely to remember are the fluffy crocheted fake fur. Let's sing praises to the patchwork denim, too.
Most of the other Milan collections on Friday were a display of excess both in form and content. Showing at the Gucci Hub, as its sprawling headquarters is called, Gucci made it clear why it's a multibillion-dollar machine, not a mere luxury brand. Until its new creative director, Sabato De Sarno, formerly of Valentino, arrives this spring, design teams are managing along with other divisions. The set looked like a handsome corporate lobby or conference center with color-coordinated upholstered seats and carpeting, a kind of conversation pit in the middle of the room (filled with influencers), and rows of elevator doors from which a steady stream of models came and went. Outside the Hub was a huge fleet of Gucci-hired cars for VIPS.
The clothes were in sync with this well-oiled machinery: a splash of sexy Tom Ford–era Gucci (where would the company be without his louche, Halstonian sense of luxe?) and a very diluted bit of Alessandro Michele's quirky palette (shaggy coats in lavender or bright blue), his oversize suiting and fondness for wide-leg jeans with a chunky double-G belt (this time with a cotton shirt and a trench or a blazer). Given the resources of Gucci, you'd expect great accessories and some interesting clothes — notably coats, slinky skirts, '60s-style ski boots and furry bags. But there was no sensibility behind them.
Jil Sander, on the other hand, was a deep immersion into the forms and materials that Lucie and Luke Meier have shown by degrees over the past five years. They've done scaled-up shapes before. Ditto tailoring with pronounced curves, boxy tee tops in stiff materials, and cocooning coats that look like elongated athletic jackets. And their expressive mode has always been a broad interpretation of Sander's minimalism.
But this time, in a vast raw-concrete room with seating arranged in a series of remote circles, the Meiers went all in. Their oversize and layered coats-and-pants outfits had a futuristic cast. At the same time, the Meiers pulled from streetwear and motorcycling leathers, some with an embossed logo. The covered-up look, which included little caps and gloves, made for an almost hedonistic statement. There were also long, monkish vests and coats with exposed zippers, big tee tops adorned with an image of cherries, maxi coats in shades of bon-bon pink and green, and simple knit tube dresses.
I can appreciate the Meiers' singular viewpoint, but all those drowning volumes and novel textures robbed the clothes of energy. Near the end, there were some airy dresses, along with a jumpsuit, in what looked like pleated cotton and a gorgeous pair of evening shifts — one with white flowers densely appliquéd on royal-blue chiffon, the other with silver petals on black. What these styles had to do with the big, spacey clothes at the beginning, though, is hard to say.
Loro Piana is extraordinary in the sense that it makes very well-crafted sportswear that is luxurious (and expensive) with just enough fashion to keep it particular. That used to be an Italian thing, but many brands now want to be closer to fashion, so they end up looking forced or a lot like everyone else. Loro Piana's tight collection of separates — including the perfect peacoat, a creamy, fleecelike jacket with a leather tie, and pieces in a new blend of cashmere and denim — got inspiration from the countries that source its cashmere, wool, and vicuna, including Australia, Peru, and Bolivia.
Sportmax is the wayward, experimental sister of Max Mara. Last season, the clothes were too weird for words. This time, though, the collection was a bonanza of cool, on-the-money looks, beginning with moderately oversize suiting and coats in a shade of manilla and a mix of skimmy dresses (or slinky skirts with knit tops) in silver or gold lamé or creamy jersey that was randomly knotted. The attitude was tough, exemplified by western-style boots and low-slung pants in papery black leather and a black leather skirt layered over leather pants, the whole look appearing to twist a little on the body.